Post-production
Supervising sound editor (Post-production)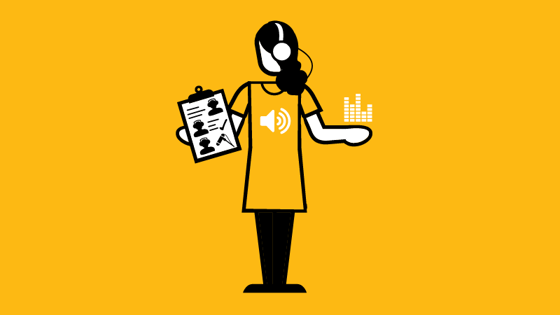 What does a supervising sound editor do?
Supervising sound editors manage the team that looks after the sound in films, TV programmes, music videos, advertising and video games.  They are responsible for dialogue, additional dialogue recording (ADR), sound effects, background sounds, Foley and music.
Their role varies according to the budget of the production. On lower-budget films, they start work when the picture editor has achieved picture lock – the point at which the director or executive producer has given the final approval for the picture edit. On bigger budget films, they start work before shooting begins and appoint specialist sound editors to supervise separate teams for each area of work.
After picture lock, supervising sound editors attend a "spotting session" with the director and other sound editors. They discuss any concepts for the overall feel of the sound (naturalistic or stylised) check every sound effect and line of dialogue to see what's needed.  
They will then have a hands-on role in creating the overall soundtrack for every discipline.
They are responsible for the sound budget and for organising the workflow from sound editorial, Foley recording, ADR sessions and pre-mix to final mix and making plans for any special requirements. After the final mix, supervising sound editors usually oversee the creation of the different deliverables, including a music and effects version, which allows dialogue or commentary to be replaced with dialogue in different languages.
They usually work in a freelance capacity but are occasionally employed by post-production houses.
Watch
What's a supervising sound editor good at?
Listening: have a good ear, know what sounds good, be able to hear sounds that shouldn't be there
Story-telling: understand the process of film production, appreciate how sound contributes to the narrative
Using software: record sound, use editing software, understand how sound is made
Organisation: budget, recruit staff, plan the work flow, work to deadline
Communication: understand the vision of the director, work with actors replicating dialogue with ADR, collaborate with the producers, picture editor and sound editors
Attention to detail: be patient, attend to the smallest sounds, often under pressure in the final mix stage 
Who does a supervising sound editor work with?
Supervising sound editors work closely with the director, picture editor and the post-production supervisor, who is responsible for the smooth running of the whole post-production process. They also work with the following people in the post-production sound department:
How do I become supervising sound editor?
Supervising sound editors need to have had extensive experience working in sound post-production over many years. They are usually graduates, or people with a post-graduate degree, who have worked their way up from being runners in audio post-production houses or mixing studios. From there they progressed to assisting in picture- or sound-cutting rooms where they were often required to work on dialogue, special effects and Foley. Some come from television or music studios.
At school or college:
If you want to go to university, A-levels or Highers in computer science, music, film studies, maths, further maths, media studies or physics are useful. Or you might want to take the following Level 3 vocational qualifications:
BTEC National Diploma/Extended Diploma in Computing
BTEC National Extended Diploma in Creative Digital Media Production
If you want to go straight into a job then the following Level 3 vocational qualifications will equip you:
Aim Awards Diploma in Creative and Digital Media
AQA Technical Level IT: Programming
OCR Technical Diploma in Digital Media (Digital Content for Interactive Media)
OCR Technical Diploma in Digital Media (Moving Image and Audio Production)
OCR Technical Diploma in IT (Digital Software Practitioner)
BTEC National Diploma/Extended Diploma in Music Technology
BTEC National Diploma in Computing for Creative Industries
BTEC National Diploma in Sound Production
BTEC National Extended Certificate in Sound Engineering
BTEC National Extended Diploma in Electrical and Electronic Engineering
RSL Subsidiary Diploma for Music Practitioners (Technology)
UAL Diploma/Extended Diploma in Creative Media Production and Technology
Get a degree:
A degree in music, sound recording ('tonmeister'), electronics, maths or sound technology would be useful. Some supervising sound editors have degrees in maths or an arts subject and then take a postgraduate course in sound. Have a look at ScreenSkills' list of recommended courses in film and TV. Choose one that will teach you about sound editing and gives you access to post-production facilities. We recognise courses with our ScreenSkills Select award where they offer training in the relevant software, dedicated time to building a portfolio and have strong links with the film and TV industries.
Make films:
Do the sound on student productions. Make a showreel of your work and build your sound portfolio. This is evidence of your practical skills and creativity that you can show to admissions tutors and employers.
Network:
Go to ScreenSkills events like Open Doors to meet people working in sound. Show them your portfolio and give them your contact details.
Network online:
Create a LinkedIn profile. Find the Facebook pages or other social media groups for people working in sound in film, TV and games. Join them and take part in the conversation. Create a ScreenSkills profile.
Search for jobs:
Research post-production and audio post-production houses. Regularly check their websites to see if they are advertising for junior roles. Check out ScreenSkills job boards and Animation UK job vacancies. Send your CV and ask if they're recruiting.
You might also be interested in...
Being a sound designer or an audio programmer in the games industry.
Further resources