Post-production
Online editor
Also known as: Finishing editor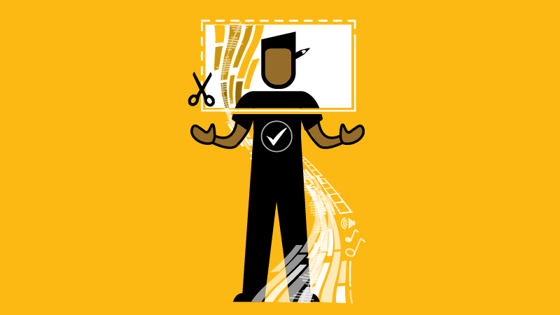 What does an online editor do?
Online editors polish the edits made by the picture editor to create the final shiny version of the production. They are sometimes known as finishing editors.
In the stage before the online edit, or 'final-post', the picture editor works with sequences that might not be the best quality or final version.  Their task is to get the sequences right and get it to a stage known as 'picture locked', which means the pictures won't be changed anymore and the final-post can begin.
This is where the online editor comes in. In the online edit, the final pictures are conformed at the highest possible resolution. Any footage put in as a guide is replaced with the final version. Photographs are properly formatted. Every image is checked and polished up; scratched archive footage is repaired.
The online editor can work with a huge number of different formats and frame sizes. In music documentaries, for example, they may be working with a beautiful 35mm concert recording, old 16mm black and white news footage, a home movie captured on 8mm or recent mobile phone recordings. The online editor works collaboratively with the director to make sure all the different material sits together as a whole. 
Once the pictures are working, the captions need to be added. These could be chapter headings in a film, or subtitles where required, or the names of the contributors speaking. The online editor may be working to a style created by a graphic designer, and many television series like The Apprentice and The Great British Bake Off have a very strict style guide to follow. However, on a single documentary or a new series, the online editor could suggest and create the style themselves.
The process is generally less complicated in a drama or feature film, as it's more likely all the footage will have been shot especially for the project. This means there's much less archive to deal with and rarely any graphic sequences, such as an animated chart, though there could be a great deal of VFX content depending on the genre of the film. However, there is one thing that most programmes and films have and that is the closing credits. This can be quite a big job and one that often falls to the online editor.
The online editor's job is often made more complicated by the need to create many different versions of the same film. It's not unusual for a documentary to be created at different lengths for different broadcasters. In some parts of the world, it might not be possible to secure the rights to certain archive sequences, so an alternative need to be found.  Additionally, the online editor may need to build in gaps for the commercial breaks.
Online editors are often freelancers, although they can be on the staff of a post-production company.  It is a very satisfying job, as online editors work closely with the programme director to create the final version of their programme.
Read
What's an online editor good at?
Attention to detail: be able to spot all the tiny errors and inconsistencies in a film, enjoy working with the minutiae of a film to make it perfect
Problem solving: be able to find solutions to sequences that don't look or sound quite right, and contribute creatively to the storytelling
Knowledge of editing software: have strong knowledge of different editing software programs and be able to use them efficiently
Technical knowledge: understand the requirements of the different broadcasters and prepare the films accordingly
Collaboration: be able to work closely with the director to polish the film to their vision
Who does an online editor work with?
Online editors work most closely with the director. In television, the work is signed off by the producer or executive producer.
How do I become an online editor?
Online editor is a senior role requiring many years' experience in post-production. To get into this position, you need to start as a runner or edit trainee in a post-production company and work your way up. A technical background is useful.
At school or college:
You can take A-levels or Highers in any subject you enjoy, but English, media studies and film studies are relevant to this role.
If you want to go straight into a job or apprenticeship, the following Level 3 vocational qualifications will equip you:
BTEC National Extended Diploma in Creative Digital Media Production
Aim Awards Diploma in Creative and Digital Media  
OCR Technical Diploma in Digital Media (Moving Image and Audio Production)  
BTEC National Diploma in Film and Television Production  
BTEC National Extended Diploma in Creative Digital Media Production  
UAL Diploma/Extended Diploma in Creative Media Production and Technology  
Get an apprenticeship:
An apprenticeship is a job with training, so it's a great opportunity to earn as you learn. You might be able to find an apprenticeship in a post-production house as a technical operator. This is a useful place to begin your journey into post-production as it will give you the technical skills that underpin post-production processes.  It will also give you an insight into the industry and useful contacts that can help you to develop.
Check out What's an apprenticeship? to learn more about apprenticeships and find an apprenticeship to find one in your region, or approach companies directly. Go to ScreenSkills information and resources and tick on apprenticeships to see the main ones running. 
Volunteer:
Take part in student productions.  Offer to edit videos for charities. Use any opportunity you get to learn the craft of editing by actually doing it.
Build a portfolio:
Learn editing software, experiment with video making and start creating work that you can show to admissions tutors or employers. Go to  Make a showreel for film or TV to learn how.
Get a degree:
You don't need a degree to become an online editor, but you might find it useful to spend three years developing your skills and yourself in preparation for work. Or you might want to a degree in a subject that interests you and then do an MA in editing after that. Have a look at ScreenSkills' list of recommended courses. We recognise courses with our ScreenSkills Select award where they offer training in the relevant software, dedicated time to building a portfolio and have strong links with the film and TV industries.
Get work experience:
Try to get work experience by writing to post-production companies and asking if they offer any. Use the UK Screen Alliance directory or Eleanor Adler's list of post-production companies to find the main ones.
Look outside the industry:
Post-production is used in video-making for commercials, fashion and marketing.  Grab any opportunity to build up your knowledge; this can then be applied in film and television.

Take a short course:
Hone your skills in editing by taking a specialist course. Go to the list of training courses recommended by ScreenSkills.

Network:
Get to know people in the post-production industry by attending events. Meet professionals and ask them questions about their work, while demonstrating interest in and knowledge of the industry. Offer to provide them with your professional contact details and try to stay in touch with them. Go to how to network well  to learn how to do this.
Network online:
Create a ScreenSkills profile and a LinkedIn profile. There are many groups for editors on LinkedIn and Facebook.  Join them and take part in the conversation. Follow the companies you're interested in on social media and keep up with what they're making.
Search for jobs:
Research the post-production houses you'd like to work for and watch the programmes that they make. Regularly check their websites to see if they are advertising for roles. Check out ScreenSkills job boards and Animation UK job vacancies. Send in your CV and ask if they're recruiting.
You might also be interested in...
Being an archive producer in the unscripted TV industry. You might also be interested in being an editor in the animation industry.
Further resources