Post-production
Post-production runner (Post-production)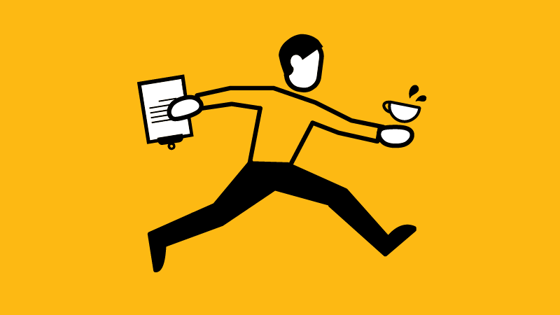 What does a post-production runner do?
Post-production runners oil the cogs of a post-production facility.
Runners keep the edit suites tidy, make tea and arrange meals. They sometimes work on reception, answering the phone and making clients and guests feel welcome. 
They do a lot of admin including labelling picture and sound files and printing, distributing and filing continuity notes for dramas. They also run errands, ingest (transfer) footage and look after the petty cash. This is an excellent route into any job within post-production. There are roughly three different areas of work: management, editing and sound design. Being a runner is a route into all three. 
Watch
What's a post-production runner good at?
Story-telling: have an interest in the way stories are created through assembling shots and scenes, a good eye for composition or ear for sound and their emotional impact

Attention to detail: organise and work with fine timings and pixels

Learning to use software: have an interest in the technical aspects of the edit, be able to learn how to use the tool

Learning by watching and asking: observe the editor and assistants, know when to listen and when to ask

Taking instruction: do what's asked, prioritise, stay calm under pressure

Communication: work well with team members, be welcoming to guests and clients

Tools of the trade
You won't be expected to know how to use professional software from the start, but these are some of the tools you might be able to use once you are working as a runner in a studio: 

Editing feature films - Avid Media Composer

Editing lower-budget films - Premiere Pro or Final Cut Pro

Colour grading - DaVinci Studio

Sound editing - ProTools
 Go to our portfolio page for a list of free software to get you started. 
Who does a post-production runner work with?
Post-production runners might report to the tech ops supervisor. They come into contact with anyone who uses the post-production facilities, such as the picture editor, dubbing mixer or director.

How do I become a post-production runner?
The route into becoming a post-production runner depends to some extent on which area of post-production you would like to specialise in.  Learn all you can about sound if you have ambitions to be a dubbing mixer, and about editing if you want to be a picture editor. Whichever area you are interested in, search for runner or trainee jobs with post-production houses or audio post-production houses and apply for them.  

At school or college: 
If you want to go to university, A-levels or Highers in art, drama and theatre, English, film studies, graphic design, graphic communication, media studies, physics, psychology or computing science are useful. Or you might want to take the following Level 3 vocational qualifications: 

NCFE Applied General Certificate in Art and Design




BTEC National Diploma/Extended Diploma in Art and Design




BTEC National Extended Diploma in Creative Digital Media Production




UAL Applied General Diploma/Extended Diploma in Art and Design



If you want to go straight into a job or apprenticeship, the following Level 3 vocational qualifications will equip you: 

Aim Awards Diploma in Creative and Digital Media




OCR Cambridge Technical Diploma in Art and Design (3D Design)




OCR Cambridge Technical Diploma in Art and Design (Graphic Design)




OCR Cambridge Technical Diploma in Art and Design (Photography)




OCR Technical Diploma in Digital Media (Moving Image and Audio Production)




BTEC National Diploma in Film and Television Production

BTEC National Diploma in Film and Television Visual Effects

BTEC National Extended Certificate in Sound Engineering




RSL Subsidiary Diploma for Music Practitioners (Technology)




UAL Diploma/Extended Diploma in Art and Design




UAL Diploma / Extended Diploma in Creative Media Production & Technology



Build a portfolio: 
This is useful for impressing admissions tutors and people in the post-production industry. Just as importantly, it's the best way to learn about editing or sound design, seeing what works and what doesn't. Keep doing it. Make sure it shows off the area in which you are most interested, whether that be editing, sound editing or colour grading. Go to build your portfolio to learn how. 

Get work experience: 
Use Eleanor Adler's list of post-production companies in the UK to research post-production houses. Send them your CV and ask if they offer work experience. 

Get a degree: 
It isn't essential, but if you want one, take a subject that you really enjoy. You might want to add a Masters degree in a subject like editing or sound design, depending on where your interests lie. Or have a look at ScreenSkills' list of recommended courses in film and TV. We recognise courses with our ScreenSkills Select award where they offer training in the relevant software, dedicated time to building a portfolio and have strong links with the film and TV industries.

Take a short course:
Go to the list of training courses recommended by ScreenSkills to see if there is one in the area of post-production that interests you

Network:  
Go to ScreenSkills events, especially Open Doors where you can meet people who work in the industry. Give people in post-production your details and ask if you can do work experience.   

Network online:  
Create a LinkedIn profile. Find the Facebook groups or other social media communities for people working in post-production. Join them and join the conversations. Create a ScreenSkills profile.  

Search for jobs:  
Research post-production houses. Regularly check their websites to see if they are advertising for runner roles. Check out ScreenSkills job boards and Animation UK job vacancies. Have a look at Eleanor Adler's page: where are post-production runner jobs listed? If they aren't recruiting, send your CV anyway and ask them to keep it on file.
You might also be interested in...
Working in visual effects (VFX). Alternatively, you could consider being a logger in the unscripted TV industry.
Further resources