Post-production
Sound assistant (Post-production)
Also known as: Sound trainee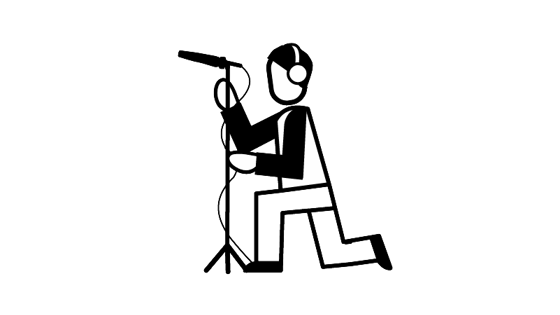 What does a sound assistant do?
Sound assistants in post-production start off doing similar jobs to a runner – such as keeping the audio suites tidy – and also contribute to the sound department by ingesting material. As they gain experience and sit in on the operations of the dubbing suite, they are able to take on more responsibility. 

In time, they may be asked to record the commentary for a documentary or to set up a Foley session. In all these tasks, the sound assistant learns to operate a digital workstation confidently, understand the characteristics of many different types of microphone, and develop a knowledge of acoustics.   

Sound assistants are not expected to produce the finished recording, but it's important they provide high-quality, distortion-free recordings, as their work will be passed on to either the picture editor or sound editor and then to the dubbing mixer, who creates the final mix.   

This role is different from being a sound trainee in production because it doesn't involve capturing sound on location and working with a film crew. However, experience of being a sound trainee in production is a good background for working in post-production, and vice versa. 

If a sound assistant is good, they may work their way up to becoming a dubbing mixer or move into a related part of the industry, such as mixing music in a recording studio. It's a very interesting and varied job and puts you at the heart of the post-production process where you can learn a great deal in a short time.  
Watch and read
What's a sound trainee assistant good at?
Understanding sound: know how it behaves, how we hear, how sound can be manipulated and distorted

 




Using audio equipment software: have a basic knowledge of the audio editing software and an appetite for learning more, know about microphones, recording, playback and editing gear

 




Learning by watching and asking: be able to observe what's happening and ask questions at the appropriate moments

 

Attention to detail: be able to work alone, enjoy working with small changes and getting sound exactly right




Collaboration: be able to work with others, communicate well, pick jobs up and pass work on

 

 
Who does a sound assistant work with?
Sound assistants work with other members of the sound team like the sound editor when they are track laying and the dubbing mixer.   
When supporting the ADR editor, they work with performers, directors and producers recording commentary or additional dialogue.  

How do I become a sound assistant?
There are no set routes to becoming a sound assistant. The best thing you can do is immerse yourself in sound and learn as much about it as you can. Then get to know people in the industry and send out your CV. 
 
At school or college: 
To study a sound-related course at university, it's useful to have A-levels or Highers in maths, physics, electronics and music. If want to go straight into a job or apprenticeship, then the following Level 3 vocational qualifications are relevant: 
BTEC Diploma/Extended Diploma in Electrical and Electronic Engineering

BTEC National Diploma/Extended Diploma in Music Technology

BTEC National Diploma in Film and Television Production

 

BTEC National Diploma in Music

 

BTEC National Diploma in Sound Production

 

BTEC National Extended Certificate in Sound Engineering

 

BTEC National Extended Diploma in Electrical and Electronic Engineering

 

RSL Subsidiary Diploma for Music Practitioners (Technology)

 

OCR Technical Diploma in Digital Media (Moving Image & Audio Production)

UAL Diploma/Extended Diploma in Music Performance and Production
Build a portfolio 
Make your own sound. Create a body of work that you can show off to employers. Go to build your sound portfolio to learn how.  
Get an apprenticeship 
Apprenticeships are work with training, so they can be a great opportunity to earn as you learn. You might find an apprenticeship as a post-production technical operator in a post-production company.  This could give you good experience of managing files as well as useful contacts in the post-production industry. From there you can make your way into the sound department. 
Check out What's an apprenticeship?  to learn more about apprenticeships and  find an apprenticeship to find one in your region, or approach companies directly. Go to ScreenSkills information on apprenticeships for the main apprenticeship schemes in screen. 
Get a degree: 
It's not necessary to have a degree to get into post-production sound, but you might want one in sound engineering or music technology. A degree could help you get into higher-grade jobs such as supervising sound editor. You could also do a first degree in maths or music and then specialise in sound at post-graduate level. Have a look at ScreenSkills' list of recommended courses in film and TV. We recognise courses with our ScreenSkills Select award where they offer training in the relevant software, dedicated time to building a portfolio and have strong links with the film and TV industries. 
Take a short course: 
Go to the list of  training courses recommended by ScreenSkills and search for 'sound' to find courses that might interest you. 
Network: 
Go to ScreenSkills events, especially Open Doors where you can meet people who work in the industry. Give people in post-production your details and ask if you can do work experience.  
Network online: 
Create a LinkedIn profile. Find the Facebook groups or other social media communities for people working in sound in the screen industries. Join them and join the conversations. Create a  ScreenSkills profile. 
Search for jobs: 
Research post-production houses. Regularly check their websites to see if they are advertising for junior roles. Check out ScreenSkills job boards and Animation UK job vacancies. Send in your CV and ask if they're recruiting. 


You might also be interested in...
Being a sound recordist in unscripted TV. There are also openings in commercials and corporate and music videos. Or you might want to be a sound designer in post-production. 
Further resources