Post-production
Composer (post-production)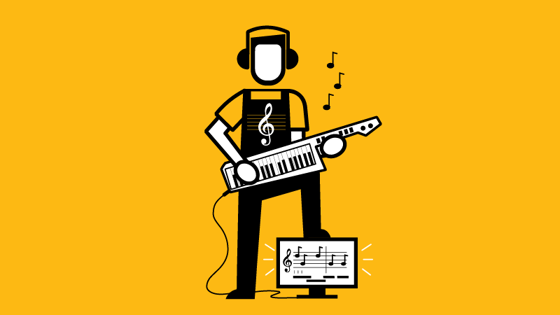 What does a composer do?
A composer in the screen industries creates the music that enhances the emotional experience of a film, TV programme, or game with a well-known signature tune lets the viewer know a programme is starting.
This music could come from a music library; it could be an existing piece of popular music, or it could be created specifically for the film or programme. In all cases, it's the work of the composer.   
If it's a feature film soundtrack, the composer works closely with the director to create music that develops the mood of the film and the characters. Together they decide where to add to the excitement of a sequence, such as a car chase or battle scene, or to help develop a key character with an individual theme that underscores their appearance – such as the Imperial March that's often heard when Darth Vader enters a scene in the Star Wars films. The role of the music is to raise and lower the tension and guide the audience, but it shouldn't be overwhelming. A composer also needs to know when it's time for silence. 
In unscripted TV, a composer might be commissioned to write the underscore to a countdown in a quiz game, or a fanfare to be played when a contestant hits the jackpot. They might be required to write an attention-grabbing piece of title music that quickly becomes associated with a programme. For many programmes, the composer will provide a number of related themes, but of different lengths and with differing emotional impacts, so they can be selected for the right moment.  
On a drama, the composer usually works to the edited film, precisely fitting their music to the pictures and dialogue. They usually write on a midi keyboard hooked up to a computer, which means they can draw on a vast selection of samples of every different type of instrument and style of music.  Then, if there is both budget and time, they will arrange the music for a full orchestra. Often, though, the final music will be created using samples.   
Two other areas that need great composers are advertisements, where the challenge is to create a memorable theme in just a few seconds, and games, which have become one of the most challenging arenas for composition and are providing huge amounts of work for leading orchestras all over the world.  
Most composers are freelance. 
Watch
What's a composer good at?
Music: know the history and construction of music, compose in different styles and genres, improvise, read scores, create themes quickly under the pressure of deadlines 

Communication: be able to understand what the director is trying to achieve, know how to connect with the audience 

Storytelling: appreciate the narrative in films, games or advertisements, know how music affects images and adds drama, have a passion for the industry 

Collaboration: listen to the director, translate the vision into music, be flexible, communicate the vision with the editor, composer and other musicians
Using software: produce electronic scores using technology such as ProTools, use editing and mixing software
Who does a composer work with?
Composers work most closely with the directors on films or TV programmes or game designers on games. If a film has a music editor, the composer will work with them.
How do I become a composer?
Composers usually have a degree in music. It's not essential, but it's helpful. After graduating, they might start as a runner or a sound trainee in a post-production house, as a way of getting into the industry, and work their way up from there. 

At school or college: 
If you want to go to university, A-levels or Highers in music, film studies, media studies or English are useful. Or you might want to take a Level 3 OCR Cambridge Technical Diploma/Extended Diploma in Performing Arts.

If you don't want to go to university, the following Level 3 vocational qualifications are relevant to the role: 
Aim Awards Diploma in Creative and Digital Media 

BTEC National Diploma/Extended Diploma in Music Technology 

BTEC Level 3 National Diploma in Film and Television Production 

BTEC Level 3 National Diploma in Music 

BTEC Level 3 National Diploma in Sound Production 

RSL Subsidiary Diploma for Music Practitioners (Composition) 

RSL Subsidiary Diploma for Music Practitioners (Technology) 

UAL Diploma/Extended Diploma in Creative Media Production and Technology 

UAL Diploma/Extended Diploma in Music Performance and Production
Start composing and recording: 
Write your own original compositions. This is essential. Collaborate with friends making videos and write the score. Create soundtracks for videos for voluntary groups or student productions. Go to build your music portfolio for information about software and to learn how to put your work together in a way that will impress admissions tutors and employers. 

Get a degree: 
A degree in music is very useful for a composer. Or take a look at ScreenSkills' list of recommended courses in film and TV and see if you can find one on composition. The National Film and Television School, for example, does a Master's degree called Composing for Film and Television. We recognise courses with our ScreenSkills Select award where they offer training in the relevant software, dedicated time to building a portfolio and have strong links with the film and TV industries. 

Network: 
Go to ScreenSkills events, especially Open Doors where you can meet people who work in the industry. Give people in post-production your details and ask if you can do work experience.  

Network online: 
Create a LinkedIn profile. Find the Facebook groups or other social media communities for people composing music in the screen industries. Join them and join the conversations. Create a ScreenSkills profile. 

Set up as a freelancer: 
Read ScreenSkills Toolkit to learn more about what being a freelancer involves. 
Search for jobs: 
Research post-production houses. Regularly check their websites to see if they are advertising for junior roles. Check out ScreenSkills job boards and Animation UK job vacancies. Send in your CV and ask if they're recruiting.
You might also be interested in...
Being a music composer in the games industry. 
Further resources