Post-production
Motion graphic designer (Post-production)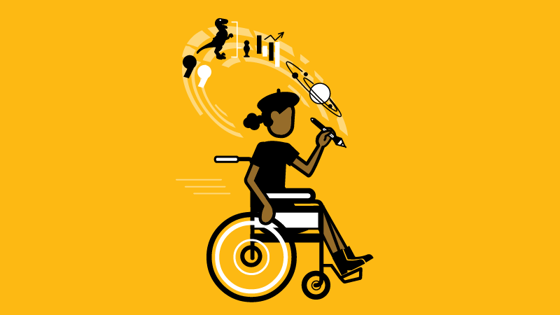 What does a motion graphic designer do?
Motion graphic designers are essential in the making of any TV show, film, video game or commercial.  They might be required to create the opening titles for a new TV series or a sequence that explains the growth of a deadly virus for a documentary. They could be asked to design the style of name captions on a chat show or create stylised graphic elements such as an animated chart showing the number of medal winners in the Olympics.   
They are often called upon to create an entire 'look' for a new series, so for a talent show or quiz game that means providing the opening titles, logos, name captions and closing credits, as well as working with the colour palette and design of the set so that the programme has a coherent, easily identifiable look – particularly important if the series format is to be sold around the world. It's important to design graphics that work well not only on television or in the cinema, but also on social media, in print media and even on T-shirts and other merchandise.  Motion graphics designers need to be able to assess a production brief and understand and work with those requirements during pre-production through to design, production itself and final post.   Recently there's been a move for motion designers to work on VR (virtual reality) elements for films and studio productions, using green screens and 3D graphic software.
Some designers work within production. For example, news graphics are usually prepared just before a story goes out, while on films they may need to design something that's part of a film set, such as a prop like a newspaper or poster. However, only motion graphics designers work within the post-production family and a vast amount of the work they do comes after the programme has been filmed or recorded.
Many graphic designers are freelance and hired for specific jobs, although a lot of post-production companies and big television studios such as BBC News have their own in-house design teams who may be on the staff. 
Some work within a team of graphic artists for specialised 'graphics companies' or 'graphics houses'.  Others own their own companies. 
A successful motion graphics designer will have the opportunity to create sequences that become legendary, perhaps by producing the opening titles of a long-running sports programme, film title sequence or even the totaliser in a much-loved charity telethon.
Watch and read
What's a motion graphics designer good at?
Art: have a good eye, be able to draw, have a strong visual sense and keep up with current trends
Creativity: have a genuinely original approach, be able to create a new look, enhance the mood and feel of a production through the graphics
Attention to detail: work quickly but accurately, spot errors, have a keen eye for colour, get the spellings and names and job titles right
Collaboration: be able to interpret the vision of the director or producer, share ideas and communicate
Knowledge of software: have strong knowledge of different graphic design programs and an understanding of editing, animation and camera work as well as traditional forms of graphic design
Who does a motion graphics designer work with?
Motion graphics designers work closely with the executive producer, editorial team or production designer.
How do I become a motion graphics designer?
Most motion graphics designers were very good at art and design at school and also enjoyed using graphic design software.  Some will have started their careers as runners in post-production houses and worked their way up from there, while others will have become established in other industries, such as video editing and gaming graphic design, and moved into post-production after that.
At school or college:
Learning traditional drawing, painting and sculpting is a useful way to demonstrate artistic flair outside software.

If you want to go to university, A-levels or Highers in art and design, graphic design and graphic communication would be helpful.
Or you might want to take any of the following vocational Level 3 qualifications:
BTEC Diploma/Extended Diploma in Art and Design
UAL Diploma/ Extended Diploma in Art and Design
BTEC Extended Diploma in Creative Digital Media Production
OCR Cambridge Technical Diploma in Art and Design (Graphic Design)
BTEC Diploma in Graphics
Build a portfolio:
Learn graphic design software, experiment with your own designs and build a portfolio. This is essential for impressing admissions tutors and people in the post-production industry. Go to build your art portfolio to learn how.

Get a degree:
It's not essential to have a degree to be a graphic artist, but you might find it useful. Studying a subject like graphic design, animation, art and design, communication design or illustration will stand you in good stead.

Get work experience:
Try to get work experience by writing to post-production companies and asking if they offer any. Use the UK Screen Alliance directory or Eleanor Adler's list of post-production companies to find the main ones.  Work experience with a graphic design company would be useful too.

Look outside the industry:
All sorts of industries employ graphic artists, including publishing, advertising and manufacturing. Any experience as a graphic designer can be useful, giving you skills that you can transfer into the film, TV and post-production industries.

Network:
Get to know people in the post-production industry by attending events. Meet professionals and ask them questions about their work, while demonstrating interest in and knowledge of the industry. Offer to provide them with your professional contact details and try to stay in touch with them. Go to how to network well to learn how to do this.

Network online:
Create a ScreenSkills profile and a LinkedIn profile. Find groups for post-production in LinkedIn and Facebook.  Join them and take part in the conversations. Follow the companies you're interested in on social media and keep up with what they're making.

Search for jobs:
Research the post-production houses you'd like to work for and watch the programmes that they make. Regularly check their websites to see if they are advertising for roles. Check out ScreenSkills job boards and Animation UK job vacancies. Send in your CV and ask if they're recruiting.
You might also be interested in...
 Being a storyboard artist or a concept artist in the animation industry.
Further resources