Post-production
Tech ops supervisor (Post-production)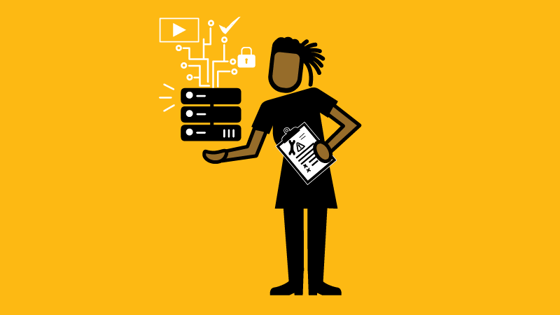 What does a tech ops supervisor do?
The tech ops supervisor is responsible for the day-to-day operation of all the technical equipment in a post-production house (tech ops is short for technical operations).
At the very heart of the operation is a computer room or data-storage area where a huge amount of data is held on powerful servers. This is sometimes known as the central technical area. Having all the material in one place means you can keep it at the correct temperature and ensure it's secure.  As all the data is stored centrally, any of the cutting rooms, dubbing theatres, VFX areas or grading suites can access the programme files they need.  However, there must be very strict controls over who is allowed to see each file, as on a major series like The Great British Bake Off or The Apprentice, it's very important the winner's name is not leaked by accident.  Similarly, on a major feature film such as a James Bond movie, it is vital that none of the sequences end up on social media.
Tech ops supervisors make sure all the equipment is running well and is protected. They also make sure all the programme files are backed up on a regular basis, as millions of pounds' worth of work could be lost if the server files are corrupted and there is no fail-safe recovery system.
In addition to making sure all the data is secure, many post-houses also receive programme content directly from a studio or outside broadcast, where it is recorded ready for editing and finishing. The post-house might also have the facility to distribute a programme directly to a broadcaster and, if required, transmit live to air. Again, this can be done only if the systems are robust and well-engineered.
As well as looking after the central computer servers and the network within the post-production facility, the tech ops supervisor looks after the equipment in the cutting rooms, dubbing theatres and grading suites. Though this equipment is often maintained by the manufacturer, it's still important that someone in the post-house can make a quick diagnosis and, if possible, fix the problem. This saves a lot of time: no producer or director wants their edit being held up, as nearly all films and programmes are cut to a very demanding schedule.
If they are senior enough, a tech ops supervisor may also be involved in the long-term purchasing decisions in the post-production house and will need to keep up to date with the latest broadcast technology, always ready to embrace new equipment that could save a lot of time or money.
Tech ops supervisors are usually employed by post-production houses.
What's a tech ops supervisor good at?
Computer engineering: have a thorough knowledge of servers and computer hardware as well as all the post-production software used by the post-house
Problem solving: find solutions to technical and practical dilemmas
Staying calm under pressure: be able to think clearly when a complex problem arises that needs to be resolved quickly
Communication: be able to explain to producers, directors and editors, who might be stressed, why an edit suite may have problems, and confidently predict when a solution will be put in place
Understanding post-production: know the process in detail, stay up to date with what can be achieved through constantly-changing technology
Who does a tech ops supervisor work with?
Tech ops supervisors come into contact with almost everyone who works in a post-production house. They report to the owner or manager of the post-production company and might manage a team of runners or junior technical operators. They work with producers, directors, editors and graders – everyone who uses the facilities.
How do I become a tech ops supervisor?
Tech ops supervisors enter the profession by many different routes. For example, they might work their way up, having started as a runner in the post-house, or they might be a well-qualified computer engineer. 

At school or college:
Take A-levels or Highers in maths and other science or technology subjects such as computer science, physics and electronics. This will give you a solid basis for applying for new-entrant programmes.
The following Level 3 vocational qualifications are also relevant to this role:
BTEC in Engineering with Engineering Maths
Cambridge Technical Extended Certificate in Engineering
BTEC National Foundation Diploma in Engineering
C&G Technical Certificate in Engineering
EAL Technical Diploma/Extended Diploma in Engineering Technologies
BTEC Diploma/Extended Diploma in Electrical and Electronic Engineering
Get an apprenticeship:
Apprenticeships are work with training, so they can be a great opportunity to earn as you learn. You might find an apprenticeship as a post-production technical operator in a post-production company.  This would be an ideal role in which to observe and learn what a tech ops supervisor does. Check out What's an apprenticeship? to learn more about apprenticeships and find an apprenticeship to find one in your region, or approach companies directly. Go to ScreenSkills information on apprenticeships for the main apprenticeship schemes in screen.

Get a degree:
You don't need to go to university to get into this role, but a degree in computer science would be highly relevant and very useful.

Think outside the industry:
If you can't find your way into post-production immediately, build up your experience in an IT support role in another industry.  This will give you skills in solving problems and helping people, as well as practical experience with computer hardware and software.  You can transfer into post-production at a later point.

Search for jobs:
Research the post-production houses. Regularly check their websites to see if they are advertising for junior roles. Check out ScreenSkills job boards and Animation UK job vacancies. Send in your CV and ask if they're recruiting.
You might also be interested in...
Being a supervisor in the animation or visual effects (VFX) industries.


Further resources