Post-production
Sound editor (Post-production)
Also known as: Track layer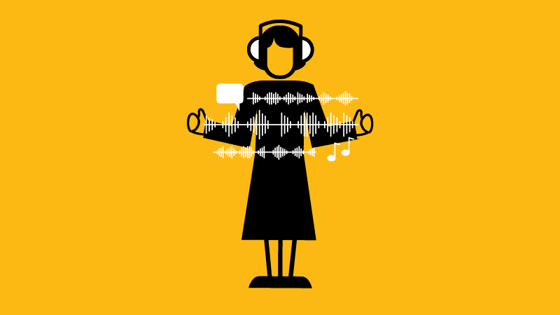 What does a sound editor do?
Sound editors, sometimes known as track layers because of the task they perform, systematically work through films checking the sound of each sequence – dialogue, music and sound effects – and ensuring it all comes together perfectly in sync.
After the pictures have been put together and finalised in the edit, the files are prepared for the dub, where the final sound is mixed. But before this happens, it goes through a stage known as 'track laying'. Not every film will need track laying.  Some, such as a three-minute insert in a magazine programme, may go straight to the dub from the picture edit, but full-length dramas or documentaries almost always require the skills of a sound editor to perform an audio track lay. 
The sound editor has the best audio tools in the house. They have lots of different sources to deal with: dialogue from location and dialogue from the ADR sessions, plus location sound effects and effects downloaded from audio libraries, as well as any Foley sound effects that have been created. They also have to lay-in music, both specially composed and from music libraries.
The sound editor looks at every moment in the film to check all the effects are doing the right job. Is the slamming of a car door loud enough? Is the firing of a machine gun powerful enough? Does the sound of a baby crying sound realistic? If the effects don't have enough impact, the sound editor may decide to change them or add to them. 
Even with all these audio clips there can still be gaps in the soundtrack and the sound editor needs to fill them in. It could be the background effects vanish just before a scene ends, so if that's the case the sound editor will decide whether to extend the effects track or add some new effects in order that the dubbing mixer can make a smooth transition between scenes. 

Once every track is in place, with no gaps and the right effects, the sound editor passes the film on to the dub, where the sound mixer or dubbing mixer does the final mix.
Watch and read
What's a sound editor good at?
Understanding sound: know how it behaves, how we hear, how sound can be manipulated and distorted
Using audio software: have an in-depth knowledge of the audio editing software and an appetite for continuously learning new and more efficient ways of using it
Imagination: be able to create a soundscape that feels right for the film, programme or game
Attention to detail: work alone with a complex set of tracks, ensuring each clip is in sync with the pictures and is as accurate as possible to what is being seen
Collaboration: pick up the tracks from the picture edit and be able to anticipate the needs of the dubbing mixer, ensuring they have all the tracks they need
Who does a sound editor work with?
Track laying itself is a solitary task, but sound editors must communicate with the picture editor and dubbing mixer.
How do I become a sound editor?
There are no set routes to becoming a sound editor but many work their way up from being runners in a post-production or audio post-production house. It's a good route into becoming a dubbing mixer.
At school or college:
To study a sound-related course at university, it's useful to have A-levels or Highers in maths, physics, electronics and music.
If want to go straight into a job or apprenticeship, then the following Level 3 vocational qualifications are relevant:
BTEC Diploma/Extended Diploma in Electrical and Electronic Engineering
BTEC National Diploma/Extended Diploma in Music Technology
BTEC National Diploma in Film and Television Production
BTEC National Diploma in Music
BTEC National Diploma in Sound Production
BTEC National Extended Certificate in Sound Engineering
BTEC National Extended Diploma in Electrical and Electronic Engineering
RSL Subsidiary Diploma for Music Practitioners (Technology)
OCR Technical Diploma in Digital Media (Moving Image & Audio Production)
UAL Diploma/Extended Diploma in Music Performance and Production
Build a portfolio:
Make your own sound. Create a body of work that you can show off to employers. Go to build your sound portfolio to learn how.
Get an apprenticeship:
Apprenticeships are work with training, so they can be a great opportunity to earn as you learn. You might find an apprenticeship as a post-production technical operator in a post-production company.  This could give you good experience of managing files as well as useful contacts in the post-production industry.  If you continue to compose and learn about music, it's possible to build up to the role of music editor.
Check out What's an apprenticeship? to learn more about apprenticeships and find an apprenticeship to find one in your region, or approach companies directly. Go to ScreenSkills information on apprenticeships for the main apprenticeship schemes in screen.

Get a degree:
It's not necessary to have a degree to be a track layer, but you might want one in sound engineering or music technology. A degree can help you get into higher-grade jobs such as supervising sound editor. You could also do a first degree in maths or music and then specialise in sound at post-graduate level. Have a look at ScreenSkills' list of recommended courses in film and TV. We recognise courses with our ScreenSkills Select award where they offer training in the relevant software, dedicated time to building a portfolio and have strong links with the film and TV industries.
Take a short course:
Go to the list of training courses recommended by ScreenSkills and search for 'sound' to find courses that might interest you.

Network:
Go to ScreenSkills events, especially Open Doors where you can meet people who work in the industry. Give people in post-production your details and ask if you can do work experience. Go to how to network well to learn how to do this.

Network online:
Create a ScreenSkills profile and a LinkedIn profile. Find groups for post-production in LinkedIn and Facebook.  Join them and take part in the conversations. Follow the companies you're interested in on social media and keep up with what they're making.

Search for jobs:
Research the post-production houses you'd like to work for and watch the programmes that they make. Regularly check their websites to see if they are advertising for roles. Check out ScreenSkills job boards and Animation UK job vacancies. Send in your CV and ask if they're recruiting.
You might also be interested in...
Being a sound recordist in unscripted TV. There are also openings in commercials and corporate and music videos. Or you might want to be a supervising sound editor in post-production.
Further resources