Film and TV drama
Director of photography (DoP)
Also known as: Cinematographer (especially when the DoP operates the camera), DoP, DP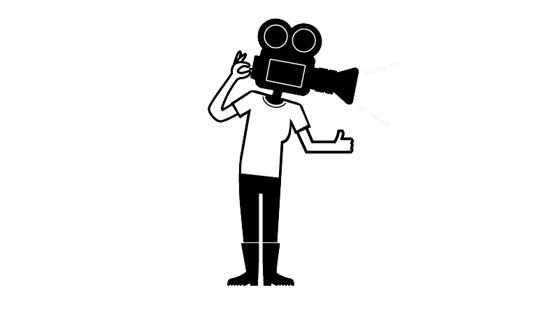 What does a director of photography do?
Directors of photography are responsible for the photographic heart of a production.
They read the screenplay and work closely with the director to discuss the look and feel of a film. They then research how to create the look through lighting, framing and camera movement and what they will need in terms of kit and crew to achieve this.
On each day of filming, DoPs and their camera crews arrive early to set up and rehearse. Working with the director, the DoPs do blocking (decide the exact movements of both actors and camera). They discuss any special camera moves or lighting requirements with the camera operator, gaffer and grip. Each shot is marked up for focus and framing by the focus puller and then the DoP oversees the lighting of the set for the first take.
It's the job of DoPs to make sure every shot is usable and flag them when they're not. They view the rushes (raw footage) with the director and work closely with the colourist in post-production. On smaller productions they shoot as well.
Watch and read
What's a director of photography good at?
Photography: have an eye for composition, know how to tell a story through a shot, understand camera and lighting techniques, know how to use them to affect emotions
Technical knowledge of cameras: have an in-depth understanding of all motion picture equipment, cameras, lens, monitors and lights
Editing knowledge: understand the post-production work flow, have a good eye for colour in the editing process
Making decisions: think quickly, often under pressure
Organisation: plan, know how to do things and how long it will take, get the right kit and crew, manage the budget, think about logistical and artistic considerations at the same time
Communication: ensure everyone in the team knows what's expected, work closely with the grips and the gaffer, lead the team and resolve conflicts in situations that can sometimes be stressful
Who does a director of photography work with?
Camera operator
Camera operators capture the shots. They make sure the cameras and rigs are set up and ready to use. During filming they handle the camera and attend to the composition of the pictures, all the time listening to the director and director of photography. It's a senior role, a large step-up for focus puller. Many camera operators will develop additional skills such as Steadicam, aerial or underwater experience to improve employability.
Steadicam operator
A Steadicam is a system that keeps the camera's movements smooth regardless of how fast the operator is moving or how bumpy the ground might be. Steadicam operators are responsible for setting the Steadicam up, balancing the camera on it and making sure the shots work. Many are camera operators who have undergone specialist training. It's physically demanding work as the Steadicams are heavy.
Script supervisor
During shooting of a film or TV drama, script supervisors stand by the cameras to make sure no dialogue has been missed. See separate profile: script supervisor
First assistant camera or focus puller
Focus pullers make sure all the shots are in focus. They set up cameras, test lenses and calculate distances. They are reliable and accurate, as it's expensive to reshoot if footage isn't as sharp as it needs to be.  They anticipate focus problems and let the director of photography know about them. These are found in the film and TV drama. See: Focus puller, Terry Bartlett
Second assistant camera or clapper loader
Clapper loaders support the camera department by preparing and maintaining equipment and controlling tape or file stock. They are responsible for record keeping and the slating of each take and will work with the script supervisor to ensure the continuity notes, camera logs and other paperwork are kept in good order ahead of supplying to the edit.
Digital imaging technician (DIT)
DITs are responsible for ensuring the cameras are set up with the right digital settings. See separate profile: digital imaging technician
Data wrangler
The data wrangler is responsible for transferring the footage (data) from the camera onto the cards or drives. They produce logsheets with details of the contents of the files and keep track of what footage has passed from shoot to post-production.
Video assist operator (VAO)
VAOs or video assists check that the playback systems work so directors can see what's being shot. See separate profile: video assist operator
Camera trainee
Trainees support the camera department in moving equipment and testing cameras. See separate profile: camera trainee
How do I become a director of photography?
This is a senior role and people come into it through a variety of routes. Some start as a camera trainee and work their way up through the roles outlined above. Others become DoPs through being an assistant director first. Others come up through the lighting department. Look at job profiles on floor runner and lighting trainee if you're interested in those pathways.
At school or college:
If you want to go to university, take A-levels or Highers in a combination that includes art, art and design or graphic communication with maths and physics. Or you might want to take one of the following Level 3 vocational qualifications:
BTEC National Diploma/Extended Diploma in Art and Design
BTEC National Extended Diploma in Creative Digital Media Production
NCFE Applied General Certificate in Art and Design
UAL Applied General Diploma/Extended Diploma in Art and Design
If you want to go straight into a job or apprenticeship, the following Level 3 vocational qualifications are relevant:
BTEC National Diploma in Film and Television Production
BTEC National Diploma in Photography OCR Technical Diploma in Digital Media (Moving Image and Audio Production)
UAL Diploma/Extended Diploma in Art and Design
UAL Diploma/Extended Diploma in Creative Media Production and Technology
Get an apprenticeship:
An apprenticeship is a job with training, so it's a great opportunity to earn while you learn. However, it can be challenging to find jobs as an apprentice with production companies as many are not able to take on people for a whole year, which is an apprenticeship requirement at the moment. But in England, there's a Level 3 apprenticeship as a photographic assistant. You might be able to find a job through that standard with an employer in another sector, such as a government department or digital media company. Think about taking that job, learning the core skills of photography and transferring those skills into film and TV drama at a later point.
Check out What's an apprenticeship?  to learn more about apprenticeships and find an apprenticeship to learn how to find one in your region, or approach companies directly. Go to ScreenSkills information on apprenticeships for the main apprenticeship schemes in film and television.
Make a portfolio:
Get as much experience as you can in photography, both still and moving images. Have a passion for making your own short films. Look at our advice on how to build a portfolio. A portfolio is essential for impressing admissions tutors and people in the film and TV drama industries.
Work for an equipment company:
Contact an equipment rental company like Panavision, Provision or ARRI Rentals. Ask if you can become a kit runner or driver for them. That way you will to learn more about the kit and build up contacts.
Get work experience:
Contact video making companies and ask if you can do work experience with them. Seek out advice on approaching employers to learn how to do this.
Get a degree:
It's not essential by any means, but if you want a degree, have a look at ScreenSkills' list of recommended courses in film and TV. We recognise courses with our ScreenSkills Select award where they offer training in the relevant software, dedicated time to building a portfolio and have strong links with the film and TV industries.
Network:
Go to ScreenSkills' events, like Open Doors, where you can meet people who work in the industry. Give people in the camera department your details and ask if you can do work experience. Look at our page that explains how to network well.
Network online:
Create a LinkedIn profile. See if there's a Facebook page or other social media group for people making films or videos in your area. Join it. Create a ScreenSkills profile.
Become a trainee:
Apply to be a camera or lighting trainee with ScreenSkills' Trainee Finder scheme. There are also schemes offered by the Guild of British Camera Technicians.
You might also be interested in...
Being a director of photography in unscripted TV (entertainment, documentary or sport.) They might be called camera supervisor (in multi-camera productions) or lighting camera operators (in single camera productions).
Further resources