Film and TV drama
Floor runner (Film and TV drama)
Also known as: Assistant director (AD) trainee, Set personal assistant (PA), PA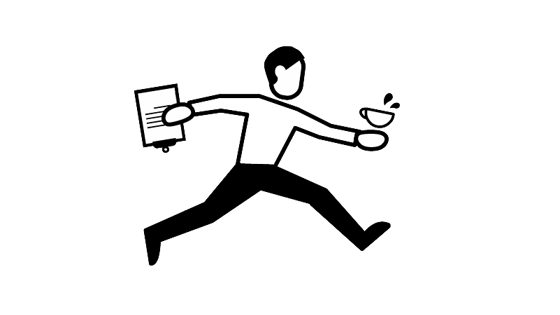 What does a floor runner do?
Floor runners do anything required to aid the shoot's progress. They run errands, convey messages, look after cast and crew, make drinks and provide food, drive and deliver kit.
Floor runners are often responsible for transport to and from unit base to set. They help with getting the cast to the unit cars and crew into the minibuses.
And they deal with small and large crowds of supporting artists, supervising them, with the help of the key third or with a crowd third (see first assistant director (AD)). They might have to supervise them or set a few into the background.
Even small details may cause delays, so floor runners are quick on their feet and responsive to specific requests from the producer, director, or assistant directors.
Watch
What's a floor runner good at?
Communication: give clear and concise communication over the radio, know the faces and names of all the crew, be personable, be able to coordinate large groups of extras in pressurised situations
Multi-tasking: stay calm, cope and prioritise when the first assistant director is asking you to do something over the radio at the same time that a unit car driver needs attention on WhatsApp
Watching film and TV drama: have a passion for the genre and a love of the industry
Learning by watching and asking: take instruction, observe the first, second and third ADs at work, know when to ask about things
Taking initiative: have common sense, see what needs to be done in a situation
Reliability: get to set on time
Tools of the trade
Be prepared on your first day on set. This is the kit that can be useful.
A pen with four colours. Used for note-taking on callsheets
A highlighter
Notepad
In-ear convert; so you don't have to wear one that has been used by someone else
Walking boots or other waterproof footwear
Waterproof trousers and coat
Thermal and extra layers of clothing
Set bag (backpack) to put them in
Reusable water bottle and snacks
Leatherman or multi tool (not essential but helpful)
Who does a floor runner work with?
Runners report to the first assistant director and are usually supervised by the third assistant directors. But they take messages to everyone in the production, so they need to be able to approach them confidently. They also work closely with the supporting artists. It is absolutely non-essential to get a university degree in order to become a runner. This tends to be the most junior role on any production.
How do I become a floor runner?
Get onto ScreenSkills' Trainee Finder scheme. This will help you make the contacts and build up the industry knowledge to get work in film or TV drama.
At school or college:
A-levels or Highers in art and design (photography), drama and theatre, and English are useful to grow your knowledge around aspects of film and filming.
Or you might want to take any of the following Level 3 vocational qualifications:
NCFE Applied General Certificate in Art and Design
BTEC Level 3 National Diploma/Extended Diploma in Art and Design
BTEC Level 3 National Extended Diploma in Creative Digital Media Production
UAL Level 3 Applied General Diploma/Extended Diploma in Art and Design
If you want to go straight into a job or apprenticeship, the following Level 3 vocational qualifications will equip you:
Aim Awards Diploma in Creative and Digital Media
OCR Cambridge Technical Diploma in Art and Design (Photography)
OCR Technical Diploma in Digital Media (Moving Image & Audio Production)
BTEC National Diploma in Film and Television Production
BTEC National Diploma in Photography
UAL Diploma/Extended Diploma in Art and Design
UAL Diploma /Extended Diploma in Creative Media Production and Technology
Get an apprenticeship:
Apprenticeships are jobs with training. They're a great opportunity to earn while you learn. However, it can be challenging to find jobs as an apprentice with production companies as many are not able to take people on for a whole year, which is an apprenticeship requirement at the moment. These are the apprenticeships that might be relevant to your interests throughout the UK:
Creative and Digital Media (Level 3, Northern Ireland)
Creative and Digital Media (Level 3, 4, Wales)
In Scotland, you might be able to find degree-level apprenticeships through the following frameworks:
Creative (SCQF Level 6/7, Scotland)
Creative and Digital Media (SCQF Level 6/7, Scotland)
Before taking any apprenticeship, check what you'll be learning with your prospective employer and college, so you can be sure it will be giving you the skills you want. Go to find an apprenticeship to learn how to find apprenticeships in your region or approach companies directly.
Take photographs:
Get as much experience as you can in photography. Make films and build a portfolio. This is essential for learning the trade and impressing admissions tutors. It can also be used to catch the eye of future employers.
Learn to drive:
It's essential both for getting to film locations in out-of-the-way places and to help with the running around between unit base and set.
Take a first-aid and health and safety course:
It will make you useful.
Work for an equipment rental company:
Contact a company like Panavision, Provision or ARRI Rentals. Ask if you can become a kit runner or driver for them. That way you will to learn more about the kit and build up contacts.
Get work experience:
Use The Knowledge to contact companies and ask if you can do work experience with them. See our advice on approaching employers.
Network:
Go to ScreenSkills' events like Open Doors to meet people working in development departments. Give people in the production department your details and ask if you can do work experience. Go to how to network well for some tips.
Network online:
Create a LinkedIn profile. See if there are Facebook pages or other social media groups for people making films or TV in your area. There might even be groups for runners and trainees. Join them. Create a ScreenSkills profile. There are a lot of crewing agencies that will charge you to be on their books. Sign up to the free ones initially. Wales Screen, Northern Ireland Screen and other areas offer free crew databases. Find a film office near you and get connected. If you do sign up to paid sites, make sure they specialise in the areas in which you're interested.
Become a trainee:
Get onto ScreenSkills' Trainee Finder scheme.
You might also be interested in…
Working as a runner is a good route into any of the departments in the film industry. You don't have to stay in the assistant directors' department. Know where you want to go and get to know the people who work there. Alternatively, you could consider being a receptionist or runner in the unscripted TV industry.
Further resources