Animation
Producer (Animation)
Also known as: Animation producer, Senior producer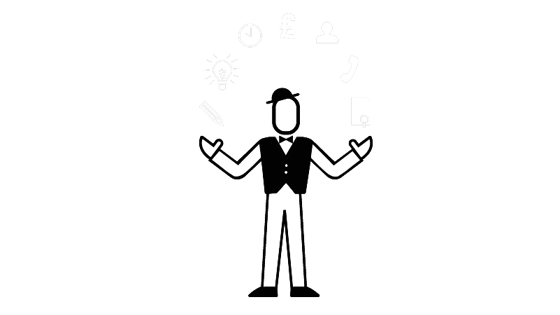 What does a producer do?
Producers have overall responsibility for an animation production. They manage the director and all the other departments to ensure a project's delivered on time, within budget and to the best creative brief.
Sometimes producers start with an idea for an animation. Then they get financial backing from distributors or broadcasters to produce it. This means producers need to be able to predict production costs well and propose a budget.
Producers also have a deep understanding of animation and its creative possibilities. They allow the animators the freedom to experiment, at the same time as keeping the production on schedule.
Animation producers can be employed by animation production companies or studios. Depending on the size of the studio, producers' work can be different. For instance, in larger companies, producers may be more focused on management, whereas, in smaller companies, there is more potential for producers to oversee creative decisions. Some producers freelance and move between companies.
Producers are always looking for opportunities to finance their productions. They think of all the ways they can bring in money, including raising finance through merchandise. They go to film, TV or arts festivals to meet people who might be able to fund projects or work as partners. The role of a producer can vary depending on the job or project and the skills or experience of the other producers and executive producers.
Watch and read
What's a producer good at?
Leadership: manage all departments on a production, motivate and communicate well with everyone throughout the project, take the lead on decisions, create a good working atmosphere
Organisation: be on top of the whole project, prepare schedules and a production budget, negotiate salaries, make room for creativity within this structure
Business: negotiate with financial backers to get funding for projects, cultivate good relationships
Animation knowledge: have an excellent understanding of all the processes of making an animation, be able to develop a concept
Problem-solving: work methodically and logically, find creative solutions, especially when things don't go to plan
Who does a producer work with?
Executive producer
On projects with executive producers, the producer, or producers, will report to them about the progress in production of the animation. Executive producers consult on projects and provide specialist expertise. They may also help producers on the business side of fundraising for projects. The title of executive producer may also be credited to the original creator of the source material that is being adapted.
Production manager
Production managers directly manage the production department day-to-day, and are the next most senior position to producers. As such, they liaise and work with each other on all logistical production matters, along with the production accountant. They may deal with business affairs to do with the broadcast partner. Hear from some animation production managers.
Production coordinator
Production coordinators work closely under production managers and producers. They ensure that other departments meet deadlines by overseeing departmental schedules and reporting issues to the line producer or the producer. See separate profile: production coordinator
Runner
Runners help in the production department wherever needed. This can include buying stationery and keep everyone stocked up with food and drink supplies. They are there to learn. See separate profiles: production runner
Director
Directors work with producers to oversee and manage animation projects, with directors taking the creative lead. See separate profile: director
Writer
Writers may be commissioned by producers to develop a concept for a project, and, further, to redraft scripts to pitch, as well as during pre-production on an existing project. See separate profile: writer
How do I become a producer?
Producers need to have a large amount of experience and understanding in the creative and business management sides of the animation industry. You have to understand the animation 'pipeline' (production process) of the kind of animation that you are working on, whether that be hand-drawn, stop-motion or 3D computer-generated (CG) animation.
One route to become a producer is to start as a writer, become established and then move to become a director, and then a producer. Alternatively, you could work as an animator and grow in seniority and experience within an animation studio until you can get work as a producer. Another route is to start as a runner and work your way up through the production department to being a production coordinator and then a production manager. You need to have and demonstrate a good capacity for organisation, whatever route you may take.
If trying to go via the production department route interests you, could get onto ScreenSkills' production Trainee Finder scheme and be a production trainee in a live-action environment. You could transfer your skills to animation at a later point.
At school or college:
If you want to go to university, A-levels and Highers in English, business studies, film studies and media studies are relevant. A media studies qualification is not essential, however. Any course that combines project management with creativity can be useful.
Or you might want to take one of the following Level 3 vocational qualifications:
OCR Technical Diploma/Extended Diploma in Business
BTEC National Diploma/Extended Diploma in Business
BTEC National Diploma/Extended Diploma in Enterprise and Entrepreneurship
BTEC National Extended Diploma in Creative Digital Media Production
If you want to go straight into a job or apprenticeship, the following Level 3 vocational qualifications will equip you:
BTEC National Diploma in Film and Television Production
UAL Diploma/Extended Diploma in Creative Media Production and Technology
Get an apprenticeship:
An apprenticeship is a job with training, so it's a great opportunity to earn as you learn. It's unlikely you'll find an apprenticeship that will take you straight into the producer role. However, if you're interested in the art route, try to find an apprenticeship as a junior animator or as a 2D artist. This will help you understand how animations are produced and could be a first step to becoming a producer. An alternative is to get an apprenticeship in project management, even if it's in another industry. If you keep up your passion for animation, you might be able to transfer your project management skills into animation at a later point. Check out What's an apprenticeship?  to learn more about apprenticeships and find an apprenticeship to learn how to find one in your region, or approach companies directly. Go to ScreenSkills information on animation apprenticeships for the main apprenticeship schemes in animation.

Get a degree:
It's not essential that you have a degree to become a producer, but if you want to get one, you can either choose to learn more about animation or about business. There are courses available that would either increase your knowledge about animation or others that better qualify you for the financial side of working in production. Have a look at ScreenSkills' list of recommended courses and select one in animation. We recognise courses with our ScreenSkills Select award where they offer training in the relevant software, dedicated time to building a portfolio and have strong links with the animation industry. 
Build a portfolio:
Create a showreel of your work. Learn video editing software, experiment with practical stop-motion and start creating work that you can show to admissions tutors or employers. Create your own short film or films. Go to build your animation portfolio to learn how.
Take a short course:
Hone your skills in animation by taking a specialist course. Go to the list of training courses recommended by ScreenSkills and see if there is one in.
Network:
Get to know people in the animation industry by attending events. Meet producers and animators and ask them questions about their work, while demonstrating interest and knowledge in the industry. Offer to provide them with your professional contact details and try to stay in touch with them. Go to how to network well to learn how to do this.
Search for jobs:
Research animation companies that you'd like to work for. Animation UK has a directory of animation companies. Go to their websites and check if they are advertising for junior roles in the production management department. You can also send in a speculative CV and ask employers to keep it on file so they can consider you if any suitable jobs come up. Go to How to approach animation and VFX employers for details of how to do this. Search job websites and apply for positions.
You might also be interested in...
Being a director or producer in the live action film and TV drama industries. Or you might be interested in being a visual effects (VFX) producer, or a games producer. Alternatively, you could consider being a production executive, producer director, talent manager or producer in the unscripted TV industry.
Further resources