Animation
Art director (Animation)
Also known as: CG supervisor, VFX supervisor, Production designer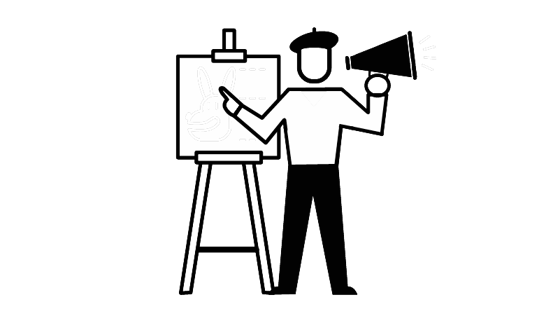 What does an art director do?
Art directors are responsible for the visual style of the animation. They decide how the characters, props and environments are going to look and provide a basis for the rest of the art department to work from.
Art directors start by examining the script and working with the director to understand the vision for the film or TV programme. They then create their designs and determine the tone, mood and colour palettes.
The work of an art director is more specific and directive than the work of a concept artist. Art directors determine the design 'language' of the film, which requires them to have an understanding of what the final, on-screen image will look like and how to get there. They work with the concept artists to develop sketches and artwork that communicate the artistic vision to the rest of the crew.
Generally, art directors produce 2D designs (drawings or paintings) regardless of what the final format of the animation will be, although it's becoming more common for early design work to be done directly and digitally in 3D. This work is presented to the director and producer and possibly to investors in the project.
Art directors are involved throughout the project up to its release, acting as a supervisor to the other artists, such as modellers, character designers and background designers. This is a job that involves a lot of communicating with people and needs strong management skills. They are responsible for ensuring all artwork is of a high quality and in keeping with the director's vision. They are also responsible for making sure everyone in the art department stays on budget and on schedule. Art directors are sometimes employed as freelancers working on a project by project basis.
Watch and read
What's an art director good at?
Creativity: have the artistic skill and imagination to produce original and high-quality designs
Leadership: have strong management skills to lead a department, be able to communicate visual ideas and be able to work as part of a team
Understanding animation pipelines: be able to understand what is going to be achievable further down the line on an animation production by the animation and post-production teams
Planning: work to a schedule and budget, be able to prioritise, remain calm under pressure
Communication: understand what the director wants, be able to explain ideas, give constructive feedback, have good presentation skills
Who does an art director work with?
Art directors work closely with the director and production management department as well as the artists in their teams, including background designers and modellers.
How do I become an art director?
In larger studios, art director is a senior position, so you usually need some experience before you can progress to this role. Art directors often have art or design-related degrees. You will also need a good understanding of how an animation project works. A good route into this role would be through starting in a junior position in the art department. Or you might find a general trainee position in an art department. You'll also need to develop strong management skills.
At school or college:
You can take A-levels or Highers in fine art, art and design, graphic design, or film studies. Or you might want to take any of the following Level 3 vocational qualifications:
BTEC National Diploma/Extended Diploma in Art and Design
UAL Applied General Diploma/Extended Diploma in Art and Design
NCFE Applied General Certificate in Art and Design
BTEC National Extended Diploma in Creative Digital Media Production
If you want to go straight into a job or apprenticeship, the following Level 3 vocational qualifications will equip you:
BTEC National Diploma in Graphics
UAL Diploma/Extended Diploma in Art and Design
OCR Cambridge Technical Diploma in Art and Design (Graphic Design)
BTEC National Diploma in Film and Television Visual Effects
UAL Diploma/Extended Diploma in Creative Media Production and Technology
OCR Technical Diploma in Digital Media (Moving Image and Audio Production)
Get an apprenticeship:
An apprenticeship is a job with training, so it's a great opportunity to earn as you learn. See if you can find an apprenticeship as a junior 2D artist or 3D artist. Even if you can't find a role in animation, if you keep up your passion for the industry, you might be able to transfer your skills into animation at a later point. Check out What's an apprenticeship?  to learn more about apprenticeships and find an apprenticeship to learn how to find one in your region, or approach companies directly. 
Build a portfolio:
Create work that you can show off to employers. As an art director you will be hired based on your personal style and skill, so you need to have a strong portfolio. This could be made up of your own independent artwork or work you've done for collaborative projects. This is essential. Go to build your animation portfolio to learn how. Watch ScreenSkills' advice on animation showreels for help and inspiration.
Get a degree:
A degree in art, design or a related field will equip you well for this job. Have a look at ScreenSkills' list of recommended courses and select one in animation. We recognise courses with our ScreenSkills Select award where they offer training in the relevant software, dedicated time to building a portfolio and have strong links with the animation industry. 
Look outside the industry:
Art directors are needed in many industries outside of animation, including advertising, theatre, print magazines and product design, as well as live action film. Getting experience working in the art department of company in one of these fields would be a good way to gain relevant experience which you can translate into animation.
Take a short course:
Hone your skills in animation by taking a specialist course. Go to the list of training courses recommended by ScreenSkills and see if there is one in animation or art directing.
Network:
Get to know people in the animation industry by attending events. Meet producers and art directors and ask them questions about their work, while demonstrating interest and knowledge in the industry. Offer to provide them with your professional contact details and try to stay in touch with them. Go to how to network well to learn how to do this.
Search for jobs:
Research animation companies that you'd like to work for. Animation UK has a directory of animation companies. Go to their websites and check if they are advertising for junior roles in the art department. You can also send in a speculative CV and ask employers to keep it on file so they can consider you if any suitable jobs come up. Search job websites for art director roles and apply for positions.
You might also be interested in…
Being a storyboard artist in animation.
Further resources