Animation
Layout artist (Animation)
Also known as: Previs (pre-visualisation) artist, 2D layout artist, 3D layout artist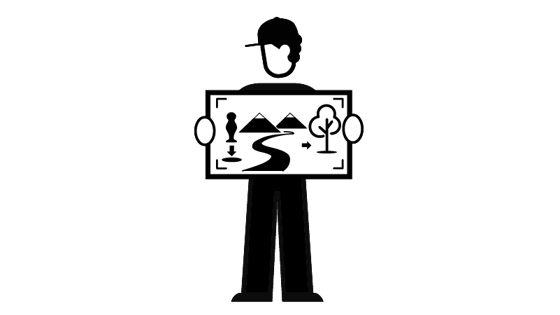 What does a layout artist do?
Layout artists begin their work at the start of an animation production, after the storyboard and the look of the project have been agreed upon. Layout artists determine the depth and perspective of what is displayed on screen. The way that this is achieved varies depending on the kind of animation being produced.

In traditional 2D hand-drawn animation, layout artists define the perspective of the animation frames by drawing the backgrounds. The relative size of the objects in the background of a flat image, as compared to the action in the foreground, influences how viewers perceive the scene. How large or small characters or other aspects of an animated scene appear to be influences how the audience feel. 2D layout artists base what will appear in the image on the storyboard, but they more clearly define what appears in an animation frame.

In 3D animation, layout artists are the directors of photography (DoPs) in a virtual space. A DoP in a live-action movie makes decisions about lenses, camera angles and camera movements. In a 3D animation, the layout artist makes the same decisions, but with a virtual camera within 3D animation software.

3D layout artists listen to the director to learn the desired style of virtual photography for the animation. Then they work from storyboards and tidy up the rough versions of the animation (known as animatics). They work out the timing and the placement of the characters at key points within each shot. This is known as blocking. They aim to keep a consistent scale to the elements within the frame, always working out how best to tell the story. They do a rough version of the lighting and produce the shots.
In stop-motion animation, there are no layout artists because this animation form is photographed by physical cameras and, therefore, there are actual DoPs.

Layout artists can be employed by animation studios.
It is critical to understand the story and emotion of the sequence before placing cameras into the scene. Without this, a camera is only a spectator in the scene, not a storyteller

Arem Kim, 3dtotal
Watch and read
What's a layout artist good at?
Art: be able to draw, have an eye for composition, know what looks good and why
Photography: understand camera and lighting techniques, know how to use them to affect emotions, know how to tell a story through a shot
Communication: work with the director, be able to pick up an idea from storyboard artists and share your work with other artists
Animation and art programs: be adept at using relevant programs such as Photoshop and TVPaint, as well as After Effects, Blackmagic Fusion, Maya, Mental Ray, Nuke, RenderMan and 3ds Max
Watching animations, feature films and media: have a passion for the medium of animation, a love of the industry and a broad interest in film and TV
Who does a layout artist work with?
Layout artists work with the storyboards that have been produced by the storyboard artists. Layout artists work closely with the director to translate storyboards and animatics into polished frames and to decide on the virtual camera 'language' of a project. Layout artists' work is critiqued by the art director before the layouts go to be painted by the background painters. The work that layout artists do to position the character models in the frames of the scenes gives the animators a starting point from which to work.
How do I become a layout artist?
As with any technical art role in the animation industry, it's important that you have good artistic skills in drawing, painting and illustrating. Further, to be a layout artist, you need to have some experience using animation and arts computer software, such as Photoshop and TVPaint, as well as After Effects, Blackmagic Fusion, Maya, Mental Ray, Nuke, RenderMan and 3ds Max. That said, some companies offer this training to the right candidate.

At school or college:
Take A-levels or Highers that combine art with science, if you can. It's ideal to do A-levels or Highers in art and design and graphic design, along with computer science or physics.
Or you might want to take any of the following Level 3 vocational qualifications:
Aim Awards Diploma in Creative and Digital Media
BTEC National Diploma/Extended Diploma in Art and Design
UAL Applied General Diploma/Extended Diploma in Art and Design
NCFE Applied General Certificate in Art and Design
BTEC National Extended Diploma in Creative Digital Media Production
BTEC National Diploma/Extended Diploma in Computing
If you want to go straight into a job or apprenticeship, the following Level 3 vocational qualifications will equip you:
BTEC National Diploma in Graphics
BTEC National Diploma in Photography
UAL Diploma/Extended Diploma in Art and Design
OCR Cambridge Technical Diploma in Art and Design (Photography)
BTEC National Diploma in Film and Television Visual Effects
UAL Diploma/Extended Diploma in Creative Media Production and Technology
OCR Technical Diploma in Digital Media (Moving Image and Audio Production)
BTEC National Diploma in Computing for Creative Industries
OCR Technical Diploma in IT (Digital Software Practitioner)
Get an apprenticeship:
An apprenticeship is a job with training, so it's a great opportunity to earn as you learn. See if you can find an apprenticeship as a junior 2D artist, junior 3D artist, VFX artist or assistant technical director. Even if you can't find a role in animation, if you keep up your passion for the industry, you might be able to transfer your skills into animation at a later point. Check out What's an apprenticeship?  to learn more about apprenticeships and find an apprenticeship to learn how to find one in your region, or approach companies directly. 
Build a portfolio:

Learn art and video editing software, experiment with practical stop-motion and start creating work that you can show to admissions tutors or employers. Create your own animatics; this is a good way to familiarise yourself with many aspects of the animation filmmaking process. This is essential. Go to build your animation portfolio to learn how.
Get a degree:
Have a look at ScreenSkills' list of recommended courses and select one in animation. We recognise courses with our ScreenSkills Select award where they offer training in the relevant software, dedicated time to building a portfolio and have strong links with the animation industry.
Draw, paint and illustrate:
Practise drawing, among other art forms, with a focus on anatomy and movement. Be aware of weight and timing when drawing from live subjects (or videos of them).
Take a short course:
Hone your skills in animation or being a layout artist by taking a specialist course. Go to the list of training courses recommended by ScreenSkills and see if there is one based in in the animation industry, or, look to for a course in cinematography, as the planning of good camera shots is transferable to this role.
Network:
Get to know people in the animation industry by attending events. Meet industry professionals and ask them questions about their work, while demonstrating interest and knowledge in the industry. Offer to provide them with your professional contact details and try to stay in touch with them. Go to how to network well to learn how to do this.
Search for jobs:
Research animation companies that you'd like to work for. Animation UK has a directory of animation companies. Go to their websites and check if they are advertising for junior layout artist roles. You can also send in a speculative CV and ask employers to keep it on file so they can consider you if any suitable jobs come up. Search job websites for layout artist roles and apply for positions.
You might also be interested in...
Being a background designer or artist or being a storyboard artist. You might be interested in being a layout technical director (TD) in the VFX sector. You might also be interested in working in the games industry for a development studio in a similar capacity as an animation layout artist, but for games cinematics.
Further resources