Animation
Head of story
Also known as: Storyboard supervisor, Storyboarder, Story artist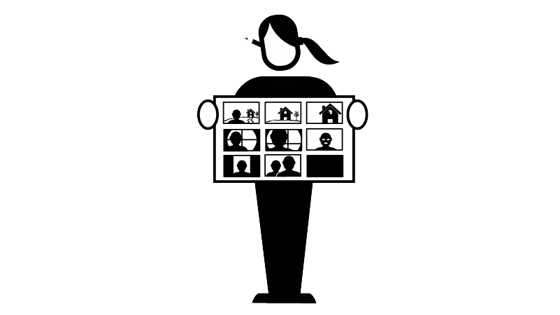 What does a head of story do?
Heads of story are in charge of turning the writer's words and the director's vision into a visual representation of the narrative. They produce series of panels to plan the action, staging and camera choices in 3D digital shots or 2D animation frames. They also work to ensure continuity between animated scenes.
Depending on the production, the panels might consist of rough drawings, or cleaner artwork. If the panels are being sent overseas to be animated, for example, more accurate and detailed drawings are necessary. For computer-generated (CG) animated films, detailed drawings are less important. Heads of story can draw their panels in any medium, but often combine different kinds of software to get the results they need. Once these have been edited together, they form the basis of the production team's animations.
Heads of story work closely with the director to develop and structure the story. They often contribute to the writing and editing of a film or series. They manage and inspire a team of storyboard artists. They present sequences, animatics, or reels, to allow signoff for the next stage of production, often managing multiple revisions and variations in the process.
Heads of story might work in-house at an animation studio or they might work on a freelance basis.
Watch
What's a head of story good at?
Drawing: have good drawing skills, be able to communicate a narrative visually
Knowledge of animation: be literate in animation with a good understanding of animating and editing
Communication: be able to take direction and use constructive feedback to make changes to your work, have excellent presentation skills for communicating with clients
Leadership: be able to share a vision, inspire a team and manage the storytelling of the project
Who does a head of story work with?
Heads of story work closely with the director, and often the writer, producer and editorial team. They might be assisted by a junior storyboard artist.
How do I become a head of story?
Head of story is a senior position. You need to start as a junior storyboard artist and work your way up to this role. Go to our junior storyboard artist for details of how to do this. You need to show storytelling skills and an understanding of story structure. Most heads of story have a degree, but you don't necessarily need one as long as you have a strong portfolio and can show your experience. People often go from being heads of story into being animation directors or directors.
At school or college:
You can take A-levels or Highers in fine art, art and design, graphic design, or film studies. Or you might want to take any of the following Level 3 vocational qualifications:
BTEC National Diploma/Extended Diploma in Art and Design
UAL Applied General Diploma/Extended Diploma in Art and Design
NCFE Applied General Certificate in Art and Design
BTEC National Extended Diploma in Creative Digital Media Production
If you want to go straight into a job or apprenticeship, the following Level 3 vocational qualifications will equip you:
BTEC National Diploma in Graphics
UAL Diploma/Extended Diploma in Art and Design
OCR Cambridge Technical Diploma in Art and Design (Graphic Design)
BTEC National Diploma in Film and Television Visual Effects
UAL Diploma/Extended Diploma in Creative Media Production and Technology
OCR Technical Diploma in Digital Media (Moving Image and Audio Production)
Get an apprenticeship:
An apprenticeship is a job with training, so it's a great opportunity to earn as you learn. See if you can find an apprenticeship as a junior storyboard artist. Check out What's an apprenticeship?  to learn more about apprenticeships and find an apprenticeship to learn how to find one in your region, or approach companies directly. Go to ScreenSkills information on animation apprenticeships for the main apprenticeship schemes in animation.
Build a portfolio:
Learn animation and video editing software and learn how to show story sequences cut together in an animatic form. Experiment. Start creating work that you can show to admissions tutors or employers. Go to build your animation portfolio to learn more. Watch ScreenSkills' advice on animation showreels for help and inspiration.
Get a degree:
A degree in fine art or illustration will equip you well for this job. So will a degree in film or animation. Have a look at ScreenSkills' list of recommended courses and select one in animation or film. We recognise courses with our ScreenSkills Select award where they offer training in the relevant software, dedicated time to building a portfolio and have strong links with the animation industry. 
Look outside the industry:
You might be able to get a job in an art department with a game development company. You could use the skills you would hone in this role to later transfer into animation.
Network:
Get to know people in the animation industry by attending events. Meet producers and animators and ask them questions about their work, while demonstrating interest and knowledge in the industry. Offer to provide them with your professional contact details and try to stay in touch with them. Go to how to network well to learn how to do this.
Search for jobs:
Research animation companies that you'd like to work for. Animation UK has a directory of animation companies. Go to their websites and check if they are looking for junior storyboard artists. Even if they aren't, send in your CV and portfolio and ask them to bear you in mind for future roles. Keep looking on job websites too.
You might also be interested in…
Being an animation director.
Further resources