Animation
Director (Animation)
Also known as: Director of animation (on smaller projects), Series director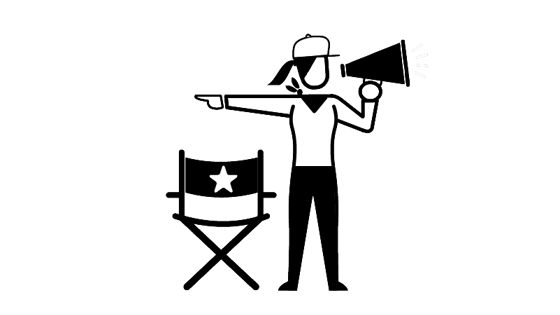 What does a director do?
Directors hold the creative vision of an animated film or TV series. They work out the style of the animation; its mood, how it will look and how it will sound. They share the vision and get everyone working towards it.
Directors sometimes create the original designs for characters. They direct the teams working on the design, storyboard, layout and background animation. Sometimes they recruit the teams too.
When an animation involves voice actors, directors work with them to get the kind of performance that they need. Sometimes actors are needed to act out scenes for animators to capture and imitate. Directors work with the actors for this too.
Directors are responsible for the quality of the edited film. When all the animation frames have been assembled, edited together and the sound added, the director signs off on it; this is what is known as the director's cut.
On large projects there is usually an animation director as well as a director. In these cases, the director is in overall charge and delegates the day-to-day management of the animation department to the animation director. On small projects, such as some commercials or music videos, there's just the one role and it might be called director or animation director.
Directors can be employed by an animation studio or they might work as freelancers.
Watch and read
What's a director good at?
Imagination: envisage the film you want to make, create that vision
Leadership: share the vision of the film with a range of people from different departments, inspire them to do their best work, manage various creatives and talent, make creative decisions
Storytelling: understand what makes a good story and how to be able to convey emotions, characters and action innovatively on screen in a narrative structure
Animation knowledge: have a good understanding of the principles and mechanics of animation
Arts knowledge: have a passion for, and deep knowledge of, animation, appreciate all genres of art so as to be able to draw ideas from a range of sources
Who does a director work with?
Directors work with producers, writers, storyboard artists and the art director in the early stages of a production. They also work with the producers and oversee all the creative departments.
How do I become a director?
Directors are the creative leads on an animation project, and, as such, they usually have a good deal of experience of filmmaking or producing TV series . Some directors come from a background of working as an animator for an animation studio. Notable examples of these include Brad Bird and Tim Burton. Alternatively, some directors can come from live-action backgrounds and then turn their hands to animated films; Wes Anderson is an example of this kind of director. They may have worked as screenwriters, assistant directors or in the camera department. The journey to becoming a director can be a long one. Having a strong idea of how you will use your own personal skills on that journey will help.
At school or college:
At school or college, A-levels or Highers in English, art and design, graphic design or communication, film studies, media, drama or psychology will help to prepare you.
If you want to go straight into a job or apprenticeship, the following Level 3 vocational qualifications will equip you:
BTEC National Diploma in Film and Television Production
BTEC National Diploma in Film and Television Visual Effects
BTEC National Extended Diploma in Creative Digital Media Production UAL Diploma/Extended Diploma in Creative Media Production and Technology
OCR Technical Diploma in Digital Media (Moving Image and Audio Production)
BTEC National Diploma/Extended Diploma in Art and Design
BTEC National Diploma in Graphics
UAL Applied General Diploma/Extended Diploma in Art and Design
UAL Diploma/Extended Diploma in Art and Design
NCFE Applied General Certificate in Art and Design
OCR Cambridge Technical Diploma in Art and Design (Graphic Design)
Get an apprenticeship:
An apprenticeship is a job with training, so it's a great opportunity to earn as you learn. It's unlikely you'll find an apprenticeship that will take you straight into the director role, but you might find an apprenticeship as  junior animator or as a 2D artist, that you could use as a first step to becoming a director. Check out What's an apprenticeship?  to learn more about apprenticeships and find an apprenticeship to learn how to find one in your region, or approach companies directly. 
Get a degree:
There is no further education academic requirement to becoming a director. That said there are a number of courses which may be beneficial, and would certainly increase your knowledgebase in relevant areas. Have a look at ScreenSkills' list of recommended courses and select one in animation or film. We recognise courses with our ScreenSkills Select award where they offer training in the relevant software, dedicated time to building a portfolio and have strong links with the animation industry. 
Build a portfolio:
Learn animation and video editing software, experiment with practical stop-motion and start creating work that you can show to admissions tutors or employers. Create your own short film or films. This is essential. Go to build your animation portfolio to learn how.
Look outside the industry:
Once you have gained sufficient experience and contacts, you could try to direct a live action project and then return to directing in animation after gaining this experience.
Take a short course:
On the ScreenSkills website, we have a list of animation training courses, recommended by ScreenSkills, that we either fund, support or have quality-marked.
Pitch your ideas:
Director jobs for animation projects tend not to be listed on job websites. To get this kind of job, you will need to pitch an idea or concept to a feature animation production studio.. Animation UK has a directory of animation companies. Alternatively, you will need to work up through an animation company, in the case where you may want to work as a series director for animated television, or on commercials. ScreenSkills offers some advice from professionals on how to approach animation and VFX employers.
You might also be interested in...
Being a producer in animation. Or you might want to be a director or producer in the live action film and TV drama industries. Being a visual effects (VFX) supervisor or VFX producer might be of interest too. Alternatively, you could consider being a director or producer director in the unscripted TV industry.
Further resources