Animation
Sound designer (Animation)
Also known as: Audio designer, Sound engineer, Supervising sound editor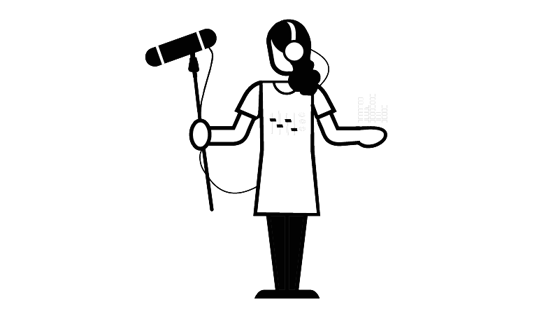 What does a sound designer do?
Sound designers create the soundscape for an animation. In animation, there are no natural sounds to work with (as there would be when filming live action) so everything sound in animation is created from scratch by sound designers.
Sound designers decide which sounds to use to create the right atmosphere and communicate the story and characters to the audience. They discuss with the director the kind of effect they want and then find creative ways to achieve this.
They might create sounds from scratch on the computer, known as synthesis, or record real life sounds to use, known as foley. Foley often involves recording one sound to use it as something else. For example, the sound of frying bacon can be used as a rain sound effect. They also use layering, combining multiple sounds to create one new one.
 Animation sound designers need to be highly imaginative, especially when designing what a fantasy creature or environment might sound like and in terms of how to produce those sounds.
Sound designers edit their chosen sounds and, using timecodes given to them by the director, put them into the film. They work to tight deadlines in post-production, determined by the delivery dates of the project. They are usually freelancers.
Watch and read
What's a sound designer good at?
Creativity: be able to imagine a soundscape that doesn't exist yet, translate ideas into sound, create bespoke sounds to enhance the storytelling
Storytelling: have a good understanding of the characters and the story and design sounds which communicate these well, understand the importance of timing, when sound design is necessary and when not
Using software: record sound, have extensive knowledge of ProTools and other audio design software
Communication: understand the director's vision and be able to articulate creative and technical ideas, have productive discussions and address constructive feedback, work closely with the dialogues and always keep the music in mind
Organisation: be able to work to tight deadlines in post-production
Who does a sound designer work with?
Sound designers work closely with the director and editor. They might also work with the following people:
Supervising sound editor
Supervising sound editors work directly with the filmmakers to structure and advise on schedules and creative styles. They liaise closely with the picture editor. They build the team of editors responsible for creating the films sound track. Supervising sound editors organise the effects (FX) and Foley recording sessions. They provide the creative input during the mix and ensure the final mix and various versions are delivered.
Sound effects editor
Sound effects editors work closely with the sound designer and supervisor. They create backgrounds using specific sounds, such as clocks, wind, birdsong, cars passing. They create the ambience that can be altered to work with the dialogue and music.
Dialogue editor
Dialogue editors are responsible for editing the recordings of the script and synchronising this with the animation.
Foley artists, Foley editors and Foley mixers
Bigger studios might have specific Foley artists who create sounds such as footsteps, squeaking doors or breaking glass.
Music editor
Music editors determine where music is needed in the film and the style and purpose of the music. Sound designers will collaborate with them to make sure their sound effects work well with the music being written by the composer.
How do I become a sound designer?
To become a sound designer, you might either train in audio recording, or take a broader film production degree and specialise in sound. To get a job in sound design it is crucial to demonstrate high levels of both technical and creative skill. It's worth applying for a place in the sound department on ScreenSkills' Trainee Finder scheme.
At school or college:
A-levels or Highers in music will equip you for this role. If you can do film studies too, it will contribute to your understanding of creating sound for film.
Or you might want to take any of the following Level 3 vocational qualifications:
Aim Awards Diploma in Creative and Digital Media
OCR Cambridge Technical Diploma/Extended Diploma in Performing Arts
BTEC National Diploma/Extended Diploma in Performing Arts
UAL Diploma/Extended Diploma in Music Performance and Production
UAL Diploma/Extended Diploma in Performing and Production Arts
If you want to go straight into a job or apprenticeship, the following Level 3 vocational qualifications will help you:
BTEC National Extended Diploma in Music
BTEC National Diploma in Sound Production
BTEC National Diploma/Extended Diploma in Music Technology
BTEC National Diploma in Film and Television Production
RSL Subsidiary Diploma for Music Practitioners (Composition)
RSL Diploma/Extended Diploma in Creative and Performing Arts
OCR Technical Diploma in Digital Media (Moving Image and Audio Production)
Get an apprenticeship:
An apprenticeship is a job with training, so it's a great opportunity to earn as you learn. See if you can find an apprenticeship in sound recording or sound mixing. Even if you can't find an apprenticeship in animation, it's worth taking up an opportunity in theatre, games, advertising or live-action. Anything that gives you experience working in sound is work pursuing. You can transfer your skills into animation at a later point. Check out What's an apprenticeship?  to learn more about apprenticeships and find an apprenticeship to learn how to find one in your region, or approach companies directly. 
Build a portfolio:
Learn sound design software, experiment with creating, recording, and editing sounds and start creating work that you can show to admissions tutors or employers. Try to collaborate with filmmakers on short films. Go to build your sound portfolio to learn how. Watch ScreenSkills' advice on animation showreels for help and inspiration.
Get a degree:
Have a look at ScreenSkills' list of recommended courses and select one in animation that specialises in sound design. We recognise courses with our ScreenSkills Select award where they offer training in the relevant software, dedicated time to building a portfolio and have strong links with the animation industry.
Look outside the industry:
Sound designers are needed in industries outside of animation including in live action film and TV and in games as well as in advertising. See if you can get work experience of a job in one of these fields and develop skills which you can later transfer to a job in animation.
Become a trainee:
Get onto ScreenSkills' Trainee Finder scheme. Even if you are working on a live action movie, it will help you to get the skills, make contacts and learn how to work in sound.
Get work experience:
See if you can get a work experience placement in post-production on an animation. This will give you insight into what goes on in post-production and will help you to build connections.
Take a short course:
Hone your skills and improve your knowledge of sound design by taking a specialist course. Go to the list of training courses recommended by ScreenSkills and see if there is one in sound.
Network:
Get to know people in the animation industry by attending events. Meet producers, music editors and composers and ask them questions about their work, while demonstrating interest and knowledge in the industry. Offer to provide them with your professional contact details and try to stay in touch with them. Go to how to network well to learn how to do this.
Search for jobs:
Research animation companies that you'd like to work for. Animation UK has a directory of animation companies. Go to their websites and check if they are advertising for junior roles in sound design. You can also send in a speculative CV and ask employers to keep it on file so they can consider you if any suitable jobs come up. Search job websites for sound design roles and apply for positions.
You might also be interested in…
Being a composer, or a sound designer in the games industry.
Further resources