Animation
Marketing executive
Also known as: Publicity officer, Community manager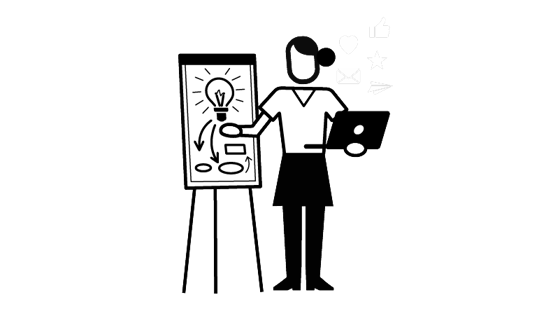 What does a marketing executive do?
Marketing executives plan, develop and implement marketing campaigns to help persuade audiences to watch an animation. They work very closely with public relations (PR) and sales professionals.
When an animation is about to launch or go to broadcast, it's promoted through a marketing campaign that can be targeted at either a trade (professionals or bodies of the relevant industry) or consumer audience. The campaign might involve print, TV, cinema, event and digital advertising.
Marketing executives need to have a good understanding of the product that they are marketing and the audience that they are trying to reach. They decide on the story to tell the audience, write the copy (words) and collaborate with creative partners to develop and deliver promotional material. They often coordinate market research projects and use the resulting data to assess the current effectiveness of campaigns to help with future ones.
Marketing executives prepare the marketing budget, bearing in mind income forecasts, acquisition costs and contract terms. If an animated film is being screened internationally, the campaign needs to be adapted to different cultures and countries, often working with separate distributors in each territory.
Some marketing executives also manage online communities, including social media accounts. In larger production companies there tend to be specialist roles for community management.
Marketing executives can be employed by film sales agencies, marketing agencies, production companies or broadcasters. Big production companies or animation studios will have their own marketing departments for their animated projects. Smaller ones will use a separate marketing company, agency or freelancer. For animated TV series, marketing executives may be employed by the broadcaster or channel, such as BBC Studios or Channel 4.
Watch
What's a marketing executive good at?
Communication: write compelling copy, engage people from a wide range of backgrounds, be able to tell a story, brief colleagues, such as designers, who will create marketing materials, proof read
Creativity: understand that the animation industry is based around a visual medium so it's important to be able to come up with visual ways to show a production in its best light
Audience awareness: know audiences, research audience statistics, understand how they watch animated films or TV series, as well as how they consume other forms of media, be aware of the commercial performance of these
Social media: enjoy creating a buzz on social media platforms, use scheduling software
Organisation: anticipate, prioritise and stay on top of tasks, manage your team
Watching animations: have a passion for the medium and a love of the industry, have a critical eye and analyse the content
Who does a marketing executive work with?
Marketing executives work with marketing assistants, publicists, sales executives, animation producers and designers.
How do I become a marketing executive?
You will likely want to gain experience working as a marketing assistant in order to eventually gain promotion or employment as an executive. There are no set routes into marketing. However, a degree in a marketing, communication or an animation or film subject is useful. You need to become familiar with how various social media platforms work and operate. Professional qualifications are offered by The Chartered Institute of Marketing (CIM).
At school or college:
If you want to go to university, A-levels or Highers in business studies or English are useful.
Or you might want to take the following Level 3 vocational qualifications:
OCR Technical Diploma/Extended Diploma in Business
BTEC National Diploma/Extended Diploma in Business
BTEC National Diploma/Extended Diploma in Enterprise and Entrepreneurship
If you want to go straight into a job or apprenticeship, the following Level 3 vocational qualifications will equip you:
AQA Foundation Technical Level Business: Marketing Communications
AQA Technical Level Business: Marketing
NCFE Diploma in Skills for Business: Sales and Marketing
Get an apprenticeship:
An apprenticeship is a job with training, so it's a great opportunity to earn as you learn. See if you can find an apprenticeship in marketing or as a digital community manager. Even if it's not in animation, you could transfer your skills into animation at a later point. Check out What's an apprenticeship?  to learn more about apprenticeships and find an apprenticeship to learn how to find one in your region, or approach companies directly. 
Volunteer:
Find charities, amateur theatre or student animation and film productions. Ask if you can do their social media for them. Create a campaign and keep track of how your campaign has increased visitors to the website, donations or ticket sales. Put that on your CV.
Start your own channel:
Set up a review blogging site or content channel. This is the marketing version of having a portfolio. You can send a link with your CV to show your writing and online skills, and, equally importantly, your interest in animation.
Get a degree:
A degree in marketing, communication or a film subject is relevant. Subjects related to business can also be suitable. Have a look at ScreenSkills' list of recommended courses and select one in animation, specialising in marketing. We recognise courses with our ScreenSkills Select award where they offer training in the relevant software, dedicated time to building a portfolio and have strong links with the film, TV and animation industries.
Look outside the industry:
Marketing is important in all industries, so there are plenty of agencies and departments that have marketing assistant roles. Apply for marketing assistant roles in any industry to build up your skills. You can transfer those to the animation industry later on.
Take a short course:
Hone your skills in marketing by taking a specialist course. Go to the list of training courses recommended by ScreenSkills and see if there is one in marketing or social media.
Network:
Get to know people in the animation industry or in marketing by attending events. Meet industry professionals and ask them questions about their work, while demonstrating interest and knowledge in animation. Offer to provide them with your professional contact details and try to stay in touch with them. Go to how to network well to learn how to do this.
Search for jobs:
Research animation companies or specialist film and media marketing companies that you'd like to work for. Animation UK has a directory of animation companies. At the earlier stages of your career, go to their websites and check if they are advertising for marketing assistant roles. Once you have more experience in this field, you can look to apply for marketing executive roles. You can also send in a speculative CV and ask employers to keep it on file so they can consider you if any suitable jobs come up. Go to How to approach animation and VFX employers for details of how to do this. Search job websites for marketing roles and apply for positions.
You might also be interested in...
Being a marketing assistant or marketing manager in the film and TV drama industries, or being a community manager or marketing executive in the games industry. Alternatively, you could consider being a digital producer in the unscripted TV industry.
Further resources