Animation
Runner
Also known as: Personal assistant, Production assistant (PA), Production trainee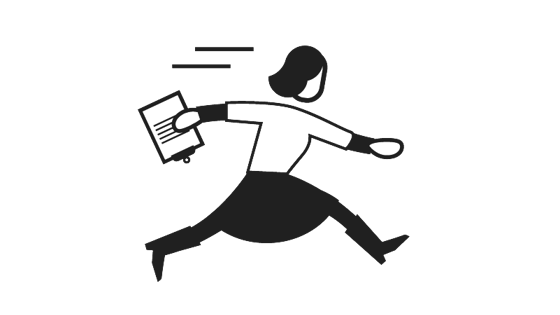 What does a runner do?
Runners keep an animation project running as smoothly as possible by assisting the work of the production management department of an animation studio.
They are the most junior members of the department and do any number of administrative jobs. Their role varies depending on the size of the company they're working for. In smaller companies, they support all the departments, whereas, in larger companies, they may specifically help the production coordinator.
Runners' responsibilities might include:
Taking notes in production meetings and distributing reports to the appropriate people
Organising and logging incoming and outgoing materials
Maintaining databases and spreadsheets for tracking work progress and workflows
Dealing with script preparation and printing for voice recording sessions
Doing general office jobs like answering the phone, filing paperwork and entering data
Booking travel and accommodation
Some animated projects, including animated TV series, outsource the animation part of the production abroad. In these cases, runners may be responsible for scanning and labelling the storyboards and any associated documentation for shipping.
Runners are usually employed by animation studios. They don't tend to be freelance, but might be employed on a short-term contract.
Watch and read
What's a runner good at?
Organisation: plan, prioritise and multitask in your role
Learning by watching and asking: observe what's happening, use your initiative and ask questions at the appropriate time
Taking instruction: listen carefully, respond quickly to requests, stay calm under pressure and be helpful whenever you can
Communication: be polite to clients and production partners, pass on information in a clear and concise manner
Enthusiasm: have a passion for the medium and a love of the industry
Who does a runner work with?
Runners work under production coordinators in the production management department of animation projects. On larger productions, these two roles may service a particular department, such as the animation department; in which case, runners also work with animators.
How do I become a runner?
This is a good entry level job to gain experience in production management. From working as a runner, you could progress to the role of production coordinator. It's worth applying for ScreenSkills' Trainee Finder scheme to get placements on live-action projects. It will help you make the contacts and build up the industry knowledge which you can use to get work in the production management department of an animation.
At school or college:
If you want to go to university, A-levels and Highers in English, business studies, film studies and media studies are relevant.
Or you might want to take one of the following Level 3 vocational qualifications:
OCR Technical Diploma/Extended Diploma in Business
BTEC National Diploma/Extended Diploma in Business
BTEC National Diploma/Extended Diploma in Enterprise and Entrepreneurship
BTEC National Extended Diploma in Creative Digital Media Production
If you want to go straight into a job or apprenticeship, the following Level 3 vocational qualifications will equip you:
BTEC National Diploma in Film and Television Production
UAL Diploma/Extended Diploma in Creative Media Production and Technology
Get a degree:
You don't need a degree to become a runner. There are no degree courses specific to working in the production management department of animation that we recommend. However, there are courses that specialise in animation that could grow your knowledge of the process of an animation production. Have a look at ScreenSkills' list of recommended courses and select one in animation. We recognise courses with our ScreenSkills Select award where they offer training in the relevant software, dedicated time to building a portfolio and have strong links with the animation industry. 
Look outside the industry:
Consider looking for work as a production runner on live-action film and TV drama projects, as the skills and experience that you would gain there are useful and transferable to a runner role in the animation industry.
Take a short course:
Hone your skills in production assistance by taking a specialist course. Go to the list of training courses recommended by ScreenSkills and see if there is one in animation or production.
Network:
Get to know people in the animation industry by attending events. Meet producers and animators and ask them questions about their work, while demonstrating interest and knowledge in the industry. Offer to provide them with your professional contact details and try to stay in touch with them. Go to Network well to learn how to do this.
Become a trainee: 
Get onto ScreenSkills' Trainee Finder scheme. Get the skills, make contacts and start working as a production trainee.
Search for jobs:
Research animation companies that you'd like to work for. Animation UK has a directory of animation companies. Go to their websites and check if they are advertising for junior roles in the production management department. You can also send in a speculative CV and ask employers to keep it on file so they can consider you if any suitable jobs come up. Go to How to approach animation and VFX employers for details of how to do this. Search job websites and runner roles apply for positions.
You might also be interested in…
Working in the production department of the games industry, working as a VFX runner or working as a production runner or floor runner in the film and TV drama industries.
Further resources