Animation
Animator (Animation)
Also known as: 2D animator, 2D puppet animator, 3D animator, Computer graphics (CG) animator, Stop-frame animator, Stop-motion animator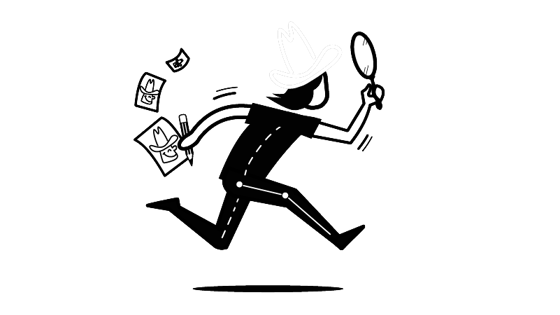 What does an animator do?
Animators create still images that are played in a rapid sequence to create the illusion of movement. They are artists, actors and storytellers. They know how characters show emotion and have a good, technical understanding of the way things move. They make a believable world through the blend of realism and artistry.

Animators take a visual brief from a storyboard and a verbal brief from a director. From the brief, they create the drawings, models or computer images in a way that gives the illusion of movement. This ability to translate the brief into movement is at the heart of all animation.

Within that, there are different kinds of animators:
2D or traditional animators
Examples of productions: Ethel & Ernest, Horrid Henry, The Tiger who Came to Tea
2D animators draw each frame by hand. Nowadays, animators tend to draw into animation software with a graphics pen and tablet. 2D animators don't necessarily produce the finished 'line' seen on screen. They concentrate more on the overall action and character performance in a scene. They will usually produce a few clean, on model drawings as needed, for the assistant animator to follow. These are known as tie-downs.

2D assistant animators, also known as in-betweeners, clean-up artists
Assistant animators take the animator's drawings, make each frame precisely on model and apply the final 'line' that will be seen on screen. This is known as clean up. They will often have to fill in frames that the animator did not need to produce. To do this they follow the animators 'charting' - visual instructions left for the assistant animator as to where missing drawings should come in the timeline. This is known as in-betweening. They might also lip sync, which means drawing the mouth in a way that lines up with the speech.

2D rigging animators, also known as puppet animators
Examples of productions: Charlie and Lola, Peppa Pig
2D puppet animators work with rigged models that are reminiscent of shadow puppets, with lots of separate moving parts that are interlinked. The kit of parts is often produced by the art department. The animator then uses the available assets to animate the character as detailed on the storyboard.

3D or CG Animators
Examples of productions: Digby Dragon, Go Jetters
3D animators use computers to fill in the frames of their computer-drawn models. The movement of their models is pre-programmed through a moving skeleton, or rig. 3D animators animate the most important frames - key frames. This is known as blocking the shot. Then they either draw the in-between shots by hand or allow the computer to do the rest of the work through the rig in a process known as interpolation.  During pre-production, 3D animators test the rig and check it will work for their characters.

Stop-motion animators
Examples of productions: Shaun the Sheep, Postman Pat, Isle of Dogs
Stop-motion animators work with puppets or models made from clay or other materials. They move the models of characters by tiny amounts, one frame at a time, so they can be photographed and recorded, as though moving continuously in a sequence. On a large-scale project, such as a feature film, stop-motion animators can be hired for particular skills. For example, some animators might be especially good at working with action, others with charm, comedy or dialogue; some might excel in animating certain characters, others in non-creature objects. Common materials for stop-motion animation include clay or plasticine, paper, or action figures like Lego.

Animators often work in large teams, which means they need all to be capable of adhering to the same look and animation style.

They can work for animation studios, film studios or TV production companies. They may also be freelancers.
Watch and read
What's an animator good at?
Art: draw and reveal attitude, emotions and mood through a character's movement, have spatial awareness and a feel for movement over time
Knowledge of animation: have a good understanding of the principles and mechanics of animation
Communication: be able to understand and share creative ideas, have productive discussions and take notes on your work
Organisation: work within the production schedule, create your drawings and animation to meet deadlines
Watching animations: have a passion for the medium and a love of the industry
Who does an animator work with?
Animators work from an overall brief from the director or animation director. They base their drawings on what has been storyboarded by the storyboard artist.
How do I become an animator?
The most important skill of an animator is the ability to draw, model or use puppets in a way that creates the illusion of movement. Whatever your route into the industry, you need to learn how to do this. It's useful to have a degree in animation too. This will give you the opportunity to learn the software and animation techniques. However you do it, practice and hone your animation skills and create your own portfolio to show off your work.

At school or college:
You can take A-levels or Highers in fine art, art and design, graphic design, or film studies. Or you might want to take any of the following Level 3 vocational qualifications:
BTEC National Diploma/Extended Diploma in Art and Design
UAL Applied General Diploma/Extended Diploma in Art and Design
NCFE Applied General Certificate in Art and Design
If you want to go straight into a job or apprenticeship, the following Level 3 vocational qualifications will equip you:
BTEC National Diploma in Graphics
UAL Diploma/Extended Diploma in Art and Design
OCR Cambridge Technical Diploma in Art and Design (Graphic Design)
Get an apprenticeship:
An apprenticeship is a job with training, so it's a great opportunity to earn as you learn. See if you can find an apprenticeship a junior animator. Check out What's an apprenticeship?  to learn more about apprenticeships and find an apprenticeship to learn how to find one in your region, or approach companies directly.
Build a portfolio:
Learn animation and video editing software, experiment with practical stop-motion and start creating work that you can show to admissions tutors or employers. Create your own short film or films. This is essential. Go to build your animation portfolio to learn how. Watch Screenskills' advice on animation showreels and CG Spectrum – College of Digital Art and Animation's student showcase YouTube video for help and inspiration.
Get a degree:
A degree in animation or a related useful field, especially if it's a degree that will offer you opportunities to do work experience. Have a look at ScreenSkills' list of recommended courses and select one in animation or design. We recognise courses with our ScreenSkills Select award where they offer training in the relevant software, dedicated time to building a portfolio and have strong links with the animation industry.
Draw, model, paint and illustrate:
Practise creating the illusion of movement with drawings or models, with a focus on anatomy. Be aware of weight and timing when drawing from live subjects (or videos of them). Carry a sketchbook around with you. Observe and draw wherever you can.
Get work experience:
Contact animation companies and ask if you can do work experience. You can also volunteer to use your animation skills to help small businesses, schools, not-for-profit organisations or community groups. Ask if you can enhance the look of their websites or produce an animation for them. This isn't advisable if the organisation already does its own animation, but if you find one where you think you can help, do ask.
Take a short course:
On the ScreenSkills website, we have a list of animation training courses that we either fund, support or have quality-marked.

Network:
Use social media as a free platform to present your work and to get exposure. Get to know people in the animation industry by attending events.  Research specific animation professionals you admire to see what public events and forums they will be attending and try to go to these. Meet producers and animators and ask them questions about their work. Offer to provide them with your professional contact details and try to stay in touch with them. Go to how to network well to learn how to do this.

Search for jobs:
Research animation companies you'd like to work for. Go to their websites and check if they are advertising for junior roles.  Even if they aren't, send in your CV and showreel and ask them to bear you in mind for future roles. Keep looking on job websites too. ScreenSkills offers some advice from professionals on how to approach animation and VFX employers. 
You might also be interested in...
Animators are employed in a range of different industries. Have a look at being an animator in the games industry or an animator in VFX.
Further resources