Games
Sound designer (Games)
Also known as: Audio engineer, Games sound designer, Sound engineer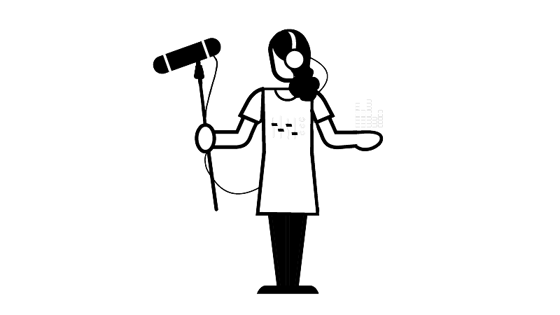 What does a games sound designer do?
Sound designers create the soundtrack for a game. This includes the music and foley - sound effects like gunshots, footsteps, crashes, cheers, heavy rain.  They make the gameplay more exciting by adding mood, tempo and emotional depth.
Sometimes they are involved in the game's development right at the start – working from a brief to design what a player is going to hear. Other times they are brought in when a game's already playable and their job is to add the sounds to the animation.
They usually start by creating a library of sound effects. They might work with a composer, with actors or go out and record sound. They edit, mix and master them to produce the soundtrack for the finished game.  As the audio elements are added to the game engine, the sound designer also tests them to make sure they work as intended.
Watch and read
What's a sound designer good at?
Music: compose and perform music

Sound engineering: know how to record, edit, mix and master

Knowledge of gameplay and platforms: imagine the game, have a sense of timing, understand how audio can improve gameplay and even drive gameplay

Knowledge of game engines: understand the technical constraints of engines and how sound files become integrated into them

Communication: work with game designers, other audio artists and QA technicians
Tools of the trade
These are some of the tools used by professionals, but you can develop your skills using free software. Go to build your games portfolio for a list.
Sound software (Logic Pro, Pro Tools, Sound Forge, Cool Edit Pro)

Games engines (Unreal, Unity)
Who does a sound designer work with?
Depending on the size of the studio, sound designers work closely with audio programmers and music composers. They might be the only person responsible for sound or they might be part of a significant team. They also work with the QA technicians to ensure the sound is working correctly.
How do you become a sound designer?
There is no set route into this job. The most important thing is to learn key skills before you start. This is usually a senior role but some companies will take on junior sound designers.
At school or college:
Make sure you study music.
If you want to go to university an ideal combination of subjects is A-levels, Highers or BTECs that combine music with computer science of physics. Think about putting some of these Level 3 subjects together:
Music

Physics

Computer science

BTEC Diploma Diploma in Computing

BTEC Diploma/Extended Diploma in Creative Digital Media Production
If you want to straight into a job or apprenticeship, the following Level 3 qualifications will help equip you with the skills you need:
Aim Awards Diploma/Extended Diploma in Games Animation and VFX

BTEC National Diploma in Sound Production

UAL Diploma/Extended Diploma in Creative Media Production and Technology

RSL Subsidiary Diploma for Music Practitioners (Technology)

AQA Technical Level Entertainment Technology: Video Games Art and Design Production

OCR Technical Diploma in Digital Media (Moving Image and Audio Production)
Build a portfolio:
Learn the software, experiment with games engines and start putting the music in.  Make something you can show off to admissions tutors or employers. This is essential. Go to build your sound portfolio and build your games portfolio to learn how.
Start modding:
Re-record your own music and foley for the games that you play, share with games and music communities online.
Get a degree:
Most people in the games industry have degrees so you might want to get a degree which includes sound engineering. There might be modules in music degree courses, in music production or in game design. Pick whichever most reflects your interest.
Have a look at ScreenSkills' list of recommended courses in games. We recognise courses with our ScreenSkills Select award where they offer training in the relevant software, dedicated time to building a portfolio and have strong links with the games industry.
Network:
Get to know people in the games industry by attending events, including games conferences and expos. Meet professionals and ask them questions about their work, while demonstrating interest and knowledge in the industry. Offer to provide them with your professional contact details and try to stay in touch with them. Go to how to network well to learn how to do this.
Search for jobs:
Use the UK Games Map to find out if there are games companies near you, then go to their websites directly and check out their open roles. Even if they are not advertising the right role, if you like a specific company it's worth emailing them to let them know you are looking in case something suitable comes up in future. Some employers will take on a junior sound designer if they have a strong portfolio, showing creativity, flair and software skills.
Search for jobs:
This isn't usually an entry-level role, but some companies might need to take on a junior.
Look outside games:
Work in sound at live music events. Work in any industry that will develop your audio engineering and sound designing skills and move into games from there.
You might also be interested in…
Being a music composer or an audio programmer in the games industry. You might also be interested in being a sound mixer or music editor in the film and TV drama industries, or a sound designer or composer in the animation industry.
Further resources