Games
Esports producer
Also known as: Associate esports producer, Esports broadcast producer, Esports live producer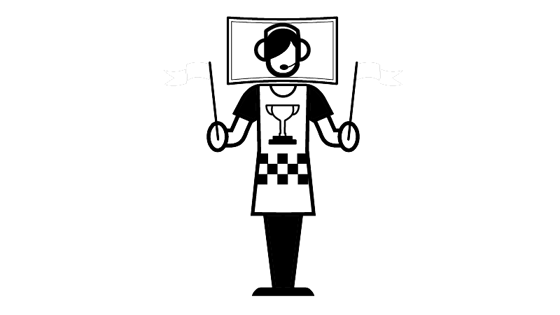 What does an esports producer do?
Esports producers put on the show. They make it possible for esports fans to see the thrills, the spills, the winners and the losers at esports tournaments. They plan the broadcasts, craft them and make them happen.
Esports - where players compete against each other playing video games streamed to audiences at the event itself and across the world - is a very rapidly growing business. All kinds of games, from Fortnite to Farming Simulator, are getting esports leagues. Increasingly games developers are launching their own competitions and employing producers to create the live streams.
The producers help write the scripts, spot those with a talent for commentating, manage the staff and make sure the event is exciting and meaningful whether it's being watched in person or online.
Watch
What's an esports producer good at?
Watching esports: have a passion for the games, have an in-depth awareness of the sector, want to see esports grow

Communication: know the esports community, connect with fans, get a team of people from different backgrounds working together

Event management: know what makes a great event, understand the technical and logistical requirements of a show, be organised, know health and safety requirements

Quick thinking: find solutions to problems under pressure

Marketing: understand who an event is for and create an event that fans will know about and want to attend
Who else works in esports?
The number of roles in esports is growing. Here are a few. Go to the British Esports Association Careers for more detail.
Event manager
Event managers research the venues for esports events. They book the equipment, hire the team, recruit volunteers, manage the budget and make sure everyone stays safe.
Sales manager
Sales managers are responsible for making sure the money comes in. They oversee tickets sales, get companies to sponsor events and sell advertising space on websites and tee-shirts.
Pro gamer
Pro gamers play games for prize money and to be crowned champion of a particular game. Many of the most lucrative games in esports are team games such as Dota 2 or League of Legends. Some pro gamer teams are sponsored by major companies like Samsung, or by pre-existing professional sports teams such as FC Schalke 04.

Admin or referee
Admins make sure players are sticking to the rules, hand out penalties where necessary and record scores. They check everything runs on time and deal with problems like computers freezing. They know the rules and are quick to make fair decisions.
Community manager
Community managers look after the fans. They find out what they want, feed that back to games developers, respond to fans on social media and keep them in touch with what's happening.
Observer
Observers are like directors in live TV broadcasting. They control what is seen by the viewers through the in-game camera. They understand the game well enough to anticipate the parts of the match to highlight.
Caster or host
The caster is the commentator. Casters add excitement, humour, personality and understanding to a game.
How do I become an esports producer
Decide which role you're most interested in:
Go to the British Esports Association Careers, look at the range of jobs and decide if you're more interested in sales, observing or producing, for example.
At school or college:
Get the qualifications that are relevant to that role. Look at the assistant producer job profile, the marketing executive job profile or community manager job profile to see the qualifications relevant to production, sales or community management in the games industry.
Volunteer:
This is the most important thing to do. There are many amateur-level esports organisations that need help. Get in there and get to know the scene. Go to Volunteer with the British Esports Association for advice on how to do this.
Know the game:
Understand the rules and mechanics of the game or games of the esport, but, also, understand the 'metagame', as in the way that the game is typically played at professional and tournament level, as opposed to how it might be played by casual players. Know the tournament structure of your esport.
Build a portfolio:
For roles like observer, caster or producer, create a sample deck or presentation to show employers or admissions tutors what you can do. Go to build your games portfolio to learn how.
Get a degree:
It's not essential that you have a degree in order to become an esports producer, but, if you want to get one, you can choose to learn more about games or about business. Certain degree courses would either increase your knowledge about games and better qualify you for the financial side of working in production. Have a look at ScreenSkills' list of recommended courses and select one in games. We recognise courses with our ScreenSkills Select award where they offer training in the relevant software, dedicated time to building a portfolio and have strong links with the games industry.
Network:
Get to know people in the games industry by attending events, including games conferences and expos. Meet professionals and ask them questions about their work, while demonstrating interest and knowledge in the industry. Offer to provide them with your professional contact details and try to stay in touch with them. Go to how to network well to learn how to do this.
Look for jobs and ask for jobs:
When you have got to know people in esports, ask them if there are any jobs going. Look on job websites and apply.
You might also be interested in…
Being a games publisher, games producer, marketing executive or community manager in the games industry. You might also be interested in being a producer, sales agent, distributor, marketing manager or film programmer in the film and TV drama industries. Alternatively, you could consider being a producer, sales executive or marketing executive in the animation industry.
Further resources