Games
Environment artist
Also known as: Environment modeller, 3D environment artist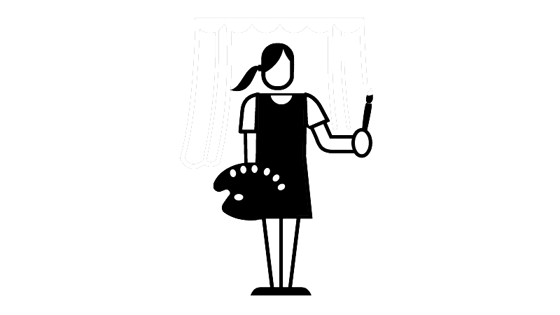 What does an environment artist do?
Environment artists make awesome places in which games can be played. They create fantasy landscapes – spooky dungeons and moody wastelands – and real-world places like offices and playgrounds too.
They often start with 2D art created by a concept artist and turn it into a believable environment in 3D. Sometimes they use photographs, sometimes their own imagination. Environment artists carefully consider the level designers' gameplay requirements. They find out what's mission-critical and ensure those elements are included.
At entry level, environment artists learn about the technical constraints of the game engine. something more experienced artists are expected to consider all the time. If they create an environment that's too detailed, it could cause the game to lag. Consideration of technical aspects such as polygon count within the environment can prevent that from happening.
Watch
What's an environment artist good at?
Art: be good at drawing, have strong understanding of form, colour, texture, and light, know how these elements work together
Knowledge of environments: understand architecture, have good awareness of city spaces and landscapes
Using game engines: know how to work with art within game engines, understand their technical limitations, keep up-to-date with their possibilities
Collaboration: communicate, work well with the other artists, designers and programmers
Organisation: work within the production schedule, manage files and meet deadlines
Tools of the trade
These are the some of the tools used by professional environment artists but you can develop your skills using free software.  Go to Build your games portfolio for a list.
Image editing software (Adobe Photoshop)

3D modelling, sculpting and painting software (Blender, 3D SMax, Maya, Mudbox, ZBrush, Substance Painter, Substance Designer, Quixel)

Games engines (Unity, Unreal)
Who does an environment artist work with?
Environment artists work with all the other members of the art department as well the designers and programmers working on the same game. 
How do I become an environment artist?
This is often a role that requires several years' experience working within games art, but some employers will take on a junior environment artist who supports a senior environment artist or art director initially. 
At school or college:
Learning traditional drawing, painting and sculpting is useful as a way to demonstrate artistic flair outside software.
If you want to go to university, it would be useful to take A-levels or highers in:
Art and design

Graphic design

Graphic communication
Or you might want to take any of the following vocational Level 3 qualifications:
BTEC Diploma/Extended Diploma in Art and Design

UAL Diploma/ Extended Diploma in Art and Design

BTEC Extended Diploma in Creative Digital Media Production

OCR Cambridge Technical Diploma in Art and Design (Graphic Design)

BTEC Diploma in Graphics
If you can add some physics or computer science into the mix, that will give you a rounded set of skills that are ideal for a career in games.
If you want to straight into a job or apprenticeship, these Level 3 qualifications will equip you with relevant skills:
Aim Awards Diploma/Extended Diploma in Games Animation and VFX

AQA Technical Level Entertainment Technology: Video Games Art and Design/Design Production

OCR Technical Diploma in Digital Media (Digital Content for Interactive Media)

AQA Technical Level IT: Programming

OCR Technical Diploma in IT (Digital Software Practitioner)

BTEC Diploma in Computing for Creative Industries
Build a portfolio:
Learn the software, experiment with games engines and start creating work that you can show to admissions tutors or employers. This is essential. Go to Build your games portfolio to learn how.
Start modding:
Create a level of a game using software provided by the publishers and set it in a great environment.
Look for an apprenticeship:
You're unlikely to find an apprenticeship as an environment artist in the games industry but you might find a role as a junior 2D artist that could equip you with some of the skills that you need.  It might be worth taking up that role and moving into games environment artist at a later point. Check out What's an apprenticeship? to learn more about apprenticeships and Find an apprenticeship to learn how to find one in your region, or approach companies directly. Go to ScreenSkills information on games apprenticeships for the main apprenticeship schemes in games.
Get a degree:
Most people in the games industry have a degree. Get one in games art, graphic design or any 3D digital art. Have a look at ScreenSkills' list of recommended courses in games. We recognise courses with our ScreenSkills Select award where they offer training in the relevant software, dedicated time to building a portfolio and have strong links with the games industry.
Network:
Get to know people in the games industry by attending events, including games conferences and expos. Meet professionals and ask them questions about their work, while demonstrating interest and knowledge in the industry. Offer to provide them with your professional contact details and try to stay in touch with them. Go to Network well to learn how to do this.
Search for jobs:
Use the UK Games Map to find out if there are games companies near you, then go to their websites directly and check out their open roles. You could also check out the ScreenSkills jobs boards. Some employers will take on a junior environment artist if they have a strong portfolio, showing creativity, flair and software skills.
Look outside games:
It's also worth considering computer artist roles in any other industry as using similar software will build up your skills. You can use this and any professional artwork you produce to continually improve your games art portfolio, putting you in a stronger position for an entry-level role in games.
You might also be interested in…
Being a level designer, 3D modelling artist or texturing artist in the games industry. You might also be interested in being a modelling artist, texture artist or an environment artist in visual effects (VFX), or a modeller or background designer in the animation industry. Alternatively, you could consider being an art director or production designer in the unscripted TV industry.
Further resources