Visual effects (VFX)
Environment artist
Also known as: Environment modeller, Visual effects (VFX) artist, 3D artist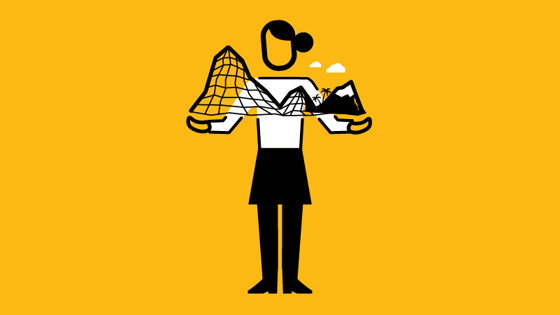 What does an environment artist do?
Environment artists create the computer-generated places in which actors move. They make galaxies, lunar landscapes and desecrated cities – any environment that it's too difficult to film in real life.
They create the 3D environments using modelling and sculpting software. They often work from a brief delivered to them in the form of 2D, or, sometimes, 3D digital art, produced by a concept artist. Or they might work from reference materials, such as photographs or line drawing sketches, which can be scanned into 3D software.
They first create a 'wireframe', commonly referred to as a 'mesh', of the environment. This looks like a series of overlapping lines (or interconnected polygon shapes) in the shape of the intended 3D environment. Usually, the more detailed the environment is (the more polygons it is made up of), the more photorealistic it looks.
From the mesh, they are able to further sculpt the environment to more closely resemble what's intended. They use digital tools, such as sculpting brushes, and a physical graphics pen and tablet in order to do this. 
Environment artists work at an early stage of the CGI and 3D part of their VFX pipeline. The 3D environments that they produce can then move on to be given texture and be lit. 
Environment artists work for VFX companies or studios or as freelancers. Smaller VFX companies or studios may not distinguish between environment, modelling, and texturing artist roles, and instead advertise for one modelling artist position, involving all roles.
Read
What's an environment artist good at?
Art: be good at drawing, have a strong understanding of form, colour, texture, and light, know how these elements work together
Knowledge of environments: understand architecture, have good awareness of city spaces and landscapes

Knowledge of 3D modelling programs: be adept at using relevant programs such as Blender, Maya and 

ZBrush

, continuously learn new ways to fix problems in your environments

Collaboration: be able to work with other VFX artists in the pipeline, use each other's resources and work effectively
Organisation: work within the production schedule, manage files and meet deadlines
Tools of the trade
These are some of the tools used by professionals:
3D modelling, sculpting and painting software (Blender, 3ds

Max

, Maya, 

Mudbox

, 

ZBrush

, Substance Painter, Substance Designer, 

Quixel

)

Graphics software (Adobe After Effects, Dreamweaver, Illustrator,Photoshop)

 
You can learn how to model using free software. Go to build your VFX portfolio for a list of what's available.
Who does an environment artist work with?
Environment artists often work from a brief from a concept artist. They also work with the modelling artists who create objects to put into their environments. Once they have created their environment it goes to the texture artist to add details. They report to the CG supervisor.
How do I become an environment artist?
Most environment artists in VFX companies have a degree in graphic design or some other VFX-specific course. They then work in a more junior role, such as a matchmove artist and progress to the position of environment artist. Whatever your route, you need to have a strong portfolio that illustrates your abilities.
At school or college:
If you want to go to university, A-levels or Highers in art, art and design, graphic design or graphic communication would all equip you well for this role. Or you might want to take one of the following Level 3 vocational qualifications:
BTEC National Diploma/Extended Diploma in Art and Design
BTEC National Extended Diploma in Creative Digital Media Production
NCFE Applied General Certificate in Art and Design
UAL Applied General Diploma/Extended Diploma in Art and Design
If you want to go straight into a job or apprenticeship, you might want to take one of these Level 3 vocational qualifications:
Aim Awards Diploma/Extended Diploma in Games Animation and VFX
Aim Awards Diploma in Creative and Digital Media
BTEC National Diploma in Film and Television Visual Effects
BTEC National Diploma in Graphics
BTEC National Diploma in Photography
UAL Diploma/Extended Diploma in Art and Design
OCR Cambridge Technical Diploma in Art and Design (3D Design)
OCR Cambridge Technical Diploma in Art and Design (Graphic Design)
OCR Cambridge Technical Diploma in Art and Design (Photography)
OCR Technical Diploma in Digital Media (Digital Content for Interactive Media)
OCR Technical Diploma in Digital Media (Moving Image & Audio Production)
Get an apprenticeship:
Apprenticeships are jobs with training. They're a great opportunity to earn while you learn. NextGen Skills Academy offers VFX apprenticeships  for school leavers. These involve a lot of learning on the job working in a VFX company.
If you can't find an apprenticeship with a VFX company, it might be worth getting an apprenticeship in a related industry, which could give you some experience to help you find your way into VFX at a later point.
These are some apprenticeships that might be available throughout the UK:
Creative and Digital Media (Level 3, Northern Ireland)
Creative and Digital Media (Level 3, 4, Wales)
Before taking any apprenticeship, check what you'll be learning with your prospective employer and college, so you can be sure it will be giving you the skills you want. Go to how to become an apprentice to learn how to find apprenticeships in your region or approach companies directly.
Build a portfolio:
Learn the software, experiment with VFX programs and create a showreel that you can show to admissions tutors or employers. Focus on producing a portfolio which includes relevant environment work to showcase your immediate practical skills This is essential. Go to build your VFX portfolio to learn how. Watch ScreenSkills' advice on VFX showreels. It's really importance to develop your appreciation for VFX.
Get a degree:
VFX companies or studios generally prefer it if you have a degree in graphic design, or another VFX-specific course for this role. Have a look at ScreenSkills' list of recommended courses and select one in VFX. We recognise courses with our ScreenSkills Select award where they offer training in the relevant software, dedicated time to building a portfolio and have strong links with the VFX industry.
Get VFX industry skills:
There are various VFX image and video-editing programs in which it's useful to receive training. Have a look at ScreenSkills' list of VFX courses that we either fund, support or have quality-marked.
Network:
Get to know people in VFX by attending events. Meet professionals and ask them questions about their work, while demonstrating interest and knowledge in the sector. Offer to provide them with your professional contact details and try to stay in touch with them. Go to how to network well to learn how to do this.
Search for jobs:
Research VFX companies you'd like to work for. Go to their websites and check if they are advertising for junior environment artists.  Even if they aren't, send in your CV and showreel and ask them to bear you in mind for future roles or work experience. Keep looking on job websites too. ArtStation is a good example of a site that includes job listings in animation, games and VFX (remember to filter its job listings by country). ScreenSkills offers some advice from professionals on how to approach animation and VFX employers.
You might also be interested in...
Being a VFX artist or learning to code and being a level designer, 3D modelling artist, environment artist, or texturing artist, all in the games industry. Or becoming a compositor, modelling artist or texturing artist in the VFX industry. 
Further resources