Visual effects (VFX)
Production manager (VFX)
Also known as: Line producer, VFX line producer, VFX production manager, Scheduler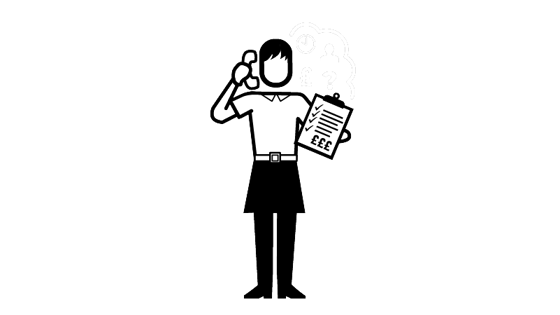 What does a production manager do?
Production managers act on the decisions that have been made by the VFX producer. They create the detailed schedule for the project and look after the budget.
They oversee the work of the production coordinator in scheduling the work and might also be involved in casting or hiring artists and drafting contracts. They liaise with the VFX artists and technical directors (TDs) from all parts of the VFX pipeline to see that work is completed on time.
They are also important in communicating with the producer of company shooting the live-action footage and producing the film or TV programme.
Production managers tend to be employed by VFX companies or studios rather than freelancers.
Watch
What's a production manager good at?
Communication: keep in contact with the various departments on a production in order to inform them of their schedules, relate to your colleagues and explain yourself well
Organisation: plan, prioritise, multitask and use your own initiative to manage schedules
Anticipation: listen and be one step ahead of what's going on, enable everyone to be able to get on with their job
Leadership: be confident in giving direction and leading a team, communicate well with everyone, create a positive atmosphere within the team
Knowledge of VFX: understand all aspects of the VFX pipeline, know the processes, the creative challenges and the software
Problem-solving: anticipate any issues that might occur during the project, adapt to changing timescales and technical issues
Who does a production manager work with?
Production managers work under the VFX producer. They manage the production coordinators and sometimes the VFX runners.
How do I become a production manager?
A good route to become a production manager is to start off as a VFX runner, then gain enough experience to become a production coordinator and then a production manager. Another point of entry is working as a production runner in an animation company, and them following a similar route of progression. See the VFX runner job profile for details about this role. Or you could get onto ScreenSkills' Trainee Finder scheme and work in the production department of a live-action film. You can then transfer your skills to the production department of a VFX project at a later point.
At school or college:
You can take A-levels or Highers in business studies, film studies, media studies, English, maths and economics. Or you might want to take the following Level 3 vocational qualifications:
BTEC National Extended Diploma in Creative Digital Media Production
If you want to go straight into a job or apprenticeship, the following Level 3 vocational qualifications will equip you:
Aim Awards Diploma in Creative and Digital Media
Get an apprenticeship:
Apprenticeships are jobs with training. They're a great opportunity to earn while you learn. You might be able to get an apprenticeship as a junior production manager or project manager.
Check out What's an apprenticeship?  to learn more about apprenticeships and find an apprenticeship to learn how to find one in your region, or approach companies directly. Go to ScreenSkills information on VFX apprenticeships for the main apprenticeship schemes in VFX.
If you can't find an apprenticeship with a VFX company, it might be worth getting an apprenticeship in a related industry, such as games or animation, which could give you some experience to help you find your way into VFX at a later point.

Create some VFX sequences:
A good way of understanding the processes in VFX, is to learn the software, and start making some. Go to build your VFX portfolio to learn how. Watch ScreenSkills' advice on VFX showreels. It's really importance to develop your appreciation for VFX.
Get a degree:
You could either take a degree that equips you with the technical skills of a VFX artist or a degree in film production. Have a look at ScreenSkills' list of recommended courses in film or VFX. We recognise courses with our ScreenSkills Select award where they offer training in the relevant software, dedicated time to building a portfolio and have strong links with the VFX industry.
Become a trainee:
Get onto ScreenSkills' Trainee Finder scheme. Get the skills, make contacts and start working as a production trainee.
Look outside the industry:
See if you can get a job as a runner with a 3D animation studio or company. This will help you build contacts, skills and knowledge related to VFX. While you are trying to break into VFX production, get management or project management experience. Any job that involves planning, organising and budgeting will give you good experience.
Take a short course:
Hone your skills in production management by taking a specialist course.  Go to the list of training courses recommended by ScreenSkills and see if there is one in production management.
Network:
Get to know people in VFX by attending events. Meet professionals and ask them questions about their work, while demonstrating interest and knowledge in the sector. Offer to provide them with your professional contact details and try to stay in touch with them. Go to how to network well to learn how to do this.
Search for jobs:
Find the VFX companies that you're interested in. Look on their websites to see if they're advertising for junior roles. Some might advertise for runners. Some might advertise for assistants, receptionists, administrators or personal assistants. Even if there aren't any jobs advertised, contact the company and ask if you could do a work placement with them or if you could come and meet them. ArtStation is a good example of a site that includes job listings in animation, games and VFX (remember to filter its job listings by country). ScreenSkills offers some advice from professionals on how to approach animation and VFX employers.
You might also be interested in...
Being a VFX producer. You might also be interested in being a production coordinator or producer in the animation industry; a line producer or producer in the film and TV drama industries; or a games producer in the games industry.
Further resources