Visual effects (VFX)
VFX editor
Also known as: Editor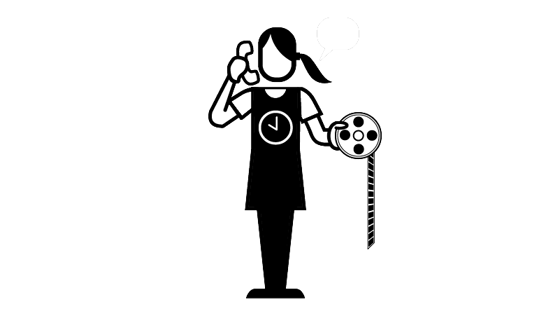 What does a VFX editor do?
VFX editors work as the link between the film or TV production team, which shoots the live-action footage, and the VFX studio that does the visual effects. A VFX editor can be employed by a VFX studio or directly by the film or TV production company. The role varies depending on whether they are in-house (employed by the studio) or client-side (employed by the film or TV production company).
Client-side VFX editor:
Client-side VFX editors work on set, while the live-action footage is being shot. They check everything is being captured in a way that makes it possible for the VFX to be created and integrated effectively. They keep track of the director's notes and make sure that the VFX editor employed by the VFX studio knows about any changes that will affect the way the VFX need to be created. The client-side VFX editor bring drafts of the shots together so that the director can see how they will look with the VFX incorporated and make sure the footage all comes together to create a cut of the film or TV programme that's in keeping with what was signed off in previsualisation.
In-house VFX editor:
In-house VFX editors work closely with client-side VFX editors, but are responsible for ensuring that the VFX artists at the VFX studio have everything that they need to create their work.
While the project is being worked on, the VFX editor creates a workflow that allows the VFX supervisor to evaluate the VFX artists' work and provide feedback on the aesthetic and on the technical direction. As the client approves shots or versions, the VFX editor incorporates them into the current cut (edit) and oversees the passing of work back to the team that is editing the film or TV programme.
Watch and read
What's a VFX editor good at?
Attention to detail: be meticulous with a strong eye for detail, making sure all shots are of the highest possible quality
Editing: have a good understanding of story-telling and be adept at using editing software
Communication: have excellent communication skills, understand exactly what the desired effect is in each shot and give effective direction to achieve that, keep clients informed on progress
Organisation: be on top of the work that needs to be done and its progress with a good understanding of the pipeline, keep track of any changes in the project and keep all staff informed
Working to deadlines: have very good time-management skills, make sure the project stays on track for its deadline and cope well with working under pressure towards tight post-production deadlines at the end of the project
Who does a VFX editor work with?
Client-side VFX editors work closely with the director, producers, editors in post-production and in-house VFX editors. In-house VFX editors work closely with a large range of staff across the VFX pipeline. They work directly under the VFX supervisor. They work closely with data input/output technicians, pipeline TDs and VFX producers to manage all incoming media and outgoing deliverables. They also communicate with the client-side VFX editor and the post-production editor of the film or TV programme.
How do I become a VFX editor?
VFX editor is a senior role so you will need to gain experience of both working in VFX production pipelines and doing editing work. There are a variety of routes into this job. You might want to start working as runner or assistant technical director in a VFX studio. Alternatively, you could find your way into the industry by working as a post-production runner in a post-production studio. Most VFX editors have a degree in computer graphics, animation or a related subject.
At school or college:
If you want to go to university A-levels or Highers in computer science, maths, art and design, art, photography, graphic design or graphic communication would all equip you well for this role. Or you might want to take the following Level 3 vocational qualifications:
BTEC National Diploma/Extended Diploma in Computing
If you want to go straight into a job or apprenticeship, the following Level 3 vocational qualifications will equip you:
Aim Awards Diploma/Extended Diploma in Games Animation and VFX
AQA Technical Level Entertainment Technology: Video Games Art and Design
OCR Technical Diploma in Digital Media (Digital Content for Interactive Media)
OCR Technical Diploma in Digital Media (Moving Image and Audio Production)
BTEC National Diploma in Digital Games Design and Development
BTEC National Diploma in Film and Television Visual Effects
AQA Technical Level IT: Programming
OCR Technical Diploma in IT (Digital Software Practitioner)
BTEC National Diploma in Computing for Creative Industries
Get an apprenticeship:
Apprenticeships are jobs with training. They're a great opportunity to earn while you learn. You might want to enter the VFX industry through an apprenticeship as an assistant technical director or a junior 2D artist. Have a look at NextGen Skills Academy VFX apprenticeships  for school leavers. These involve a lot of learning on the job working in a VFX company.
Check out What's an apprenticeship?  to learn more about apprenticeships and find an apprenticeship to learn how to find one in your region, or approach companies directly. Go to ScreenSkills information on VFX apprenticeships for the main apprenticeship schemes in VFX.
If you can't find an apprenticeship with a VFX company, it might be worth getting an apprenticeship in a related industry, such as games or animation, which could give you some experience to help you find your way into VFX at a later point.
Build a portfolio:
Learn how to use, and then experiment with, VFX programs and create a showreel that you can show to admissions tutors or employers. This is essential. Go to build your VFX portfolio to learn how. Watch ScreenSkills' advice on VFX showreels. It's really important to develop your appreciation for VFX. Make sure you're familiar with what's out there.

Get a degree:
Provided you have strong showreel and know VFX software, it's not essential to get a degree to become a VFX editor, but it can help. Have a look at ScreenSkills' list of recommended courses in VFX. We recognise courses with our ScreenSkills Select award where they offer training in the relevant software, dedicated time to building a portfolio and have strong links with the VFX industry.
Become a trainee:
Apply to be a post-production trainee with ScreenSkills' Trainee Finder scheme.
Network:
Get to know people in VFX by attending events. Meet professionals and ask them questions about their work, while demonstrating interest and knowledge in the sector. Offer to provide them with your professional contact details and try to stay in touch with them. Go to how to network well to learn how to do this.
Search for jobs:
Research VFX companies you'd like to work for. Go to their websites and check if they are advertising for junior roles in the art or technical art department. Even if they aren't, send in your CV and showreel and ask them to bear you in mind for future positions. Keep looking on job websites too. ArtStation is a good example of a site that includes job listings in animation, games and VFX (remember to filter its job listings by country). ScreenSkills offers some advice from professionals on how to approach animation and VFX employers.
You might also be interested in...
Being an editor in film and TV drama or an editor in animation.
Further resources