Visual effects (VFX)
Lighting artist (VFX)
Also known as: Lighter, Lighting TD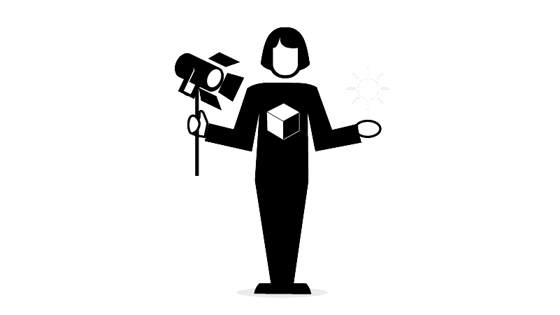 What does a lighting artist do?
Lighting artist enable depth and realism to be added to a computer-generated (CG) scene through lighting, just as a director of photography (DoP) does in a live-action film.
They adjust the colour, placement and intensity of CG lights to create atmosphere, add realism and depth. Using reference photos taken on set or location, they match the illumination of virtual 3D objects to the look of the on-set production and cinematography.
Lighting a shot requires a blend of artistry and scientific knowledge of how light falls on objects. It also involves reflecting the look and style set out by the director of the film or TV programme. This can create technical challenges. 
The role of the lighting artist varies depending on the size of the VFX studio. In larger studios, lighting artists light the shots while a lighting technical director works with the pipeline TD to overcome the technical challenges and create the software tools that the lighting artist needs. In other studios, those two roles are combined, so the lighting artist needs considerable technical skills as well as artistic ones. Lighting artists work in-house in a VFX studio.
Watch
What's a lighting artist good at?
Art and design knowledge: have a strong understanding of colour theory, perspective and design theory
Understanding lighting: understand colour space and the scientific principles behind creating realistic lighting and have a strong knowledge of lighting techniques

Knowledge of 3D lighting software: V-Ray, Arnold, Redshift and Renderman 

as well as rendering packages and digital paint software like Photoshop
Problem-solving: overcome obstacles, use the most cutting-edge technology to find new ways to achieve a creative vision
Organisation: communicate constantly with other departments about schedules and deadlines and work to these efficiently
Who does a lighting artist work with?
Lighting artists work closely with any separate lighting artists as well as with a variety of people from other departments. They will also communicate with research and development teams. Ultimately they are under the supervision of the CG supervisor.
How do I become a lighting TD?
Lighting artist is a senior level role. You need to have a lot of experience working in VFX first. The role can involve a mix of art and technological skills so routes can be either through being an assistant technical director role or as a VFX artist. The. You need knowledge of art, design and film lighting as well as experience with renderers and digital paint software. Programming skills using Python or C++ are very important, as is proficiency with UNIX shell commands and you must be able to demonstrate strong problem-solving skills. You need to develop an appreciation for visual effects.
At school or college:
Take A-levels or Highers that combine art with science, if you can. It's ideal to do A-levels or Highers in art and design and graphic design, along with computer science, maths or physics.
Or you might want to take any of the following Level 3 vocational qualifications:
Aim Awards Diploma in Creative and Digital Media
BTEC National Diploma/Extended Diploma in Art and Design
UAL Applied General Diploma/Extended Diploma in Art and Design
NCFE Applied General Certificate in Art and Design
BTEC National Extended Diploma in Creative Digital Media Production
BTEC National Diploma/Extended Diploma in Computing
If you want to go straight into a job or apprenticeship, the following Level 3 vocational qualifications will equip you:
BTEC National Diploma in Graphics
BTEC National Diploma in Photography
UAL Diploma/Extended Diploma in Art and Design
OCR Cambridge Technical Diploma in Art and Design (Photography)
BTEC National Diploma in Film and Television Visual Effects
UAL Diploma/Extended Diploma in Creative Media Production and Technology
OCR Technical Diploma in Digital Media (Moving Image and Audio Production)
BTEC National Diploma in Computing for Creative Industries
OCR Technical Diploma in IT (Digital Software Practitioner)
Get an apprenticeship:
Apprenticeships are jobs with training. They're a great opportunity to earn while you learn. You might want to enter the VFX industry through an apprenticeship as an assistant technical director or a junior 2D artist. Have a look at NextGen Skills Academy VFX apprenticeships  for school leavers. These involve a lot of learning on the job working in a VFX company.
Check out What's an apprenticeship?  to learn more about apprenticeships and find an apprenticeship to learn how to find one in your region, or approach companies directly. Go to ScreenSkills information on VFX apprenticeships for the main apprenticeship schemes in VFX.
If you can't find an apprenticeship with a VFX company, it might be worth getting an apprenticeship in a related industry, such as games or animation, which could give you some experience to help you find your way into VFX at a later point.
Build a portfolio:
Learn the software, experiment with VFX programs and create a showreel that you can show to admissions tutors or employers. Focus on producing a portfolio which includes relevant prep work to showcase your immediate practical skills. This is essential. Go to build your VFX portfolio to learn how. Watch ScreenSkills' advice on VFX showreels. It's really important to develop your appreciation for VFX. Make sure you're familiar with what's out there.
Get a degree:
VFX companies or studios generally prefer it if you have a degree in graphic design, or another VFX-specific course for this role. Have a look at ScreenSkills' list of recommended courses and select one in VFX. We recognise courses with our ScreenSkills Select award where they offer training in the relevant software, dedicated time to building a portfolio and have strong links with the VFX industry.
Network:
Get to know people in VFX. Check out the events in ScreenSkills training and opportunities directory. Meet professionals and ask them questions about their work, while demonstrating interest and knowledge in the sector. Offer to provide them with your professional contact details and try to stay in touch with them. Go to network well to learn how to do this.
Search for jobs:
Look at the ScreenSkills jobs board. Research VFX companies you'd like to work for. Go to their websites and check if they are advertising for junior roles the art or pre-production departments. Even if they aren't, send in your CV and showreel and ask them to bear you in mind for future roles or work experience. Keep looking on job websites too. ScreenSkills offers some advice from professionals on how to approach animation and VFX employers.
You might also be interested in…
Being a lighting artist in the animation industry. Or you might want to be an effects (FX) TD in VFX or a texturing artist or a visual effects (VFX) artist in the games industry.
Further resources