Visual effects (VFX)
Data capture technician
Also known as: Data capture, On-set, On-set coordinator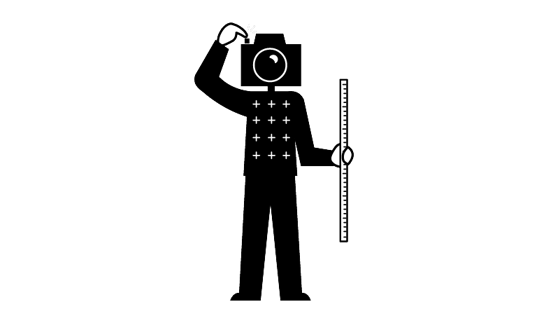 What does a data capture TD do?
Data capture technical directors (TDs) go onto the film or TV set to collect the information about the live-action footage that the teams in the VFX studio need to add the visual effects.
They take photographs of the set and the way the cameras are positioned. They "capture data" about the type of lens type being used, its focal length, filters, focus and colour temperature.  They also record the camera height, camera mount and distance between the camera and actor, and other details. And they take photos of surfaces, so that the textures can be recreated digitally later on.
All this information is necessary so the exact scene in the live action can be recreated digitally and the VFX can be incorporated in a believable way.
Data capture TDs use a variety of tools to capture the data, including cameras and a 'total station' which electronically measures horizontal and vertical angles and distances.
They upload, log and backup all the data, before sending it on to the relevant members of the VFX company on a daily basis.
Data capture TDs tend to be employed by VFX companies or studios rather than work as freelancers.
Watch and read
What's a data capture TD good at?
Being accurate: be methodical in your work, pay close attention to detail, have strong problem-solving skills
Technical knowledge of cameras: have an in-depth understanding of all motion picture equipment, cameras, lenses, monitors and lights
Understand the VFX pipeline: know the process through which visual effects are created
Using software: use the data sharing application FileMaker Pro, be able to operate and maintain your data collecting equipment yourself
Being efficient: work quickly and accurately on set so that the physical production can run smoothly, organise and prioritise your tasks
Who does a data capture TD work with?
Data capture TDs work with camera trainees and camera operators on set to gather data about the cameras, camera shots and lenses. They also work with script supervisors to the same end.
Data capture TDs work with the VFX supervisor and matchmove artists on set to ensure that the sets and actors have tracking markers placed on them in the necessary way so that the footage can be used by the matchmove artists and roto artists.
They also need to communicate with the various VFX artists and compositors who will be using the information that they have provided.
How do I become a data capture TD?
Employers tend to want you to have a couple or more years' experience working either on sets or in VFX before taking you on as a data capture technician. As such, one career path is to work in the camera department in the film and TV drama industries. This will give you good knowledge of cameras so you can more accurately collect camera data as a capture technician. It also gives you on-set experience. Try to get onto ScreenSkills' Trainee Finder scheme as a camera trainee.
Another route is to first work for a VFX company as a matchmove artist. That is an entry level role in the VFX industry. It gives on-set experience and also involves working with data capture TDs to place tracking markers on actors or parts of the set. Matchmove artists often have a degree in computer graphics, computer science or computer animation.
At school or college:
You can take A-levels or Highers in art, art and design, graphic design or communication, computer or computing science, and maths. Or you might want to take any of the following Level 3 vocational qualifications:
NCFE Applied General Certificate in Art and Design
BTEC National Diploma/Extended Diploma in Art and Design
UAL Level 3 Applied General Diploma/Extended Diploma in Art and Design
Pearson BTEC Level 3 National Diploma/Extended Diploma in Computing
If you want to go straight into a job or apprenticeship, the following Level 3 vocational qualifications will equip you:
BTEC National Diploma in Photography
Aim Awards Diploma/Extended Diploma in Games Animation and VFX
BTEC National Diploma in Film and Television Visual Effects
BTEC National Diploma in 3D Design & Crafts
BTEC National Diploma in Graphics
OCR Cambridge Technical Diploma in Art and Design (Photography)
OCR Technical Diploma in Digital Media (Moving Image and Audio Production)
OCR Cambridge Technical Diploma in Art and Design (3D Design)
BTEC National Diploma in Computing for Creative Industries
AQA Technical Level IT: Programming
OCR Technical Diploma in IT (Digital Software Practitioner)
Get an apprenticeship:
Apprenticeships are jobs with training. They're a great opportunity to earn while you learn. You might want to enter the VFX industry through an apprenticeship as an assistant technical director. Have a look at NextGen Skills Academy VFX apprenticeships  for school leavers. These involve a lot of learning on the job working in a VFX company.
Check out What's an apprenticeship?  to learn more about apprenticeships and find an apprenticeship to learn how to find one in your region, or approach companies directly. Go to ScreenSkills information on VFX apprenticeships for the main apprenticeship schemes in VFX.
Build a portfolio:
Get as much experience as you can in photography, both still and moving images. Create a stills photography portfolio that you can show to admissions tutors or employers.  Go to build your VFX portfolio to learn how. Watch ScreenSkills' advice on VFX showreels. It's really important to develop your appreciation for VFX. Make sure you're familiar with what's out there.
Get a degree:
It is not essential to have a degree in order to become a data capture TD. It is important to understand about photography and cameras; both the DSLR and film varieties. Or you might want to have a look at ScreenSkills' list of recommended courses and select one in VFX. We recognise courses with our ScreenSkills Select award where they offer training in the relevant software, dedicated time to building a portfolio and have strong links with the VFX industry. Alternatively, you can take a degree in a computer graphics, computer science, computer animation or VFX-related subject.
Become a trainee:
Get onto ScreenSkills' Trainee Finder scheme. Get the skills, make contacts and start working as a camera trainee.
Network:
Get to know people in VFX. Check out the events in ScreenSkills training and opportunities directory. Meet professionals and ask them questions about their work, while demonstrating interest and knowledge in the sector. Offer to provide them with your professional contact details and try to stay in touch with them. Go to network well to learn how to do this.
Search for jobs:
Look at the ScreenSkills jobs board. Research VFX companies you'd like to work for. Go to their websites and check if they are advertising for a matchmove artist or other junior position. Even if they aren't, send in your CV and showreel and ask them to bear you in mind for future roles or work experience. Keep looking on job websites too. ScreenSkills offers some advice from professionals on how to approach animation and VFX employers.
You might also be interested in...
Gaining experience and expertise and becoming a VFX supervisor. Alternatively, you may want to be a camera operator or a director of photography in the film and TV drama industries or a layout artist in animation.
Further resources