Visual effects (VFX)
Computer graphics (CG) supervisor
Also known as: Senior CG supervisor, VFX artist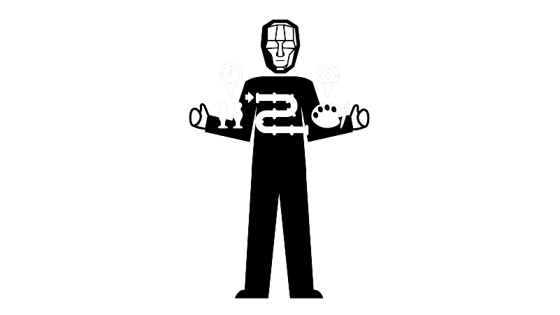 What does a computer graphics supervisor do?
Computer graphics (CG) supervisors are ultimately responsible for the delivery and quality of the 3D computer-generated (CG) elements of a VFX project.
Before a film goes into production, CG supervisors identify areas of the VFX work that need to be researched by software developers. They design the VFX pipeline – which means they decide the order in which the work needs to be done. They manage the team of technical directors (TDs), helping decide which digital tools need to be created to streamline the pipeline.
Once production is under way, they supervise the creation of all CG imagery and manage the artists creating it.  Some walk around the desks of the VFX artists to check their work and provide feedback. They ensure the art is true to the vision of the film or TV director. Once complete, the art, or assets, are give to the compositors who put the whole scene together.
CG supervisors tend to be employed by VFX companies or studios. Supervisor positions are some of the most senior in these companies; as such, CG supervisors are often involved in the hiring process for new VFX artists.
Watch and read
What's a CG supervisor good at?
Art: have a good eye, understand the principles of composition, know what looks good and why
Understand the VFX pipeline: know the process of how VFX get created, be able to plan and implement an effective pipeline
Working with Linux or Unix operating systems: know how to work with these operating systems, which are different form Microsoft Windows or macOS (Apple)
Knowledge of VFX programs: be adept at using relevant programs such as Adobe After Effects, Blender, Cinema 4D, Houdini, Maya, Nuke, RenderMan and 3DS Max
Programming and coding skills: have knowledge of programming in C++ and Python with a high level of technical ability
Leadership: manage the VFX artists and the TDs within the VFX pipeline, inspire them to do their best work, manage their output in terms of quality and deadlines, review and inform all creative work
Who does a CG supervisor work with?
CG supervisors work with the VFX producer and VFX supervisor to review budgets and schedules. They might also have discussions with the producer and director of the production company making the film.
In pre-production, they may identify areas of the VFX work that need to be researched and developed by software developers. They manage the TDs, such as effects (FX) TDs and rigging TDs and lighting TDs. They are also responsible overall for the output of VFX artists such as modelling artists.
How do I become a CG supervisor?
The CG supervisor position is one of the most senior in VFX. Companies may ask for you to have at least five years' worth of experience working in a senior film or TV production management or a senior VFX artist role. Therefore, you can initially look for work in more junior-level positions in VFX, such as being a matchmove artist, prep artist, roto artist and then progress from there. Alternatively to the VFX artist route, you can start work as a runner in the production management department.
Along with the desired length of work experience, employers also expect you to be skilled in using one or some VFX program(s). These likely include Houdini, Maya, Nuke and RenderMan. It is also useful to have a knowledge of scripting languages such as Python and C++.
There are degree courses available in computer animation, computer programming, computer science, mathematics, information technology which would provide you with useful experience and knowledge towards becoming a CG supervisor.
An important thing that you can do to is to create a showreel to illustrate your abilities (even established CG supervisors can have their own showreels).
At school or college:
You can take A-levels or Highers in art and design, graphic communication, computer science, maths or physics. Or you might want to take any of the following Level 3 vocational qualifications:
BTEC National Diploma/Extended Diploma in Art and Design
UAL Applied General Diploma/Extended Diploma in Art and Design
NCFE Applied General Certificate in Art and Design
BTEC National Diploma/Extended Diploma in Computing
If you want to go straight into a job or apprenticeship, the following Level 3 vocational qualifications will equip you:
Aim Awards Diploma/Extended Diploma in Games Animation and VFX
BTEC National Diploma in Digital Games Design and Development
BTEC National Diploma in Film and Television Visual Effects
BTEC National Diploma in Computing for Creative Industries
AQA Technical Level Entertainment Technology: Video Games Art and Design
AQA Technical Level Entertainment Technology: Video Games Art and Design Production
OCR Technical Diploma in Digital Media (Digital Content for Interactive Media)
OCR Technical Diploma in Digital Media (Moving Image and Audio Production)
AQA Technical Level IT: Programming
OCR Technical Diploma in IT (Digital Software Practitioner)
Get an apprenticeship:
Apprenticeships are jobs with training. They're a great opportunity to earn while you learn. You might want to enter the VFX industry through an apprenticeship as an assistant technical director or a junior 2D artist. Have a look at NextGen Skills Academy VFX apprenticeships  for school leavers. These involve a lot of learning on the job working in a VFX company.
Check out What's an apprenticeship?  to learn more about apprenticeships and find an apprenticeship to learn how to find one in your region, or approach companies directly. Go to ScreenSkills information on VFX apprenticeships for the main apprenticeship schemes in VFX.
If you can't find an apprenticeship with a VFX company, it might be worth getting an apprenticeship in a related industry, such as games or animation, which could give you some experience to help you find your way into VFX at a later point.
Build a portfolio:
Learn the software, experiment with VFX programs and create a showreel that you can show to admissions tutors or employers. Focus on producing a portfolio which includes relevant prep work to showcase your immediate practical skills. This is essential. Go to build your VFX portfolio to learn how. Watch ScreenSkills' advice on VFX showreels. It's really important to develop your appreciation for VFX. Make sure you're familiar with what's out there.
Get a degree:
VFX companies or studios generally prefer it if you have a degree in graphic design, or another VFX-specific course for this role. Have a look at ScreenSkills' list of recommended courses and select one in VFX. We recognise courses with our ScreenSkills Select award where they offer training in the relevant software, dedicated time to building a portfolio and have strong links with the VFX industry.
Take a short course:
Hone your skills in VFX by taking a specialist course. Go to the list of training courses recommended by ScreenSkills and see if there is one in VFX or programming. 
Network:
Get to know people in VFX. Check out the events in ScreenSkills training and opportunities directory. Meet professionals and ask them questions about their work, while demonstrating interest and knowledge in the sector. Offer to provide them with your professional contact details and try to stay in touch with them. Go to network well to learn how to do this.
Search for jobs:
Look at the ScreenSkills jobs board. Research VFX companies you'd like to work for. Go to their websites and check if they are advertising for junior roles the art or pre-production departments. Even if they aren't, send in your CV and showreel and ask them to bear you in mind for future roles or work experience. Keep looking on job websites too. ScreenSkills offers some advice from professionals on how to approach animation and VFX employers.
You might also be interested in...
Being a compositing supervisor or a VFX supervisor. You might think about being an assistant games producer or games producer in a production department in the games industry. Alternatively, think about being a VFX artist or learning to code and being a graphics programmer, with a view to becoming a lead games designer.
Further resources