Visual effects (VFX)
Production coordinator (VFX)
Also known as: Production assistant, VFX coordinator, Bookings assistant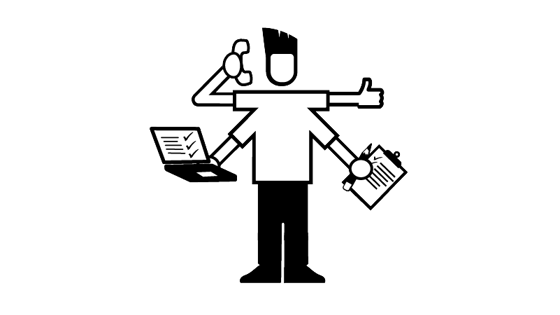 What does a production coordinator do?
Production coordinators help ensure VFX projects run smoothly. Working under the production manager or producer, they help to arrange the day-to-day running of the team and make sure everyone has the information they need to work effectively. They organise the movement of the assets through the VFX pipeline.
They are responsible for distributing the assets and artwork needed to the relevant departments. They relay supervisor or client briefs to artists and feedback to the relevant teams about the progress of the work. They keep production databases updated with the current status of shots and take detailed notes in meetings. They also track costs against the budget. Scheduling external meetings is also often a part of their job and they keep their client-side counterpart updated about the status of the project.
Production coordinators need to communicate well with everyone. They liaise with production and post-production. It's their job to help to keep everyone on target so the project is finished on time and on budget.
Read
What's a production coordinator good at?
Knowledge of VFX: understand the artistic and technical processes through which VFX is made, know the key roles and responsibilities of the team
Communication: work within a team towards a shared goal, be able to communicate clearly with all team members
Organisation: be good at managing projects and working to deadlines, be organised, show attention to detail, be able to multitask and prioritise
Software knowledge: be able to use Microsoft office and database and scheduling software, be good at learning new software, understand common file formats and resolutions
Resilience: remain calm and confident under pressure, cope well with fast paced environments and short deadlines, be adaptable, use initiative, have a positive attitude
Who does a production coordinator work with?
Production coordinators work closely with staff throughout production and post-production, relaying information between the production team, VFX supervisors and artists. They usually report to the production manager.
How do I become a production coordinator?
There are two routes into becoming a production coordinator. Some come with skills as a VFX artist. Others come with a background in film production. Either way, you need to show you have very strong teamwork and organisational skills as well as a good understanding of the way visual effects are made.
At school or college:
You can take A-levels or Highers in business studies, film studies, media studies, English, maths and economics. Or you might want to take the following Level 3 vocational qualifications:
BTEC National Extended Diploma in Creative Digital Media Production
If you want to go straight into a job or apprenticeship, the following Level 3 vocational qualifications will equip you:
Aim Awards Diploma in Creative and Digital Media
Get an apprenticeship:
Apprenticeships are jobs with training. They're a great opportunity to earn while you learn. You might be able to get an apprenticeship as a junior production manager or project manager.
Check out What's an apprenticeship?  to learn more about apprenticeships and find an apprenticeship to learn how to find one in your region, or approach companies directly. Go to ScreenSkills information on VFX apprenticeships for the main apprenticeship schemes in VFX.
If you can't find an apprenticeship with a VFX company, it might be worth getting an apprenticeship in a related industry, such as games or animation, which could give you some experience to help you find your way into VFX at a later point.
Get a degree:
You could either take a degree that equips you with the technical skills of a VFX artist or a degree in film production. Have a look at ScreenSkills' list of recommended courses in film or VFX. We recognise courses with our ScreenSkills Select award where they offer training in the relevant software, dedicated time to building a portfolio and have strong links with the VFX industry.
Become a trainee:
Get onto ScreenSkills' Trainee Finder scheme. Get the skills, make contacts and start working as a production trainee.
Look outside the industry:
See if you can get a job as a runner with a 3D animation studio or company. This will help you build contacts, skills and knowledge related to VFX. While you are trying to break into VFX production, get management or project management experience. Any job that involves planning, organising and budgeting will give you good experience.
Take a short course:
Hone your skills in production management by taking a specialist course.  Go to the list of training courses recommended by ScreenSkills and see if there is one in production management.
Network:
Get to know people in VFX by attending events. Meet professionals and ask them questions about their work, while demonstrating interest and knowledge in the sector. Offer to provide them with your professional contact details and try to stay in touch with them. Go to how to network well to learn how to do this.
Search for jobs:
Find the VFX companies that you're interested in. Look on their websites to see if they're advertising for junior roles. Some might advertise for runners. Some might advertise for assistants, receptionists, administrators or personal assistants. Even if there aren't any jobs advertised, contact the company and ask if you could do a work placement with them or if you could come and meet them. ArtStation is a good example of a site that includes job listings in animation, games and VFX (remember to filter its job listings by country). ScreenSkills offers some advice from professionals on how to approach animation and VFX employers.
You might also be interested in...
Being an assistant games producer; this is another production role that involves helping with the day to running of projects that combine artistic and technical expertise. You might also be interested in being a production coordinator in the animation industry, or a production coordinator or line producer in the film and TV drama industries. Alternatively, you could consider being a script supervisor or production coordinator in the unscripted TV industry.
Further resources