Visual effects (VFX)
Data input/output (I/O) technician
Also known as: Data technician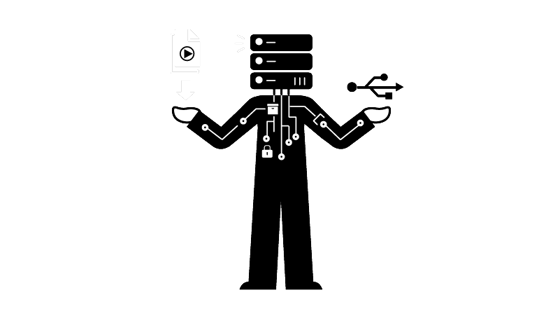 What does a data I/O technician do?
Data input/output (I/O) technicians are responsible for organising, transferring and storing the computer files and data for a VFX production company.
They manage the computer storage and retrieval systems, including company hard drives. VFX companies process large amounts of data because they deal with high-quality video files and digital 3D animation files. They know different digital camera formats, for instance, Alexa, Cannon, Phantom and Red. Data I/O technicians troubleshoot any issues that come up to do with file storage.
Data I/O technicians ensure that all of transferring and storing of data is done securely and that files are encrypted wherever necessary. They follow company protocols to comply with safety standards. They make logs of all of the files that they receive and perform quality control checks on these files to see if there are problems or if the files are corrupted. They use file transfer programs in order to perform their role.
Data I/O technicians give technical support to people working in a VFX pipeline when needed. They are usually employed by VFX companies or studios rather than freelancers.
Watch and read
What's a data I/O technician good at?
Programming and coding skills: have knowledge of programming in C++ and Python with a high level of technical ability
Computing technical skill: be able to work in Microsoft Windows, macOS (Apple), Linux or Unix operating systems, understand how the data sharing application FileMaker Pro works and be able to use it, understand file transfer protocols (FTPs)
Understand the VFX pipeline: know the process of how VFX get created
Communication and teamwork: communicate well with the other data I/O technicians, and VFX artists, when necessary, so that there is a cohesive and structured file storage system
Organisation: be attentive to the detail of the files and data that you process and store, maintain a working system of file storage
Efficiency: work quickly and accurately, organise and prioritise your tasks
Who does a data I/O technician work with?
Data I/O technicians work with other data I/O technicians in a team. They communicate with all of the other departments in a VFX company. They also talk to the film production company about the files needed for creating the VFX shots.
How do I become a data I/O technician?
Data I/O technicians tend to have a degree in computer science or information technology (IT). Employers may ask for up to two years' worth of experience in either a similar role, data technician (including this role but in other industries, such as 'data wrangler'), or in VFX, film or TV drama production management. Therefore, you can look at becoming a VFX runner first, as this is an entry level position, and gain experience and promotion from there. Similarly, you can look for post-production runner roles. Ultimately, the most important factor of becoming a data I/O technician is developing and maintaining good IT skills.
At school or college:
You can take A-levels or Highers in computer or computing science. Or you might want to take any of the following Level 3 vocational qualifications:
BTEC National Diploma/Extended Diploma in Computing
If you want to go straight into a job or apprenticeship, the following Level 3 vocational qualifications will equip you:
BTEC National Diploma in Computing for Creative Industries
AQA Technical Level IT: Networking
AQA Technical Level IT: Programming
OCR Technical Diploma in IT (Digital Software Practitioner)
Get a degree:
Get a degree in computer science or IT. You might want to have a look at have a look at ScreenSkills' list of recommended courses and select one in computer science or IT in VFX . We recognise courses with our ScreenSkills Select award where they offer training in the relevant software, dedicated time to building a portfolio and have strong links with the VFX industry.
Look outside the industry:
See if you can get a job as a runner with a 3D animation studio or company. This will help you build contacts, skills and knowledge related to VFX. Look for data technician, data wrangler or IT roles in any industry.
Take a short course:
Hone your technical computing and IT skills by taking a specialist course. Go to the list of training courses recommended by ScreenSkills and search for courses related to "data".
Network:
Get to know people in VFX by attending events. Meet professionals and ask them questions about their work, while demonstrating interest and knowledge in the sector. Offer to provide them with your professional contact details and try to stay in touch with them. Go to how to network well to learn how to do this.
Search for jobs:
Research VFX companies that you'd like to work for. Go to their websites and check if they are advertising for junior data I/O technician roles. Search job websites for data I/O technician roles and apply for positions. ArtStation is a good example of a site that includes job listings in animation, games and VFX (remember to filter its job listings by country).
You might also be interested in...
Being a data capture technician, production coordinator or production manager. You might also be interested in being a production coordinator in the animation or film and TV drama industries.
Further resources