Visual effects (VFX)
Runner
Also known as: Assistant coordinator, Despatch assistant, Office assistant, Production assistant, Visual effects (VFX) assistant, VFX production assistant, VFX assistant coordinator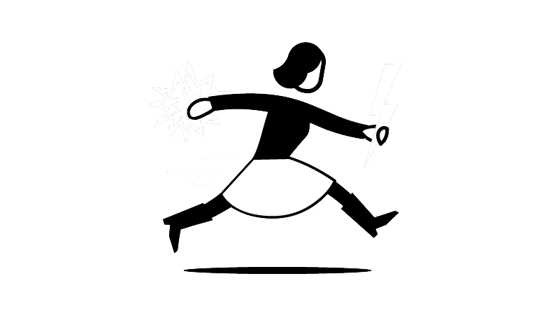 What does a runner do?
Runners are all-purpose helpers in a VFX studio. They support any and all members in the studio and make sure that everyone has what they need. Runners do a variety of jobs. They deliver materials and messages between departments. They organise meetings and schedules. They keep the office clean and tidy and might work on reception or be responsible for locking up. They also make a lot of tea and coffee. They do whatever professional task needs doing.
A runner is an entry level position. In some studios, being a runner is a route into VFX artist roles and comes with opportunities to learn about those positions. In other studios, runners are seen as the entry point into production management. Some companies might assign runners a mentor and give them training tasks. The runner role can be a good route into the industry for someone without relevant degree education but with a good portfolio and lots of enthusiasm.
Watch and read
What's a VFX runner good at?
Interest in VFX: take an interest in the work of the company, be keen to learn technical skills where you can and grow your knowledge about VFX
Being proactive: use your initiative to find jobs to do and show resourcefulness, make a good effort in all of the tasks that you do
Enthusiasm: be confident, approachable and communicate well with all team members and clients
Reliability: be on time and be able to multitask efficiently
Adaptability: be able to prioritise jobs and cope well under pressure, adapting to changing project schedules and sometimes working late or irregular hours
Who does a VFX runner work with?
 Runners carry out tasks for staff from all the different departments in a studio. They might also interact with studio clients.
How do I become a VFX runner?
A runner is an entry level job and a great way of getting into the industry. Some runners will have a degree in VFX or a related discipline but this isn't strictly necessary. Being a runner is a good way in for someone without formal education but with a strong portfolio. The most important thing is to demonstrate a passion for VFX and a desire to progress in the industry. You need enthusiasm and a proactive approach.
At school or college:
If you want to go to university, A-levels or Highers in English, film studies, media studies, economics and business studies are useful. Or you might want to take the following Level 3 vocational qualifications:
BTEC National Extended Diploma in Creative Digital Media Production
If you want to go straight into a job or apprenticeship, the following Level 3 vocational qualifications will equip you:
Aim Awards Diploma in Creative and Digital Media

Build a portfolio:
Learn how to use, and then experiment with, VFX programs and create a showreel that you can show to admissions tutors or employers. This is essential. Go to build your VFX portfolio to learn how. Watch  ScreenSkills' advice on VFX showreels. It's really important to develop your appreciation for VFX. Make sure you're familiar with what's out there.
Get a degree:
You could either take a degree that equips you with the technical skills of a VFX artist or a degree in film production. Have a look at ScreenSkills' list of recommended courses in film or VFX. We recognise courses with our ScreenSkills Select award where they offer training in the relevant software, dedicated time to building a portfolio and have strong links with the VFX industry.
Become a trainee:
Get onto ScreenSkills' Trainee Finder scheme. Get the skills, make contacts and start working as a production trainee.
Look outside the industry:
See if you can get a job as a runner with a 3D animation studio or company. This will help you build contacts, skills and knowledge related to VFX. While you are trying to break into VFX production, get management or project management experience. Any job that involves planning, organising and budgeting will give you good experience.
Network:
Get to know people in VFX by attending events. Meet professionals and ask them questions about their work, while demonstrating interest and knowledge in the sector. Offer to provide them with your professional contact details and try to stay in touch with them. Go to how to network well to learn how to do this.
Search for jobs:
Find the VFX companies that you're interested in. Look on their websites to see if they're advertising for runner roles. Some might advertise for assistants, receptionists, administrators or personal assistants. Even if there aren't any jobs advertised, contact the company and ask if you could do a work placement with them or if you could come and meet them. ScreenSkills offers some advice from professionals on how to approach animation and VFX employers. ArtStation is a good example of a site that includes job listings in animation, games and VFX (remember to filter its job listings by country).
You might also be interested in...
An entry level VFX role in the art department such as a matchmove artist, roto artist or modelling artist. Or you might want to be a runner in animation, or a production runner or a floor runner in film and TV drama.
Further resources