Visual effects (VFX)
VFX producer
Also known as: Executive VFX producer, Show producer, Bidding producer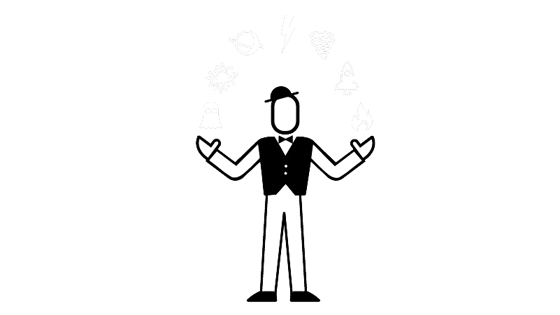 What does a VFX producer do?
VFX producers manage the whole process of creating the VFX for film or TV. They make sure that the client, usually the film or TV series' producer or director, is happy with what the VFX studio makes.
VFX producers write the bid; the document through which they persuade the film or TV series' producer to take their VFX studio on to do VFX work on a project. VFX producers put together the team of VFX artists and other technical staff. They set the schedules for the work and they manage the budget.
While filming is happening, VFX producers work closely with the live-action production crew. They also work with the editor in post-production. They communicate between the crew and editor. How much they interact with the client varies between studios. They might report to them on a weekly or even daily basis.
Watch and read
What's a VFX producer good at?
Organisation: effectively plan and manage the project using VFX production pipeline organisation software, be able to budget accurately
Leadership: be confident in giving direction and leading a team, communicate well with everyone, create a positive atmosphere within the team
Knowledge of VFX: understand all aspects of VFX pipelines, know the processes, the creative challenges and the software used by the artists
Problem-solving: anticipate any issues that might occur during the project, adapt to changing timescales and technical issues
Working with clients: communicate well with the film and TV producers, keep them informed it things don't go to plan, be diplomatic, keep good relationships
Who does a VFX producer work with?
VFX producers communicate with the producer or director of the production company making the film. Within their own studio, they work closely with the VFX supervisor, who oversees the creative work. The VFX producer then works with the production manager and production coordinators to make sure the work is done on time.
How do I become a VFX producer?
VFX producer is a senior position so you'll need a lot of experience in VFX first. Some get to the role of VFX producer by working first as a runner in VFX and then as a production coordinator and then a production manager. Others come in through a VFX art route; you can start off as a junior VFX artist and then gain experience to become a compositor or technical director (TD) and then move into production management.
You need to have excellent leadership and organisation skills. A degree in VFX or a related course is a good idea for this role. VFX producers have excellent project management skills.
At school or college:
If you want to go to college or university, A-levels or Highers in business studies, English, film studies, media studies, maths, physics, economics or modern foreign languages. Or you might want to take any of the following Level 3 vocational qualifications:
BTEC National Extended Diploma in Creative Digital Media Production
BTEC National Diploma/Extended Diploma in Business
BTEC National Diploma/Extended Diploma in Enterprise and Entrepreneurship
OCR Technical Diploma/Extended Diploma in Business
If you want to go straight into a job or apprenticeship, the following Level 3 vocational qualifications will equip you:
Aim Awards Diploma in Creative and Digital Media
Aim Awards Diploma/Extended Diploma in Games Animation and VFX
BTEC National Diploma in Digital Games Design and Development
BTEC National Diploma in Film and Television Visual Effects
AQA Technical Level Entertainment Technology: Video Games Art and Design Production
OCR Technical Diploma in Digital Media (Digital Content for Interactive Media)
OCR Technical Diploma in Digital Media (Moving Image and Audio Production)
UAL Diploma/Extended Diploma in Creative Media Production and Technology
UAL Diploma/Extended Diploma in Performing and Production Arts
AQA Foundation Technical Level Business: Marketing Communications
AQA Technical Level Business: Marketing
Create some VFX sequences:
A good way of understanding the processes in VFX, is to learn the software, and start making some. Go to build your VFX portfolio to learn how. Watch ScreenSkills' advice on VFX showreels. It's really importance to develop your appreciation for VFX.
Get a degree:
You could either take a degree that equips you with the technical skills of a VFX artist or a degree in film production. Have a look at ScreenSkills' list of recommended courses in film or VFX. We recognise courses with our ScreenSkills Select award where they offer training in the relevant software, dedicated time to building a portfolio and have strong links with the VFX industry.
Become a trainee:
Get onto ScreenSkills' Trainee Finder scheme. Get the skills, make contacts and start working as a production trainee.
Look outside the industry:
See if you can get a job as a runner with a 3D animation studio or company. This will help you build contacts, skills and knowledge related to VFX. While you are trying to break into VFX production, get management or project management experience. Any job that involves planning, organising and budgeting will give you good experience.
Take a short course:
Hone your skills in production management by taking a specialist course. Go to the list of training courses recommended by ScreenSkills and see if there is one in production management.
Network:
Get to know people in VFX. Check out the events in ScreenSkills training and opportunities directory. Meet professionals and ask them questions about their work, while demonstrating interest and knowledge in the sector. Offer to provide them with your professional contact details and try to stay in touch with them. Go to network well to learn how to do this.
Search for jobs:
Look at the ScreenSkills jobs board. Research VFX companies you'd like to work for. Go to their websites and check if they are advertising for junior roles. Even if they aren't, send in your CV and showreel and ask them to bear you in mind for future roles or work experience. Keep looking on job websites too. ScreenSkills offers some advice from professionals on how to approach animation and VFX employers.
You might also be interested in...
Being a games producer. That is a good role for people who are interested in the combination of technical skills and art.  Or you might be interested in being a producer in film or TV drama, or a producer in animation. Alternatively, you could consider being a production executive in the unscripted TV industry.
Further resources