Broadcast engineering
Systems architect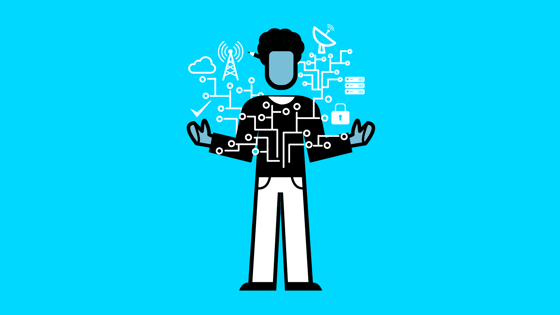 What does a systems architect do?
Systems architects design the digital networks and computer systems that link together all the people and work areas involved in making a television programme. Staff and equipment in many different areas, such as the production office, edit suite and studios, all need to be connected.
Systems architects take on a huge variety of projects. These could include linking up a digital storage system in a major news centre like ITN to ensure journalists can update their news reports quickly, creating a vast digital playout centre for Netflix or Disney or making sure subscribers can access hundreds of films.
Just as an architect chooses the best materials for a building, so a systems architect identifies the best technology for the computer networks. This involves hardware – such as network switches and servers – and software, like apps and operating systems. Sometimes the systems architect sets up the computer network and then looks after it, but more often the maintenance is the job of a network systems engineer.
Networks carrying TV programmes need to move very large amounts of data at high speeds, which means things can go wrong if the system hasn't been designed well. A systems architect builds in fixes and backup systems so that if something goes wrong, broadcasting can continue to run smoothly.
It's very important for broadcasters to keep their data safe and secure so that it's not leaked. After all, producers wouldn't want the winner of The Great British Bake Off to be revealed by hackers before the series final; nor would they be happy if a Coronation Street plotline ended up on social media before it went to air. Systems architects design systems that are safe from cyber threats; for example, adding security features like firewalls, which block people from using networks without permission.
Who do systems architects work with?
They often work with the R&D (research and development) engineering teams, who develop new products, so they can be aware of the latest tech. They also work with network systems engineers and the operational engineering team helping to keep the systems running.
What is a systems architect good at?
Technical knowledge: understanding how video and audio data is carried over networks; knowing how to design systems that are safe from attacks and won't go wrong



Problem solving: being logical and methodical and not being defeated by challenges
Communication: speaking to people without engineering knowledge in a company or organisation, explaining in a way they will understand how their designs can help
Seeing things from a business point of view: working out how much a design will cost and whether it's worth the money; paying attention to what the business or organisation needs
Teamwork: working with the engineers who will be using their design; making sure they know what clients need from the computer system
How do I become a systems architect?
You need to be great with technology and have an interest in computing. If you like seeing how phones and laptops work or experimenting with technology or coding, this could be a great job for you.
Systems architects need to have an in-depth knowledge of technology. The best way to develop this is to take a degree in computer science, computer software engineering or something similar. Many systems architects will get extra qualifications in areas that interest them.
Working on computer networks in other industries will also give you lots of interesting and varied experience. You could start off in a junior role such as trainee network systems engineer and see where your career takes you.
At school or college
Systems architects begin their careers in junior software and IT support jobs, so starting with an A-level in computer science is a good route to take. A-levels in maths or physics would complement this and open up your options in the engineering world. The following Level 3 vocational qualifications can also give help give you the skills to create IT systems:
BTEC National Extended Certificate in Information Technology
Level 3 Certificate in Programming
Level 3 Diploma in Software Development
Selected schools and colleges have also started offering T-levels – a qualification equivalent to three A-levels that is designed to help you get into the industry of your choice. Study is 80% classroom- and 20% work placement-based. The following T-levels are about designing and developing digital infrastructure:
Digital Support Services
Digital Business Services
Digital Production, Design and Development
If you are interested in broadcast engineering, but aren't sure where you want to specialise, you could also choose another engineering course that includes software modules. You can then specialise in network systems later as your career progresses.
Apprenticeships
Apprenticeships are jobs with training. Search for apprenticeships in broadcast engineering with broadcasters like BBC and Sky. Go to What's an apprenticeship? to find out more and Where can I find an apprenticeship? to find apprenticeships in your region.
Alternatively, you can approach companies directly. Take a look at our list of apprenticeships to find the schemes of the main broadcasters. 
The BBC has a three-year broadcast and media systems degree apprenticeship that offers a mix of practical experience and university study in all areas of media systems engineering. You may also be interested in the level 3 apprenticeship for broadcast and media systems technical operator. You might want to start your career with a digital and technology solutions professional apprenticeship or with a software engineering apprenticeship.
Get a degree
A degree in a maths or science subject would stand you in good stead for entering the world of broadcast engineering. Computer-related courses like computer science, electronic engineering, computer engineering and software development are especially relevant if you're aiming for this particular job. Go to ScreenSkills Select to find university and college courses accredited by ScreenSkills.
Look outside the industry
Systems architects are needed across all industries, so developing the skills to design computer systems in a completely different environment will enable you to move across to broadcasting. If you want to choose a similar industry, go for telecoms, live events or radio.
This is a more senior job that often involves managing other people, so having management experience in IT gives you great transferrable skills.
Get work experience
Write to specialist IT firms and ask if they offer work experience. Take a look at the BBC's software engineering graduate scheme. The big broadcasters like ITV, channel 4 and Sky also offer work experience opportunities and graduate schemes. University courses, too, can help you get work experience placements; some include a year in industry. Working on your own projects, like building a computer from scratch or doing some coding, will also give you great experience.
Take a short course
If you are over 18, make a ScreenSkills account and check out ScreenSkills' Training and opportunities page and click on Training to see what courses are available, whether in person or online. The training doesn't have to be linked directly to broadcast engineering; for example, a short course on developing resilience would help you understand how to thrive in challenging circumstances.
If you want to build coding skills, there are lots of good short courses and bootcamps accredited by the Chartered Institute for IT. Although systems architects don't do much programming day to day, these could help you in your career overall.
Network
Create a LinkedIn profile. See if there are Facebook pages or other social media groups for IT professionals, or people who are interested in programming.
Search for jobs
Search for jobs on the broadcasters' websites as well as on LinkedIn and other job-hunting websites. Make use of the ScreenSkills jobs board. You can also send a short speculative letter with your CV to the head of technology or head of IT support.
You might also be interested in..
Being a design engineer, a maintenance engineer, an AV engineer or a broadcast technical consultant.
Further resources