Broadcast engineering
Trainee network systems engineer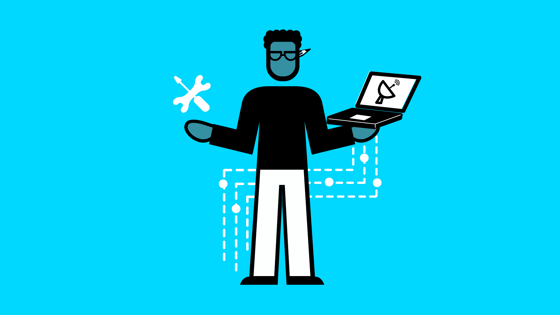 What does a trainee network systems engineer do?
Trainee network systems engineers assist the network systems engineer in making sure network systems – the computer connections between the technical equipment used in broadcasting – are running smoothly. They might work on systems that control dozens of remote cameras on Love Island or help set up a new digital archive for Channel 4 News that can be shared easily by picture editors and researchers.
Rather than working on coding or fixing software bugs, network systems engineers manage the connections that link together work areas and carry broadcast signals.  Most workplaces have a shared drive or cloud where staff can access data and software through WiFi or over a secure internet connection. A lot of equipment needs to be hardwired with cables, to deal with very big data files. Trainee network systems engineers help to look after these networks.
A trainee is usually overseen by the network systems engineer or a more senior IT engineer. Their jobs might involve finding network issues, working out what has caused the problem and coming up with solutions to fix them.
Trainee systems engineers can go on to become fully qualified network systems engineers. They might use their experience gained in setting up and looking after network systems to become a systems architect.
Who does a trainee network systems engineer work with?
Trainee network systems engineers help the network systems engineer maintain the network systems. They also work alongside IT support engineers and broadcast maintenance engineers and the rest of the maintenance team.
What is a trainee network systems engineer good at?
IT skills: having a thorough knowledge of how IT network systems work


Troubleshooting: being skilled in finding and analysing problems


Communication: being good at communicating ideas about how to solve problems to colleagues or clients
How do I become a trainee network systems engineer?
You need a keen interest in computers and knowledge of how software and hardware work together. Trainee network systems engineers often have a background in computer science or similar fields. Consider finding courses or apprenticeships that can give you experience working with electronics.
At school or college 
If you'd like to be a trainee network systems engineer, getting an A-level in computer science is a good first step. If you're interested in a career in broadcast engineering generally, maths and physics would complement this well and open up your options.
The following Level 3 vocational qualifications are also relevant to this role: 
Level 3 Certificate in Programming
Level 3 Diploma in Software Development
BTEC National Extended Certificate in Information Technology
Selected schools and colleges have also started offering T-levels – a qualification equivalent to three A-levels that is designed to help you get into the industry of your choice. Study is 80% classroom- and 20% work placement-based. The following T-levels are about designing and developing software and digital infrastructure:
Digital Production, Design and Development
Digital Support Services
Digital Business Services
If it's broadcast engineering you're interested in, but you're not sure which area interests you most, you might opt for another engineering course that includes software modules; then decide to specialise in network systems as your career progresses.
Apprenticeships
Apprenticeships are jobs with training. Search for apprenticeships in broadcast engineering with broadcasters like BBC and Sky. Go to What's an apprenticeship? to find out more and Where can I find an apprenticeship? to find apprenticeships in your region.
Alternatively, you can approach companies directly. Take a look at our list of apprenticeships to find the schemes of the main broadcasters. The BBC has a three-year apprenticeship in broadcast engineering that offers experience in all the areas a technical manager must master. You might want to start your career with a digital and technology solutions professional apprenticeship or with a software engineering apprenticeship.
Get a degree
A degree in a maths or science subject would stand you in good stead for entering the world of broadcast engineering. Computer-related courses like computer science, electronic engineering, computer engineering and software development are especially relevant if you're aiming for this particular job. Go to ScreenSkills Select to find university and college courses accredited by ScreenSkills.
Look outside the industry
Network systems engineers are needed across all industries, so if you've built the skills to design computer systems in a different industry, you can move into broadcasting. If you want to choose a similar industry, go for telecoms, live events or radio.
Get work experience
Write to specialist IT firms and ask if they offer work experience. Take a look at the BBC's software engineering graduate scheme. Big broadcasters like ITV, channel 4 and Sky also offer work experience opportunities and graduate schemes. University courses, too, can help you get work experience placements; some include a year in industry.
Working on your own projects, like building a computer from scratch or doing some coding, will also give you great experience.
Take a short course
Check out ScreenSkills' Training and opportunities page and click on Training to see what courses are available, whether in person or online. The training doesn't have to be linked directly to broadcast engineering; for example, a short course on developing resilience would help you understand how to thrive in challenging circumstances.
If you want to build some coding skills, there are lots of good short courses and bootcamps accredited by the Chartered Institute for IT. Although trainee network systems engineers don't do much programming day to day, these could help you in your career overall.
Network  
Create a LinkedIn profile. See if there are Facebook pages or other social media groups for IT professionals, or people who are interested in programming.  
Search for jobs  
Search for jobs on the broadcasters' websites as well as on LinkedIn and other job-hunting websites. Make use of the ScreenSkills jobs board. You can also send a short speculative letter with your CV to the head of technology or head of IT support.
You might also be interested in…
Have a look at other entry-level roles in the maintenance team, like trainee IT support engineer and trainee broadcast engineer.
Further resources