Broadcast engineering
Broadcast maintenance engineer
Also known as: Broadcast engineer, Broadcast technician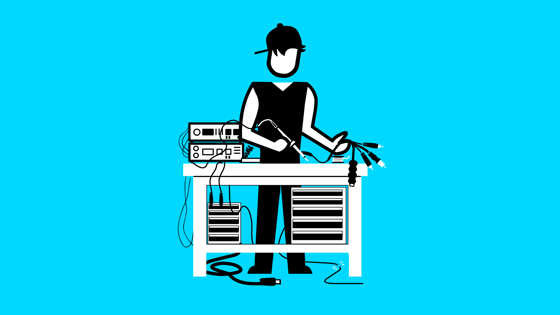 What does a broadcast maintenance engineer do?
Every broadcast studio needs a great team of maintenance engineers to make sure technical equipment is in tip-top condition so that your favourite programmes - whether that's Ru Paul's Drag Race or the World Cup final - make it to air. During quieter times, maintenance engineers check that equipment and software are up to date and working properly. They also test hardware systems such as monitors and cables for wear and tear, carry out electrical testing to ensure equipment is working safely and keep a large set of spares so any kit that isn't up to scratch can be replaced quickly.  
In a large studio complex such as the Sky Campus in Isleworth and the BBC in Salford, there is a permanent maintenance team on site with its own well-equipped workshop. Some teams of engineers work 24/7 shifts to cover all hours of broadcasting. In a smaller organisation, freelance engineers usually come in a couple of days a week to look after the equipment.  
If you like the idea of working in a lively broadcast environment, then becoming a broadcast maintenance engineer might suit you, especially if you enjoy fixing things and finding creative solutions. For example, you might find a way to set off the lighting effects when someone wins a point in a game show, or think up a technique to automatically reset a sound desk to its original settings after someone has been using it.
Maintenance engineers usually start as junior engineers, climbing the ladder as far as supervisor. If a team can't fix a problem, they will turn to their supervisor, so he or she needs to have plenty of experience in problem-solving and looking after technical equipment.  The supervisor should be capable of managing and training junior engineers and must make sure everyone is working safely.
The people using the studios may ask more senior members of the maintenance team to help them choose new equipment to hire or buy, so broadcast maintenance engineers need to be aware of the latest developments in technology. This will make sure the broadcaster they work with stays ahead of the game
When you say studios do you mean group of studios eg Sky in Isleworth or BBC Salford? I ask as I am not sure the size of a single studio will mean it is more likely to need 24-hour maintenance. That is more a question of the studio role, the busiest studios that may require 24 hr maintenance are often News studios which are usually quite small. But it is fair to say a large studio complex is more likely to have in house engineers. 
Watch and read
What are maintenance engineers good at?
Working under pressure: keeping calm in difficult conditions and meeting tight deadlines
Technical knowledge: a good understanding of how the equipment needed to broadcast a programme works
Thinking outside the box: coming up with new solutions to fix technical problems
Who does a broadcast maintenance engineer work with?
A wide variety of people. Not only do they work in the studios with other engineers such as IT support engineers and network systems engineers, they also work with the people using the studios, like camera operators, producers and directors.
In more senior roles, broadcast maintenance engineers work with other members of the studio management team and important clients.
How do I become a broadcast maintenance engineer?
You need to understand the science and process of broadcasting and be great with technology. If you're the person in your family who's always asked to help fix phones and laptops, the chances are you'd be a great broadcast maintenance engineer.
To progress to the role of broadcast maintenance engineer, you would typically start as a trainee broadcast engineer. However, you might start as an engineer in another area, such as a trainee IT support engineer or network systems engineer, and transfer to maintenance later.
Some broadcast maintenance engineers have a university or college qualification in a relevant subject, while others go down the more vocational route through either work experience or an apprenticeship.
At school or college
If you're interested in a career in broadcast engineering, A-levels in maths, physics and computer science would be good to get under your belt. You could combine these with subjects from the arts and humanities, such as English, history or music, which may come in useful for the content of the programmes you work with. Languages are also handy if you want to work with foreign broadcasters.
The following Level 3 vocational qualifications are also relevant to this role:
BTEC in Engineering with Engineering Maths
Cambridge Technical Extended Certificate in Engineering
BTEC National Foundation Diploma in Engineering
C&G Technical Certificate in Engineering
EAL Technical Diploma/Extended Diploma in Engineering Technologies
BTEC Diploma/Extended Diploma in Electrical and Electronic Engineering
City & Guilds Advanced Technical Diploma in Electrical Installation
EAL Diploma/Advanced Diploma in Electrical Installation
Selected schools and colleges have also started offering T-levels – a qualification equivalent to three A-levels that is designed to get you into the industry of your choice. Study is 80% classroom- and 20% work placement-based.
The following T-levels would help kick-start your career in broadcast engineering:
Media, Broadcast and Production
Digital Production, Design and Development
Digital Support Services
Digital Business Services
Design and Development for Engineering and Manufacturing
Maintenance, Installation and Repair for Engineering and Manufacturing
Engineering, Manufacturing, Processing and Control
Apprenticeships
Apprenticeships are jobs with training. Search for apprenticeships in broadcast engineering with broadcasters like BBC and Sky. Creative Alliance also runs apprenticeships in broadcast production. On the ScreenSkills website, go to What's an apprenticeship? to find out more and Where can I find an apprenticeship? to find apprenticeships in your region. Alternatively, you can approach companies directly. Take a look at our list of apprenticeships to find the schemes of the main broadcasters. The BBC has a three-year broadcast and media systems degree apprenticeship that offers a mix of practical  experience and university study in all areas of media systems engineering. You may also be interested in the level 3 apprenticeship for broadcast and media systems technical operator.
Volunteer
Get involved with events in your local community, whether that's running the sound for your school talent show, managing the special effects for an amateur dramatics society or helping out at a volunteer-run radio station in your town.
Contact theatre productions or local music venues that can get you behind the scenes of a production environment. Anything that gives you experience in dealing with equipment in a live environment will be helpful. Voluntary work experience is great for your CV as it shows you're enthusiastic, have technical ability and work well as part of a team.
Build a portfolio
Get a degree
A degree in a maths or science subject would stand you in good stead for entering the world of broadcast engineering generally. You could also look at electronic engineering, software design or computing.
Go to ScreenSkills Select to find university and college courses accredited by ScreenSkills.  
Look outside the industry
If you don't go into broadcast engineering straight away, industries that require similar skills include telecoms, live events and radio. They allow you to strengthen your technical abilities and get experience with technical equipment.
Get work experience
Write to local production companies to ask if they offer technical assistant roles. Keep an eye out for work experience opportunities at the BBC, ITV, Channel 4, Sky and the PACT Indie Diversity Training Scheme.
Alternatively, try approaching a rental equipment company that supplies productions with the gear they need. This will enable you to get your hands on equipment, learn more about it and get to know people who work in TV.
Take a short course
If you are over 18, make a ScreenSkills account and check out ScreenSkills' Training and opportunities page. Click on Training to see what courses are available, whether they are in person or online. The training doesn't have to be linked directly to broadcast engineering; for example, a short course on developing resilience would help you understand how to thrive in challenging circumstances.
Network
Get to know people in the film and TV industry by attending events such as ScreenSkills' Open Doors. Go to Training and opportunities and use the events filter to find out what's on. Meet professionals and ask them questions about their work, while demonstrating interest in and knowledge of the industry. Offer to provide them with your professional contact details and try to stay in touch with them. Go to Network well to learn how to do this.
Network online
Create a LinkedIn profile. See if there are Facebook pages or other social media groups for people making film and TV in your area. Create a ScreenSkills profile. There are lots of crewing agencies that will charge you to be on their books. Sign up to the free ones initially. Wales Screen, Northern Ireland Screen and Filming in England offer free crew databases and opportunities to network in person. Find a film office near you and get connected. If you do sign up to paid sites, make sure they specialise in the areas in which you're interested.
Search for jobs
Search for jobs on the broadcasters' websites as well as on LinkedIn and other job-hunting websites. Make use of the ScreenSkills jobs board. You can also send a short speculative letter with your CV to technical managers or vision supervisors.
You might also be interested in...
Being a technical project manager or wireperson. You may also want to look at roles in software engineering or being an IT support engineer. Later on, you may want to be a technical manager.
Further resources