Broadcast engineering
AV engineer
Also known as: Audio visual technician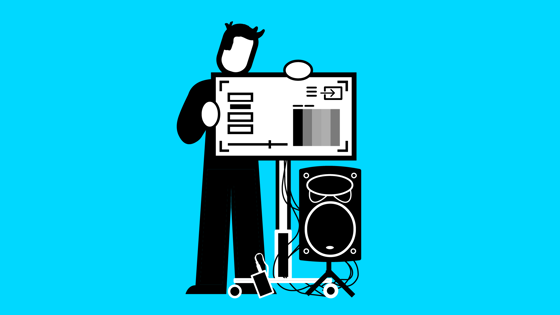 What does an AV engineer do?
Audio visual (AV) engineers are always needed to look after the technology that creates audio and visual content. For example, a client might ask them to set up the sound system and screens at an industry awards ceremony, music festival or political conference. Alternatively, an AV engineer might be asked to create stunning visual effects for the launch of the latest Ferrari. Being an AV engineer is a great route into broadcast engineering if you want to transfer your skills and experience to the screen industries.
AV engineers are involved in the whole journey of making an AV system, from coming up with a design that fits the budget and technical requirements to building, testing and operating the installation on site.
Just like the sound and visual systems used to broadcast TV, AV systems need to be well designed so that things don't go wrong. Depending on the size of the event, different clients have varying budgets and AV engineers must create a design in line with the money available, whether it's £500 or £5 million.  
Junior AV engineers are often trained by senior ones; or they go on specialist courses to develop their skills with new technology. Those with more experience often choose to work for themselves as a freelancer; some build a career in an AV company and work with a team of other people. Others may even end up forming their own AV companies.
Watch
What is an AV engineer good at?
Working to a brief: being able to follow both a client's instructions and think creatively to come up with solutions that fit the client's time frame and budget
Documentation: writing a plan of what equipment is needed and how much it will cost to show the client and installation team
Practical engineering skills: building and testing the installation, setting up cables, working carefully with attention to detail
Health and safety: being aware of how to be safe on location or at an event, especially when using electrical and heavy equipment. There are usually members of the public attending so it is vital all the equipment is made safe
People skills: working in a team, speaking professionally to clients, sometimes calculating what hours of work and noise levels are acceptable when working near offices, and speaking to staff on site about delivery of equipment

.
Who does an AV engineer work with?
AV engineers work with a team of other AV engineers and trainees. They also work with the people who need the AV content, speaking to clients about what they want and working with staff who look after the site they're working on.
How do I become an AV engineer?
Firstly, you need to be great with technology. You might already have set up a screen or speakers in a classroom or for a film night or a college or university event.
A university degree would be useful, but it's not necessary if you can build up enough experience. AV engineers learn the ropes as trainee AV engineers. It's a good idea to start out at a small, local company where you can gain a good amount of experience. You can then build on that by moving to a bigger company or another area of broadcast engineering.
Having a driving licence is very useful, as it means you can travel with equipment to different sites.
At school or college
If you're interested in broadcast engineering generally, A-levels in maths, physics and computer science or ICT would be good to get under your belt.
The following vocational qualifications are relevant to this role:
BTEC in Creative Media
Level 2 Diploma in Creative Media Production
Level 3 Extended Diploma in Creative Media Production
HND in Audio Visual Technology
BTEC in Engineering with Engineering Maths
Cambridge Technical Extended Certificate in Engineering
BTEC National Foundation Diploma in Engineering
C&G Technical Certificate in Engineering
EAL Technical Diploma/Extended Diploma in Engineering Technologies
BTEC Diploma/Extended Diploma in Electrical and Electronic Engineering
City & Guilds Advanced Technical Diploma in Electrical Installation
EAL Diploma/Advanced Diploma in Electrical Installation
Selected schools and colleges have also started offering T-levels – a qualification equivalent to three A-levels that is designed to get you into the industry of your choice. Study is 80% classroom- and 20% work placement-based. A T-level in Media, Broadcast and Production would help to kick-start your career in AV engineering. Here are some others that would be useful:
Digital Production, Design and Development
Digital Support Services
Digital Business Services
Design and Development for Engineering and Manufacturing
Maintenance, Installation and Repair for Engineering and Manufacturing
Engineering, Manufacturing, Processing and Control
Apprenticeships
Apprenticeships are jobs with training. There are apprenticeships available for AV engineers, although they tend to be with small companies rather than big broadcasters.
Go to What's an apprenticeship? to find out more. You might be interested in doing a . You can find apprenticeships by searching online, or you can approach companies directly to ask them if you can join as an apprentice.
You will also be able to learn on the job if you work for a small company, which will give you plenty of experience.
Volunteer
Get involved with events in your local community, whether that's running the sound for your school talent show, helping out at a film screening at a community event or doing other hands-on tech roles like managing the special effects for an amateur dramatics society.
Contact theatre productions or local music venues that can get you behind the scenes of a production environment. Anything that gives you experience in dealing with equipment such as screens, cables and speakers in a live setting will be helpful. Any voluntary work experience is great for your CV as it shows you're enthusiastic, have technical ability and work well as part of a team.
Get a degree
You don't need a degree to become an AV engineer, but if you want to keep your options open then a degree in a maths or science subject would stand you in good stead for entering the world of broadcast engineering generally. You could also look at electronic engineering, software design or computing. Subjects such as media technology and sound engineering could be especially helpful for this job. Go to ScreenSkills Select to find university and college courses accredited by ScreenSkills.
Look outside the industry
Industries that require similar skills include local and hospital radio and engineering for temporary sound and vision systems for theatre and smaller live events.
If you want a senior position in an AV company, you'll be managing other AV engineers and trainees, so some experience in a management position is helpful. AV engineers work with clients, so having a technical job where you have to interact with clients or customers will give you great transferable skills.
Get work experience
Write to local AV companies and ask if they offer any technical assistant roles or, if not,  work experience.
Alternatively, try approaching a rental equipment company that supplies productions with the gear they need. This will enable you to get your hands on equipment, learn more about it and get to know people who work in TV.
Take a short course
If you are over 18, make a ScreenSkills account and check out ScreenSkills' Training and opportunities page. Click on Training to see what courses are available, whether they are in person or online. The training doesn't have to be linked directly to broadcast engineering; for example, a short course on developing resilience would help you understand how to thrive in challenging circumstances.
Network
Create a LinkedIn profile. See if there are Facebook pages or other social media groups for people making AV in your area.
Search for jobs
Search for jobs on AV production companies' websites as well as on LinkedIn and other job-hunting websites. You can also send a short speculative letter with your CV to AV companies.
You might also be interested in...
Being a software engineer, IT support engineer, systems architect or broadcast maintenance engineer.
Further resources