Broadcast engineering
Satcomms engineer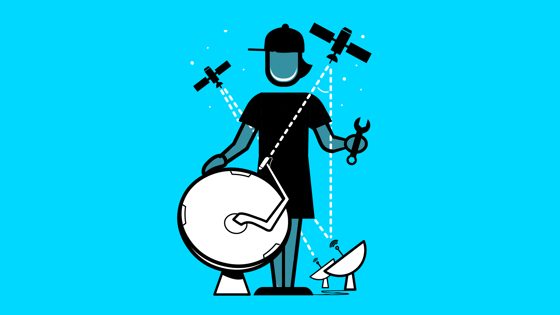 What does a satcomms engineer do?
Satellites are a really important tool in broadcasting. Many of the shows you watch reach your screen via satellites. For example, for I'm a Celebrity, a satellite dish will have been transported to the jungle in Australia. This will send the programme signal to a communications satellite orbiting in space, which is then beamed back to a large satellite dish on a 'dish farm' in the UK. The broadcast is then sent on to the MCR room at a broadcast centre. There, it is checked over for quality and before eventually being sent to your home, which – if you use a satellite TV service like Sky – may also have a very small satellite dish on the roof.
Satcomms engineers work with several different types of satellite equipment. Fixed satellites dishes, which are often very large, are located in one place and used to connect different studio centres. For example, when BBC News is reporting on the US presidential election, the presenter in London   often speak to a reporter based in a studio in Washington DC. The two are connected via fixed satellite dishes.
Mobile satellites are smaller dishes that can be placed in different locations. These are needed to broadcast the hundreds of live programmes that are produced away from a major studio centre, whether that's the final of Love Island in Mallorca or a lambing update from a Yorkshire nature reserve for Springwatch.
Many satcomms engineers are based on satellite dish farms across the UK. These are open space s full of satellite dishes where broadcasters send and receive programme signals from all over the world. On these farms, satcomms engineers are needed to test, analyse and solve problems with the satellite dishes and  make sure all the technology is working as effectively as possible.
When filming out on location – such as in the jungle for I'm a Celebrity, for instance – a satcomms engineer's main responsibilities are to set up, line up and link up with those satellites way out in space. Satcomms engineers must be aware of the safety considerations around the use of equipment – which can be high risk – and train other staff in the best way to work safely.
Satcomms engineers need to be extremely good at detail. When working in satellite communications, even the slightest mistake can cause serious problems.  However, this is an essential, fascinating and exciting role in broadcasting – so if you love physics as well as live TV, it could be the job for you.
Watch and read
What is a satcomms engineer good at?
Working under pressure: keeping calm in difficult conditions and meeting tight deadlines

Technical knowledge: having a good understanding of how the equipment needed to broadcast a programme works

Thinking outside the box: coming up with new solutions to fix technical problems

Teamwork: reassuring colleagues, giving clear instructions and advice; collaborating with people in lots of different roles

Risk assessment: understanding when the risk level is too high to go ahead with a task and a thorough knowledge of safety regulations.
Who does a satcomms engineer work with?
An RF engineer, the engineers in the master control room, a location engineer and an OB engineer. They will also work with production colleagues as well as those on screen.
How do I become a satcomms engineer?
Most satcomms engineers have an engineering degree, although it may be possible to get into this career without going to university if you spend several years working in a similar role. Satcomms engineers need to know about the sort of technologies that are common in broadcasting and must have a good understanding of computer networking.
If you're a technical person – the one who's always asked to fix mobile phones and laptops in your house – this is a great career path. Working as a satcomms engineer is well paid and opens many other professional doors, in broadcasting as well as other industries.
At school or college
If you're interested in a career in broadcast engineering, A-levels in maths, physics and computer science would be good to get under your belt. You could combine these with subjects from the arts and humanities, such as English, history or music, which may come in useful for the content of the programmes you work with. Languages are also handy if you need to travel or want to work with foreign broadcasters – studying A-level Spanish might be your ticket to working at the 2026 World Cup in Mexico!
The following Level 3 vocational qualifications are also relevant to this role:
BTEC in Engineering with Engineering Maths
Cambridge Technical Extended Certificate in Engineering
BTEC National Foundation Diploma in Engineering
C&G Technical Certificate in Engineering
EAL Technical Diploma/Extended Diploma in Engineering Technologies
BTEC Diploma/Extended Diploma in Electrical and Electronic Engineering
City & Guilds Advanced Technical Diploma in Electrical Installation
EAL Diploma/Advanced Diploma in Electrical Installation
Selected schools and colleges have also started offering T-levels – a qualification equivalent to three A-levels that is designed to help you get into the industry of your choice. Study is 80% classroom- and 20% work placement-based.
The following T-levels would help to kick-start your career in broadcast engineering:
Digital Production, Design and Development
Digital Support Services
Digital Business Services
Design and Development for Engineering and Manufacturing
Maintenance, Installation and Repair for Engineering and Manufacturing
Engineering, Manufacturing, Processing and Control
Apprenticeships
Apprenticeships are jobs with training. Search for apprenticeships in broadcast engineering with broadcasters like BBC and Sky. Go to What's an apprenticeship? to find out more and Where can I find an apprenticeship? to find apprenticeships in your region. Alternatively, you can approach companies directly. Take a look at our list of apprenticeships to find the schemes of the main broadcasters. The BBC has a three-year broadcast and media systems degree apprenticeship that offers a mix of practical experience and university study in all areas of media systems engineering. You may also be interested in the level 3 apprenticeship for broadcast and media systems technical operator
Volunteer
Get involved with events in your local community, whether that's running the sound for your school talent show, managing the special effects for an amateur dramatics society or helping out at a volunteer-run radio station.
Contact theatre productions or local music venues that can get you behind the scenes of a production environment. Anything that gives you experience in dealing with equipment in a live environment will be helpful. Voluntary experience is great for your CV, because it shows you're enthusiastic, have technical ability and experience and you work well as part of a team.
Get a degree
A degree in a maths or science subject would stand you in good stead for entering the world of broadcast engineering. Physics would be particularly helpful for a job as a satcomms engineer. You could also look at electronic engineering or computing. Go to ScreenSkills Select to find university and college courses accredited by ScreenSkills.
Look outside the industry
If you can't or don't want to get into broadcast engineering straightaway, industries that require similar skills include telecoms, live events and radio. These would enable you to strengthen your technical abilities and get experience with technical equipment.
Get work experience
Write to local production companies and ask if they offer technical assistant roles. Keep an eye out for work experience opportunities at the BBC, ITV, Channel 4, Sky and the PACT Indie Diversity Training Scheme.
Alternatively, try approaching a rental equipment company that supplies productions with the gear they need. This will enable you to get your hands on equipment, learn more about it and get to know people who work in TV.
Take a short course
If you are over 18, make a ScreenSkills account and check out ScreenSkills' Training and opportunities page and click on Training to see what courses are available, whether they are in person or online. The training doesn't have to be linked directly to broadcast engineering; for example, a short course on developing resilience would help you understand how to thrive in challenging circumstances.
Network
Get to know people in the film and TV industry by attending events such as ScreenSkills' Open Doors. Go to Training and opportunities and use the events filter to find out what's on. Meet professionals and ask them questions about their work, while demonstrating interest in and knowledge of the industry. Offer to provide them with your professional contact details and try to stay in touch with them. Go to Network well to learn how to do this.
Network online
Create a LinkedIn profile. See if there are Facebook pages or other social media groups for people making film and TV in your area. Create a ScreenSkills profile. There are a lot of crewing agencies that will charge you to be on their books. Sign up to the free ones initially. Wales Screen, Northern Ireland Screen and Filming in England offer free crew databases and opportunities to network in person. Find a film office near you and get connected. If you do sign up to paid sites, make sure they specialise in the areas in which you're interested.
Search for jobs
Search for jobs on the broadcasters' websites as well as on LinkedIn and other job-hunting websites. Make use of the ScreenSkills jobs board. You can also send a short speculative letter with your CV to technical managers or vision supervisors.
You might also be interested in...
RF engineer, OB engineer, location engineer, MCR engineer
Further resources