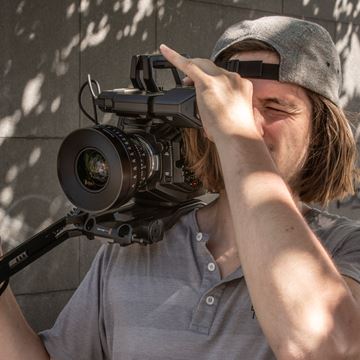 Davide Ruggero Brambilla
Camera Trainee, camera assistant
Location:

UK, London, Milan

Career stage:

Entry

Freelancer:

Available
Hi, my name is Davide, I am a friendly and reliable individual who has always been interesting in cinematography and film. I am currently seeking a Camera Trainee position within the film industry.
I am flexible and adaptable to all situations and always willing to do different tasks, putting the same enthusiasm of course. I am Italian, so coffee, tea and food are always a pleasure.
During the training period in IED, I specialized in the Camera and Electrical Department, one of the areas where I stood out, covering different roles on the set.
In the last two years I have worked also as cinematographer and camera operator for independent short film, no profit associations and small budget productions. This gave me the possibility to build my personal showreel.
I love challenges and I am always ready to travel anywhere for a good opportunity to gain more experience and pursue a career within the industry.
Full driving license.
Work History
Camera Operator, Director of Photography - Commercial - "un Ricordo" Assolombarda
Camera Operator, Director of Photography - Short Film - "Lupus in fabula" - IED university
Freelence Photographer - Street Photography project - "Solo" - IED university
Director of Photography - Commercial - Caimi Brevetti
LAB assistant - IED service (LAB)
Camera operator - Commercial - Fondazione Nord Milano
Camera Trainee, 2st Assistant camera, Focus puller - IED university
Education
Visual communication "video design" - Bachelor - Institute European of Design (Milan)
ARRI Academy HDR 2017 - Online Masterclass - Camerimage 2017, Karl Walter Lindenlaub ASC
Skills
Composition
Photography
Arri
Assistant Photography
Black Magic Ursa Mini Pro
Camera and lighting department
CAMERA ASSISTANT
Camera Assisting
Camera Operator
CAMERA TRAINEE
Cameras
Canon C100
Canon C500
Canon XF105
Cinematographer
Cinematography
Colour Correction
Colour Grading
DaVinci Resolve
Digital Camera
FOCUS PULLER
Focus Pulling
Lighting
Lighting and Grip Equipment
Problem Solving
RED Camera
Sony FS5
Sony FS7