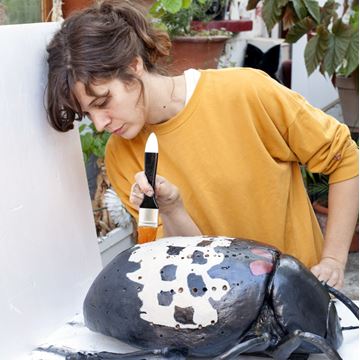 Alberta Jones
Designer, Art Director and Illustrator
Location:

London

Career stage:

Experienced

Freelancer:

Available
Alberta Jones is an internationally acclaimed scenographer based in London. She has ten years of experience designing sets, props, costumes and models. She is an associate artist and designer for Rhum and Clay Theatre Company and her design for award winning show Testosterone gained commendation from The Golden Panda Culture & Design Awards 2017.
Recent/ongoing projects:
-TESTOSTERONE: Production design for Rhum and Clay Theatre Company & Kit Redstone. International tour. Next stop Venezuela!
-The Sainsbury's 150th Experience: Propmaster for large-scale theatrical experience in Covent Garden, London.
-Passengers: set & costume design for theatre, written by Kit Redstone.
Clients include: Sainsbury's, The Southbank Centre, Which?, The Old Vic, The Roundhouse, OXFAM, Playstation, IKEA, Hewlett Packard, Seen Presents, Bearded Kitten, Vita Coconut Water, Push UK, Miss Jones & Co, Paris Games Week, Pernod Ricard, Jamesons, Chivas, The Gherkin, Beefeater, Plymouth Gin, London Cocktail Week 2015,
Work History
Production Designer for Rhum and Clay Theatre Company - Alberta Jones Design
Theatre Designer - Alberta Jones Design
Art director and Prop master for Proud Robinson - Alberta Jones Design
Alberta Jones Art & Design - Freelance Artist & Designer
Art Director and Designer - Miss Jones & Co Experiential Marketing and Event Production
Associate Art Director and Designer - Cherry Truluck at Miss Jones & Co Experiential Marketing and Event Production
Assistant Art Director - Cherry Truluck at Miss Jones & Co Experiential Marketing and Event Production
Education
Design for Performance - First class honours BA (Hons) Degree - University of the Arts London: Wimbledon College of Art
Skills
Adobe InDesign
Adobe Photoshop
Character Designer
3D Modelling
Adobe Illustrator
Concept Artist
Costume Design
Creative Drawing and Illustration
Experiential events
Google SketchUp
graphics
Installation
Props
scale modelmaking
Scenic Art
Scenic Construction
Stop Motion Animation
Theatre design