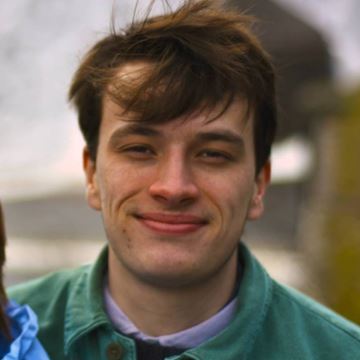 George Clifford
Aspiring Floor runner/ Assistant director trainee
Location:

South West England

Career stage:

Entry
Hi, I'm George.
Welcome and thank you for taking the time to view my profile!
I have an incandescent creative spark and passion for contributing to one of the largest and thus influential arts industries on the planet. I'm a fast learner with a deep respect for anyone who has the drive to maintain a career in television production. My malleability to all personalities is offset with a hard-working attitude and a good ability to multi-task. I always apply a sense of optimism and humour to every situation (when appropriate). These qualities are coupled with all round transferable skills in the arts, persuaded by my ongoing love for the cinematic and televisual arts.
I'm a casual doodler and sculptor with an interest in nearly all art forms under the sun, and of course a particular passion for the televisual and cinematic arts. I believe there are many great stories out there just waiting to be told - and you've got to go and grab 'em by the horns! That's why I'm a fervent traveller with a love of the unexpected and I'm always looking to keep the mood cheerful with an optimistic and humorous outlook.
Most recently I have worked on the trailer for A Christmas Carol at the Bristol Old Vic theatre as a second camera for Woven Films, and day work as a floor runner on Dickinson's Real Deal (RDF). I Have completed four industry placements; one as a runner for ZigZag productions, an office runner Intern for Partizan, a development intern for Twofour and a runner intern for Potato (ITV). From these I gained new experiences working on live industry sets, and developed a variety of new skills ranging from taking and recording headshots, to researching film locations, to going on local runs, and of course helping with the general up-keep of an office. I also perfected my tea and coffee making skills - which always goes down well as a floor runner!
I am currently based in Bristol, and I am willing to travel or relocate should an opportunity require it. Please feel free to contact me if you would like to know more, or if you'd like to try out one of my perfect brews.
Thank you for your time!
George.
Work History
Second Camera - A Christmas Carol (Trailer) - Bristol Old Vic Theatre - Woven Films
Floor runner - Dickinson's Real Deal - RDF Television
Development Intern - Twofour
Office Runner Intern - Partizan
Development Intern - Zig Zag Productions
Education
Digital Garage - Online Certifcation - Google
Film - BA (Hons) - 2:1 - Falmouth University
Avid Media Composer - Online Certification - Falmouth University
Art & Design - Foundation Diploma - Merit (with Distinction in all practical work) - South Gloucestershire and Stroud College
Sixth Form - 2 A levels and 4 AS levels graded A-C - Marling School
Secondary School - 12 GCSE's graded A-C - Marling School
Skills
Adobe InDesign
Adobe Photoshop
Adobe PremierePro
Digital Marketing
Video Editing
WordPress
Adobe
Adobe After Effects
Adobe Media Encoder
Adobe Muse
Android
Avid Media Composer
Creative Drawing
Email
Excel
Experimental filmmaking
Google Drive
Learning to drive
Location agreement
Mac
Microsoft Office
MS Office
Palette knife painting
Risk Assessment
Runner
Self-shooting
Shotput Pro
Telephone Manner
Video Encoding
Portfolio
ScreenSkills is not responsible for the content of these uploaded files.