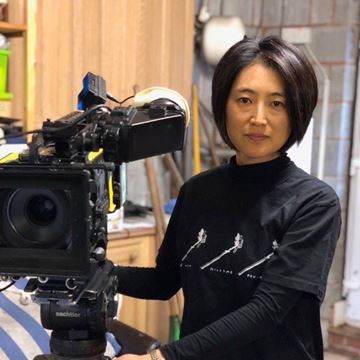 Mari Yamamura
Director of Photography
Location:

South West England

Career stage:

Experienced

Freelancer:

Available
Production Safety Passport
Mari Yamamura is a Japanese director of photography based in the UK. She initially studied Economics at Southampton University and then worked in an advertising agency in Tokyo. However, her dream to become a painter eventually lead her to filmmaking and she studied Film and Photographic Arts at University of Westminster. She subsequently started as a camera trainee and worked her way up through the camera department mainly in TV dramas and commercials. Her credits as a focus puller include "Doctor Who", "Torchwood", "Being Human", "Dracula", "VW", "Nike", "IKEA", "RBS", "Stephen Hawking's Universe", "David Gray" and "Chemical Brothers".
As a DoP, Mari shot her first feature "Kesulat" in 2016 and, in the same year, a short piece "Gwynfor" was selected for BSC New Cinematographers Night screening. Over the years, she has shot TV dramas such as "Doctors" and "River City" for BBC Studios, corporate videos for Panasonic 100 Years celebration and Skype, music videos for Sophie Ellis-Bextor and The Wombats, as well as short films, which were screened at BAFTA-recognised short film festivals. She has been a BAFTA Crew member since 2013.
Mari is DBS checked and has completed courses, 'Safe Management of TV Productions', 'BBC Working With Children' and 'BBC Production Safety'.
---
This ScreenSkills member holds a Production Safety Passport.
Safe Management of Productions
First Option
10th January 2018 - 10th January 2023
Work History
Director of Photography - "River City" BBC Scotland
Director of Photography - "Doctors" BBC Studios
Director of Photography - "Kesulat" Dardan Pictures
Education
BA Hons in Film, Video and Phtographic Arts (Film Pathway) - 2.1 - University of Westminster
BSc in Single Hons Economics - 2.2 - University of Southampton
Skills
Camera Operating
Commercials
Corporate Video
Director of Photography
Documentary
Documentary Film
Documentary Photography
Feature Film
Features
HETV
Lighting
Short Film
Short filmmaking
TV Drama
Following