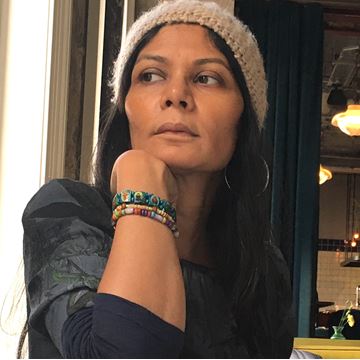 Meneka Das
Writer/Director
Location:

London

Career stage:

Experienced

Freelancer:

Available
I am an Actor, Writer & Filmmaker. Director of the award winning feature Little Box of Sweets.
My passion for stories with strong female voices especially those that reflect my own culture inspired me to turn to writing and directing so as to be able to bring them to screen.
The making of. . .
I was born in a little village in Northern India and then moved to London to follow my dream of music, theatre & films.
My parents wanted me to become a doctor but unbeknown to them even as a 7 year old I had my heart set on telling stories. Most evenings my Mother had a habit of visiting the old folks in the village to check up on them or take them eatables and my sister and I would go along with her. I soon realized there was a market right there – these people were so happy when we visited especially when Mother would get us to sing for them.
After school I would take a note book and make my way through the guava groves onto the mustard covered banks of the river Ganges, where alone I would lie there in the sun watching the clouds passing by in the sky – writing my little sketches.
I started my one act show going around the village entertaining folks from house to house and very soon I earned the title of the village Nachaniya – meaning dancer/entertainer. Once the audience was hooked it was easy to introduce a small fee that I charged after the show and it came in the form of sweets and pennies and I can say that they gave it willingly and with such gratitude.
Looking back the one thing I will never forget was the thrill of how much joy I brought to them. To experience first hand their reactions of both laughter and tears was priceless!
In the last 20 years India has changed so much, our little village too. I knew we couldn't stop the development but I could try and preserve a little piece of history on film. I returned with my sister and we made our first feature with the support of the village, family and strangers who were just happy to help put our little village on the world map!
The goal is to document the making of the film and the lessons learned along the way from the vast mountains of Northern India to the vibrant city of London!