Spotlight: ScreenSkills support in Scotland
5 Aug 2021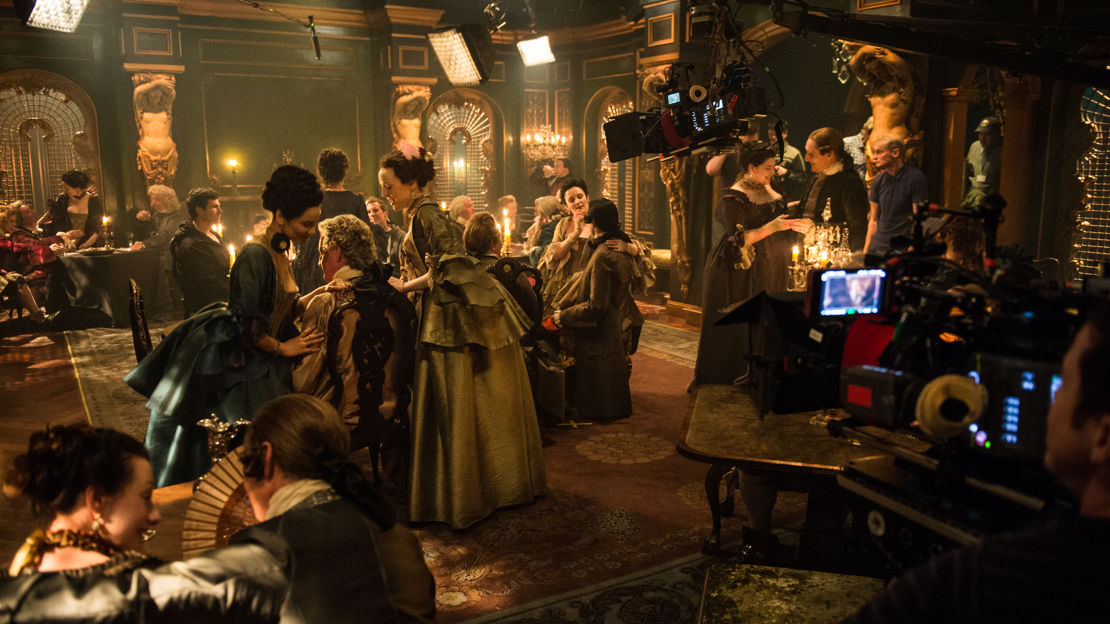 Outlander © Sony Pictures 2016
You can't make great film, TV and animation without investing in the people. This is why ScreenSkills is committed to deliver training, resources and opportunities across the whole of the UK. This month our focus is Scotland.
Seetha Kumar, ScreenSkills CEO, said: "We are proud to support the screen industries in Scotland in close partnership with our partners in the area such as Screen Scotland.
"Thanks to the contributions of productions that contribute to our skills funds and funding from the BFI, who award us National Lottery funds, we can run training for professionals at all career stages. This is mostly online at the moment but, for example, we are also subsidising a number of courses run by the NFTS that it are hoped will go ahead face-to-face in Glasgow in the next couple of months."
Productions and placements
Scotland has been a base for productions including Outlander, Guilt, Succession, Vigil, The Rig, Crime, Deadwater Fell Shetland, The Nest, Fast & Furious 9, Mary Queen of Scots and Outlaw King. It is also the home of animation studios such as the Stirling-based Wild Child Animation (The Brilliant World of Tom Gates), Animation Garden (A Bear Named Wojtek) in Edinburgh, and Axis Studios (Love, Death & Robots: Helping Hand) in Glasgow.
With so much production in the area, there are plenty of on-the-job training opportunities for talent. With ScreenSkills' support, both new entrants and established professionals have been able to develop their skills and build experience on Scottish productions via training programmes such as Trainee Finder and Make a Move.
Make a Move support, awarded by the Children's TV Skills Fund, helped Glasgow-based Jayne Austin develop her career. During the Covid-19 pandemic she stepped up to the role of junior producer on Let's Go For A Walk, a series produced by Hello Halo Kids for the BBC's CBeebies. She worked closely with director Terri Langan and series producer Ewan Torrance to glean as much experience as she could. "They really held my hand throughout the process of stepping up to junior producer and dealing with those challenges, particularly making a production during Covid-19," Jayne says.
Art director Ayden Millar, from Glasgow, was also offered the chance to step up via High-end TV Make a Move. Having ScreenSkills' support and the presence of experienced art director Mark Leese on the set of The Nest helped her feel she could push herself out of her comfort zone and develop her skillset. "It's not just about the paint, wood and sets, but managing people and dynamics that was just as much of a challenge," Ayden says. "You're suddenly responsible for dealing with office matters – finding crew, hiring people, making sure everyone is happy, workflow continuing, everybody eating and drinking enough, and not getting stressed. When people are happy that's when they produce the best work."
Trainee Finder trainees have also been able to gain on-the-job experience on Scottish productions. Floor runner Glenn Whelan secured his first placements on high-end TV dramas The Nest and Vigil, before working on children's TV show Molly and Mack. "Thanks to Trainee Finder, I was given the opportunity to form great working relationships with, and learn from, ADs working at the highest levels of TV production which I'm extremely grateful for and believe will stand to me in the future."
ScreenSkills also supports Scottish-based talent via other programmes. Glasgow-based Producer Louise Say (Shetland, Dracula) successfully moved from documentaries into high-end drama thanks to  the HETV New Producers Programme and LX rigger Aamir Riaz and editor Kaljeven Singh Lally have been both been selected for Film Forward, a new initiative designed to help experienced Black, Asian or minority ethnic crew advance into more senior roles on feature films. Rachel Erskine, Jamie Lee Aird and Cory Townsend are part of the three-year development programme Leaders of Tomorrow, a new initiative that will be presented by a panel at this years' Edinburgh International Television Festival.
Bursaries, mentoring support and short courses
Sometimes small interventions are all that is needed to help individuals take great strides in their careers. Sound recordist Javi Lopez, who is based in Edinburgh, is now able to say yes to last-minute jobs he previously would have had to turn down thanks to new equipment he was able to afford thanks to a ScreenSkills bursary. "Before I'd have to travel to Glasgow or Manchester to rent the equipment, because there aren't that many rental houses in Edinburgh, but not anymore," he says.
For Hannah Rice, who has cerebral palsy, a place on ScreenSkills' Working with Disabled Talent workshop during lockdown proved fruitful. She talked to all the talent managers in attendance at the session, and Zoë Tait, head of 12 Yard Scotland was impressed. "We got chatting in one of the break-out rooms and she mentioned they had a three-month casting researcher position available for primetime BBC One entertainment quiz show, Catchpoint," Hannah says. The interview went well and she was offered the job.
She also benefited from other free online masterclasses and training courses that were commissioned by the ScreenSkills TV Skills Fund during lockdown, as did Kate Walmsey. She attended around 160 of the courses after being furloughed from her job as coordinator at a post-production facility in Glasgow.
The free seminars helped her to learn more about commissioning, as well as the different development stages of filming. "It gave me a panoramic in-depth understanding of the industry and helped to clarify the different genres and the different job roles beneath the umbrellas of those genres," Kate says.
ScreenSkills continues to offer online training to help talent upskill regardless of where they are based. But as the country continues to open up, we are also investing in new face-to-face training. Colourists and VFX professionals will for example be able to enjoy a series of courses run by the NFTS in Glasgow.
A course funded by the Animation Skills Fund opened Maisie Chan's eyes to opportunities in children's animation. She also benefited from ScreenSkills-funded mentoring support from screenwriter Emma Reeves (Eve, The Demon Headmaster). "Talking to Emma was extremely helpful, she read my novel and gave me insight into how I could begin to adapt it. Having Emma as a mentor also meant producers took me more seriously," Glasgow-based Maisie says.
ScreenSkills works with a range of partners to offer mentoring to professionals at all career stages. We have, for example, supported the Scottish Documentary Institute for two consecutive years to run mentoring for women who are keen to move from short to feature-length documentaries, and are funding Glasgow Film Theatre's New Talent Mentorship scheme which supports emerging screen professionals from under-represented backgrounds.
Pathways in for new talent
Paid placements and skills training are key to ensuring the screen industries in Scotland continue to thrive, but ScreenSkills' work starts even before young people enter the industry, with information about the opportunities in screen and support for improving the quality of screen degrees, courses and apprenticeships.
ScreenSkills Select endorses and enhances screen courses that give students the best possible start to a career in the screen industries. In Scotland, courses have been endorsed at the University of West Scotland, Edinburgh Napier University, Glasgow Clyde College, City of Glasgow College and Abertay University.
Around 500 students attending endorsed courses and degrees benefited from one of the seven employability sessions ScreenSkills delivered. Students will also be able to attend a film and TV industry panel in October, as well as a games industry networking session. Finally, the ScreenSkills careers team will host a virtual skills show for young people in partnership with Optimus Education this autumn.
---
Back to news