Kate Walmsley on how online seminars helped her through lockdown
27 Nov 2020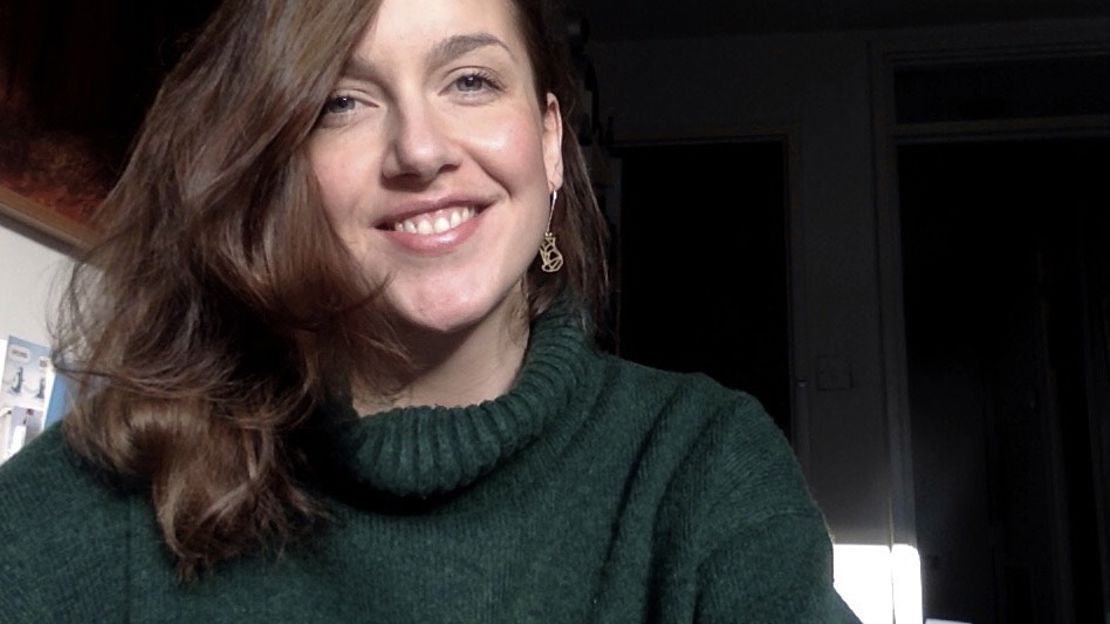 When Kate Walmsley was furloughed in April 2020 from her job as coordinator of a Glasgow post-production facility, it was a blow.
But determined not to sit at home moping during lockdown, she signed up for ScreenSkills' training, mentoring, and masterclasses, often doing three or four a day. "In total I've done about 160 courses," she says, six months into the pandemic.
 "ScreenSkills was already on my radar. I had looked at the website a lot and followed them on social media when I was doggedly trying to find my first 'in' into the industry," she says. When lockdown happened in March, Kate saw a tweet from Donna Taberer, who runs the Series Producer Programme for the ScreenSkills TV Skills Fund, about its plans to help freelancers through workshops and training. "So I got into the habit of checking the ScreenSkills website every day to see what they had on offer and signing up to everything. Psychologically it really helped me feel I was still involved in the industry and provided just enough structure throughout the day."
The free courses helped her to learn more about commissioning, as well as the different development stages of filming. "It gave me a panoramic in-depth understanding of the industry and helped to clarify the different genres and the different job roles beneath the umbrellas of those genres."
She had one-to-one sessions with talent managers, workshopping her CV and learning how to present herself. She also met experts on Zoom who she would never normally come into contact with. 
"I've been blown away by how helpful people have been. At the end of every session, I'd find the people involved on Twitter or LinkedIn, and connect, or follow up with a message thanking them for their time. Kay Green, who produced many sessions for the ScreenSkills TV Skills Fund, shared a virtual coffee with Kate following one of them and offered some "invaluable" guidance including an introduction to contacts at Shine TV.
Doing the courses even resulted in some work.
"I signed up for an Inclusivity in Casting course that casting executive Mel Walden runs for Pact and ScreenSkills," Kate says. "Mel took the time to meet with me on Zoom after her training session, then forwarded my CV to a series producer friend of hers, Kim Rossiter at Red Sky Productions."
At the time, Kim Rossiter was series producing a new BBC factual entertainment show, Saved and Remade, where expert craftspeople help viewers convert objects that have meaning but are gathering dust. To her delight, Kate was offered a junior casting researcher role on the show. "It was my first editorial gig and I was assisting the casting producers and casting researchers, carrying out background checks on contributors, checking availability and booking them in once dates were finalised."  
Born in Edinburgh and now based in Glasgow, Kate knew "right from the off" that she wanted to work in TV. Age 16 she did a week's work experience with the BBC at Pacific Quay in Glasgow. "They offer a taster of all the different departments, from news to drama."
But after taking her degree in Spanish and politics at Bristol University, she spent 11 years working in many different roles, from waitress to call centre worker, to pay the rent.
Age 27 she applied for two trainee researcher posts with Glasgow companies and was again disappointed but asked for feedback. Filtr, a post-production facility, explained that they needed a candidate with developmental experience, which Kate didn't have, but that they were looking for someone to manage their post-production facility. Kate applied and was appointed, working both in-house for sister production companies, Beezr and Bees Nees, but also for external companies and corporate clients.
It was an invaluable learning experience. "Ideally everyone should have a go at the post-process, because it teaches you to save money. Often people think: 'Oh, we'll just fix it in post', which is the most expensive way of sorting out a problem. If you can fix it earlier in production, it can save you significant sums."
When lockdown happened, Kate could see the writing on the wall. Her post was made redundant in October. But, fortunately, all the courses she had taken had helped her more clearly define her ambitions.
She applied to Glasgow-based Lion TV who make Homes Under the Hammer and landed a six-month contract as a production coordinator in mid-October. 
She hopes it will be her route into more editorial work and to a job as an assistant producer. 
Through ScreenSkills' mentoring programme, she has also been matched with Cat Marshall, an associate producer at Yorkshire's Warp Films, who made The Virtues for Channel 4 and the film of Everybody's Talking About Jamie. "Working with Cat will help me to bridge that gap between factual and scripted. It can be easy to get pigeonholed."
It's been a long hard slog "but it was all very much worth it as I picked up some fantastic transferable skills," she says. 
"ScreenSkills have been fundamental not only to the significant career progressions I've made in that time, but also in keeping me sane while I was on furlough. I've also benefited hugely from excellent networking opportunities that would not have been available to me without ScreenSkills. I'm so grateful to the team for the support they offered to me, and so many others, during what was an incredibly difficult time. Now I'm looking forward to keeping in touch as the green shoots in the industry emerge."