Unscripted TV development: summits for development teams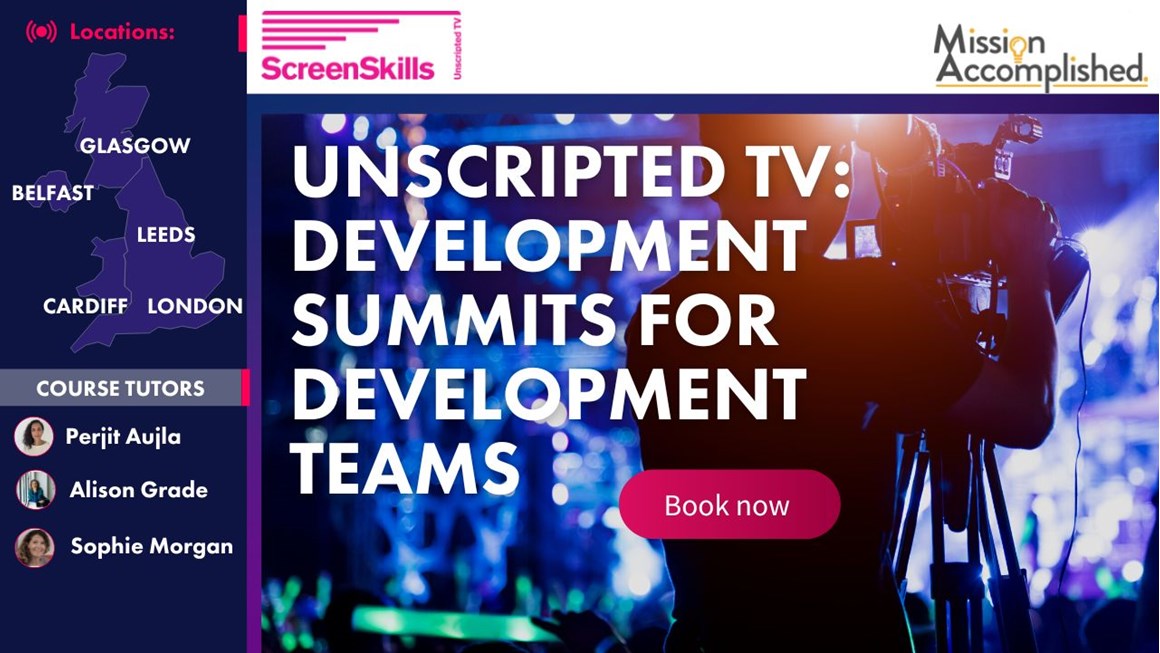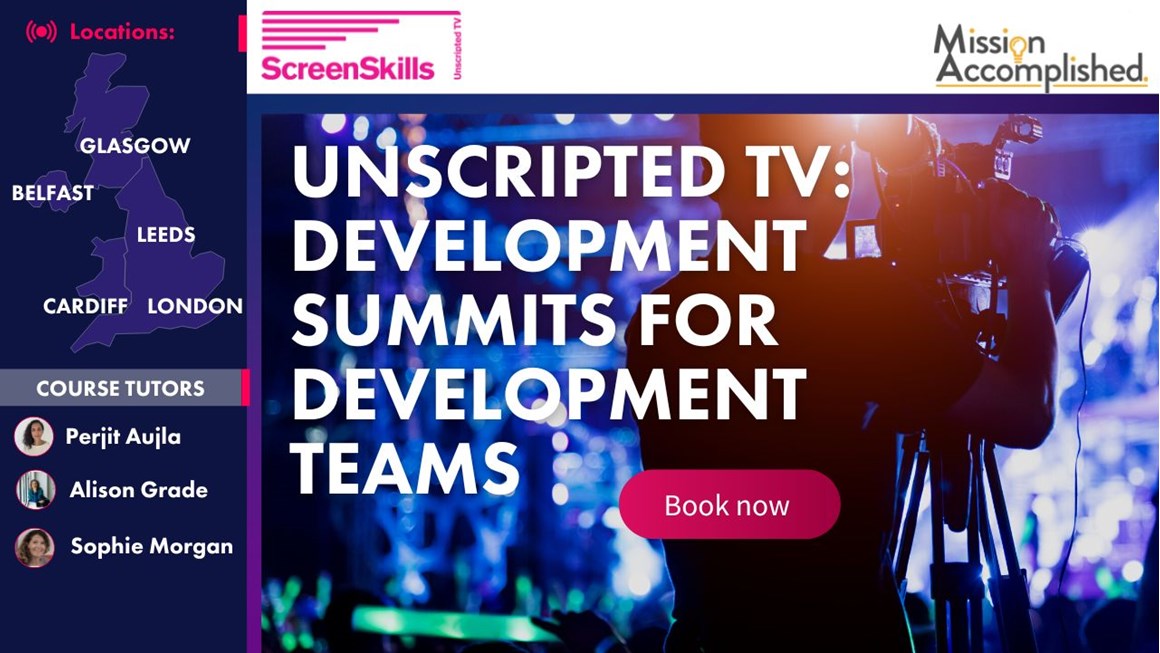 Are you and/or your production company looking to upskill your development team?
Are you looking to build a creative development team that is commercially aware and better able to deliver successful pitches, create a slate of ideas and win business?
Then our Unscripted TV: Development Summits for Development teams is the training for you and your team. The training is designed to suit all levels within development teams and will include specific breakouts for heads of development.
The summits are running five times between February and June 2023 across the UK nations and regions. All summits will be delivering the same content. Attendees are recommended to book the summit closest to their location.
The summits will be taking place in these locations on the following dates (precise venues TBC):
England - Leeds: 27 and 28 February, 2023
Wales - Cardiff: 13 and 14 March, 2023
Scotland - Glasgow: 11 and 12 May, 2023
Northern Ireland - Belfast: 22 and 23 May, 2023
England - London: 5 and 6 June, 2023
This programme is heavily supported and subsidised by the ScreenSkills Unscripted TV Skills Fund which invests in training for the unscripted workforce thanks to contributions from broadcasters, SVoDs and production companies.
Who it's for
This training programme is aimed at production companies and freelancers who work in unscripted TV development across the UK nations and regions.
From researchers to APs, from execs and producers to heads of development, and from creative directors to MDs and CEOs. If you work in development, you're more than welcome.
The training is open to those at all levels in development. Production companies are encouraged to attend as a team by taking advantage of the three for two early bird offer.
Bursary support is available for new and emerging production companies as well as freelancers who work in development. Please apply for a bursary via the booking form.
What it covers
The two-day programme will be split into a series of short sessions covering three distinct themes:
Theme 1: ideation, briefs and pitching
Theme 2: commercial awareness
Theme 3: Professional skills (with a focus on heads of development and senior team members)
The summits will include break away sessions which will focus on specific topics within the themes that senior development execs, MDs and heads of development will want to explore in depth.
A key theme across the entire training programme will be changing the narrative on and off-screen and how these can be embedded across all areas, at all stages.
The two-day programme will also include a commissioning dditor Q&A which will be an opportunity to hear from a commissioner in-person in a structured format.
On the middle evening of the training programme there will be a social event where attendees can connect and network informally to build relationships.
Our aim is that the impact of the training on the development teams will be their improved ability to:
Create a slate of ideas
Rigorously develop these ideas to a high industry standard
Plan and implement a development strategy
Deliver successful pitches
Build a strongly identifiable 'brand' for their creative output
Build a more commercially sustainable production company with additional income streams from rights exploitation
Cultivate a resilient and positive culture within their team that is open to new narratives and voices
Have confidence and skills to build a high-performing development team
Identify and build relationships with the channels to whom their creative output is best suited
Win commissions
Trainers
Alison Grade founded and runs Mission Accomplished. The company regularly delivers training courses for ScreenSkills. Alison is an experienced line producer and production manager as well as a Nesta Accredited Creative Enterprise Trainer. She regularly delivers training that enables creatives to take their careers to the next level. Alison is the author of Penguin published book, The Freelance Bible and offer many workshops and training programmes to support freelancers.
Perjit Aujla has 13+ years in factual TV as an RTS award-winning Series Producer, an Edit Producer and a former Head of Development. She has won commissions from Channel 4, Channel 5 and worked on programming as diverse as a Joe Wicks series for 4OD to the Bafta-nominated Cbeebies series Maddie's Do You Know.
Based in Leamington Spa, Perjeet is a champion of the regions, producing and chairing local events on behalf of Women in Film and Television and RTS Midlands, where she is also on the committee. She has supported diverse off-screen talent via. Creative Access and the Channel 4 Trainee Scheme.
Sophie Morgan is a BAFTA-nominated and RTS award-winning TV producer and commissioning editor. As head of development for production companies such as September Films, Cineflix and World of Wonder she has developed, pitched, won and exec produced hundreds of hours of TV content for all major broadcasters across all genres, including series Star Lives (ITV Saturday night Entertainment), European Nightmare (BBC Daytime), Pete Burns Unspun (Channel 4 Popular Docs), Haunted Homes (ITV2 Entertainment), Clubbing On The Frontline (Channel 4 Current Affairs) as well as originating Channel 4's first original digital content This is a Knife.
She also set up and ran September Films' LA development department and ran LA-based indie World of Wonder's (Ru Paul's Drag Race) UK division. As commissioning editor for Living TV, she commissioned their highest rating shows Britain's Next Top Model and Jade: With Love following Jade Goody's battle with cancer.
Sophie is a vocal champion of neurodiverse talent in the industry and a ScreenSkills mentor for neurodiverse talent.
If you've not yet taken your first steps in development for unscripted TV, you may be interested in the following free online courses Mission Accomplished are running with support from the ScreenSkills Unscripted TV Skills Fund:
How to apply
To apply, please click the 'Book now' button at the top right of this page. You'll be redirected to the Mission Accomplished site where a booking form awaits.
There is a cost to production companies to attend this training programme. We have worked hard to keep the costs as low as possible and have early bird rates available for those who book more than one month in advance of £125 + VAT per person and a three for two ticket offer.
Early bird prices (booked 28 days or more in advance):
Individual ticket: £125 + VAT
Three for two ticket offer: £250 + VAT
Full price (booked less than 28 days in advance):
Individual ticket: £200 + VAT
Three for two ticket offer: Not available
We also have a number of bursary places available for emerging production companies and freelancers. Details of how to access these are on the booking form.

We welcome bookings from all individuals, if you would like support completing the booking form and/or would like us to send it to you in an alternative format please email training@mission.guru.
This course would normally cost attendees £600, but thanks to funding from ScreenSkills, it is currently being offered to you at a heavily subsidised rate. If you fail to attend we reserve the right to request reimbursement of costs, unless your place can be taken by someone else.