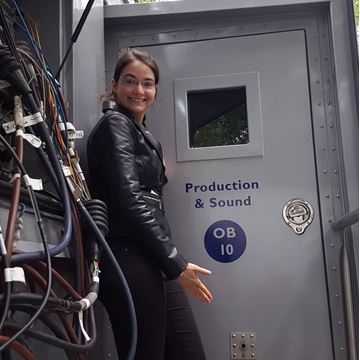 Eleanor Russell
Sound Trainee
Location:

London

Career stage:

Early

Freelancer:

Available
Production Safety Passport
I'm hardworking, thoughtful and currently trying to make my way as a Sound Trainee. I've just been accepted on the 2018 Skillset Film Trainee Scheme.
My first long term experience as a Trainee was 11 weeks on the CBBC show Jamie Johnson in 2017. In 2017 I also did work experience for a night on a feature film called Patrick, a days learning about fisher booming on a pilot for sky and two days prepping and recording for the patron's lunch. For several years previously I worked on lower budget projects mainly in sound.
I did the AMPS cable clinic and NFTS Sound Recording Short Course in 2017
I graduated in October 2014 from the London Film academy, where I had joined with the goal of becoming a director. To my surprise, I discovered that I really liked Sound. I've since been trying to get my foot in the door. Initially I thought I could just start working in low budget films with other newbies in the industry and work myself up. At the beginning of 2016 though, the majority of my work was still making underpaid short films, and the odd unpaid job in sound or the AD department.
I talked to some people at several BECTU events and was put in touch with some lovely mixers with much more experience. They took me on various short films as a trainee throughout 2016/2017, and even passed on a few low paid jobs. I believe this is at least somewhat testimony to my work ethic. However I'm always looking to improve and am aiming to get more trainee work on bigger projects this year.
I originally came into the industry as a professional photographer and environmental scientist with the original goal of making environmental fiction.
---
This ScreenSkills member holds a Production Safety Passport.
Creative Industries Safety Passport
BECTU
28th April 2016 - 28th April 2019
Work History
Boom Operator for Simon Norman - Student Short
Boom Operator for Mark Andrews - The Last Dance (short directed by Chris Keller)
Boom Operator for Richard Thomas - The IT (short directed by Aneil Karia)
Trainee/Boom Operator for Simon Paul Hornett - Charismata (feature directed by Andy Collier and Tor Mian)
Walker for Queen's 90th birthday Parade (OB) - Julian Gough
Boom Operator for Richard Thomas (incl booming on moving bus) - Switch (short directed by Aneil Karia)
Sound Trainee / Boom Swinger for Richard Thomas 2 days - The Noah and Jordan Show
Trainee/Boom Operator for Richard Thomas and Tom Harburt - The Noah and Jordan Show
Boom Operator - 147 Feet (Short Film)
Self-shooter and Photographer - Black Knight Historical
Education
Assistant Directing - 2 day course - Creative Skillset
Filmmaking - Diploma - The London Film Academy
Filmmaking - Certificate - The London Film Academy
Environmental Science - BSc hons - Nottingham University
Skills
Active Listening
Basic experience in how the location recording department works
Basic knowledge and experience with small scale production audio gear
Basic training from people working in the industry
Boom Operating
Research
Running