Sound trainee Alex Rhule-Martin on ScreenSkills' Trainee Finder scheme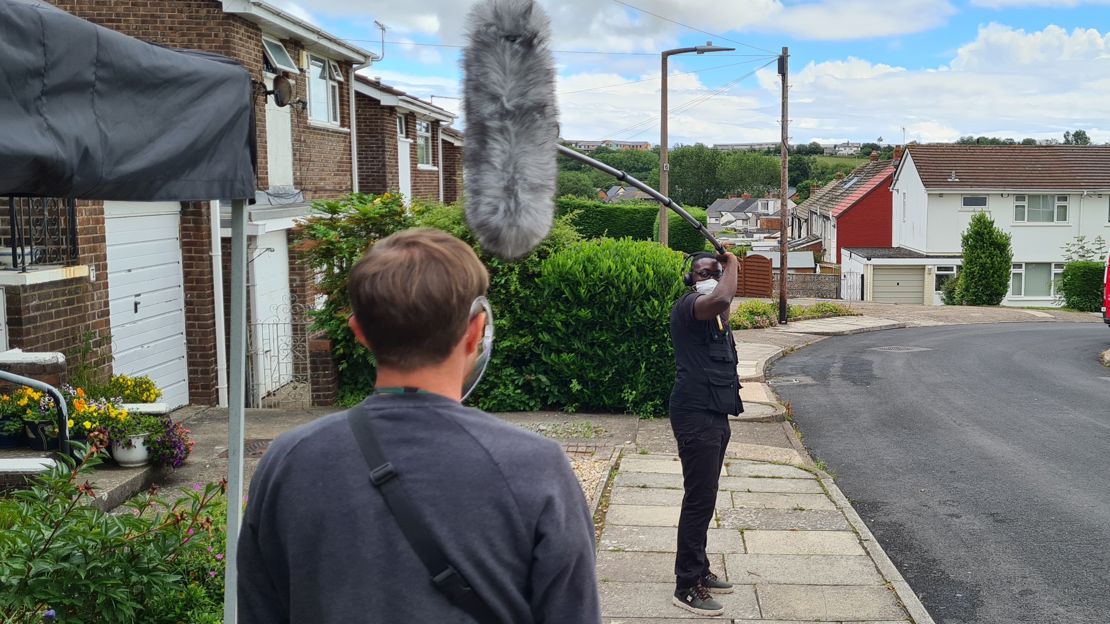 Sound trainee Alex Rhule-Martin joined the ScreenSkills High-end TV Trainee Finder scheme because, he says: "I wanted to up my game." He had been working on short films and corporate videos and wanted to establish himself in high-end TV production.
He had his first Trainee Finder placements on My Name Is Leon, shot in Birmingham, and The Girl Before, filmed in Bristol, and is now working on the drama The Birth of Daniel F Harris. It is a 10-week placement in Wales and Alex is enjoying it greatly because, he says, he is learning so much.
"The first assistant and the sound mixer give me a lot of advice and guidance - how to hold the boom, how to interact with the cast and with other departments on set, and other technical points such as which microphones are to be used and how. I ask a lot of questions that arise from those conversations and they are always happy to pass on their knowledge," Alex says.
He feels his skillset has expanded greatly through the placements under the ScreenSkills Trainee Finder programme. "I feel I can communicate so much more effectively because of them," Alex says. "I've learnt how to build relationships not just with my crew but with other departments too, how not to treat it simply as a job, but how to make the most of what I am doing.
"Two mixers that I have worked with on my placements – Richie Brooks and Stevie Haywood - have been my biggest cheerleaders. They have really encouraged me and taught me how to be a better sound assistant."
Alex grew up in Birmingham, where he is now based, and studied film and media production at Sheffield Hallam University and then a master's in the same subject.
He knew he wanted to make films from the age of 14 and throughout his education was involved in many aspects of filmmaking, but sound is where he is making his career. "Sound was the last thing I studied and the one that stuck," he says. "I really enjoy it.
"As a musician, I knew there was a chance for me to tell stories in a different way. Everyone thinks of camera first, but sound can really contribute to the story, and help the audience interpret it.
"I play keyboards so I know the power the music has, and how you can change the atmosphere. And using sound, you can tell stories in a not-obvious way."
He thinks his musicianship helps him on the technical side of his training, too. "I did a bit of sound design at university so I understand some of that, and how you can add to a scene in post."
Alex believes post-production can be perceived as the more creative process in sound, but  as post "has its restrictions when it comes to creative decision-making" he prefers location. "I like working with people," he says. "As a sound assistant my role is to liaise with other departments and it's really interesting to meet them, talk to them about their work, and how we can all work together to make one big masterpiece."
And he feels closer to the creative process on location. "People say, 'I want you to capture sound'. They don't say, 'I want you to capture sound this way'. You really have to use your expertise, and you're directly creating something. You have a bit more control over your creativity on location."
Alex wants to be third assistant or second assistant by the end of this year and is looking to undertake other ScreenSkills training to that end. "It's always good to get a bit more insight into the industry,' he says. "And I really want to add value in my work."
He would recommend the Trainee Finder programme. "I don't think I would have come this far and learnt so much of it weren't for ScreenSkills. For a lad from the West Midlands to be doing what I'm doing is just great."
If you enjoyed reading about Alex's experience, why not share your story with us and showcase your skills and experience.