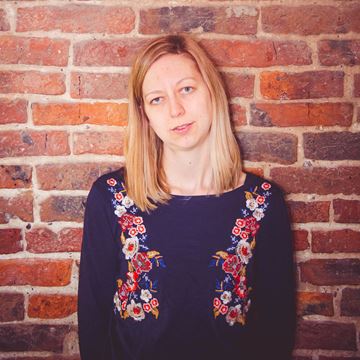 Becci Sharrock
Writer and Creative Producer
Location:

North East

Career stage:

Experienced

Freelancer:

Available
I am a writer, theatre maker, poet and creative producer based in Gateshead with experience of artistic collaboration through a variety of projects and events. My work has toured across the UK and I was previously a Leverhulme Trust funded Writer in Residence at Beamish Museum [2016/17].
I have worked for Live Theatre, Northern Stage, Theatre Sans Frontieres and ARC, Stockton. I have produced Precious Cargo, Write on Tap, Matt Miller and Leo Burtin and regularly support and mentors emerging North East artists. Recent writing credits include; Night Trade (Part of The Rooms at Alphabetti Theatre, Winner of the North East Theatre Guide's Best New Writing Award), Letters to Myself (UK tour) and Yes Chef! (ARC, Stockton).
In my individual practice I'm interested in how writers can work in different ways to create work that is relevant and representative of today's world. I write across forms and my socially engaged practice has seen me create short stories and poetry inspired by living legends in Corby; develop theatre show Letters to Myself following 6 months of public engagement in Sunderland and South Shields and tour it nationally; and take part in the research and development of Tidy Carnage's new show Nino looking at life on a low income. I also writes and occasionally perform poetry and facilitate workshops on creative writing, playwriting and producing.
I was previously a member of Live Theatre's Playwriting Group and undertook a professional development scheme in 2015, mentored by playwright Ali Taylor.
Previous projects/roles:
2018 – N18 Development Programme Artist
I am currently on the N18 Programme, running alongside the Great Exhibition of the North, and looking at developing digital skills. For my creative response I have designed a pilot project looking at the co-creation of a poem about the Northern Experience. Participants completed questionnaires asking them a series of questions about the North. I created a poem, using their responses, which participants could then record themselves reading in a Northern location of their choice using a live capture app.
2018 - Mariana (Writer & Producer)
A new show for ages 4-7, set in the Mariana Trench and created using a child-centred approach. The show will explore how we manage our emotions, low mood and friendships. The show is currently in Research and Development with plans to tour nationally in 2019.
2018 – Living Legends: Hidden Histories (Writer)
Myself and photographer Laura Dicken spent time with 10 locally nominated Living Legends in order to capture their stories. For each Legend, I created a documentary style written piece drawn directly from interview and a poem inspired by their experiences. The resulting text and portraits were published in a book and showcased at an exhibition.
2018 – Writer on New Writing North's Digi_Transform Programme
2017/18 - Nino (Creative Collaborator)
Physical theatre show exploring the realities of living on low income and surviving on state benefits, inspired by one woman's true story. R&D included consultation with academics & women who have survived extreme hardship, homelessness and in some cases trafficking.
2017/18 – Producer & Dramaturg, Bankers, Write on Tap
Supporting a group of emerging playwrights to create and showcase new writing exploring the increasing use of foodbanks and the banking crash of 2008.
2017/18 – Crossing the Tees Short Story Competition (Judge)
2016/17 – Letters to Myself (Writer & Producer) – www.letterstomyself.org.uk
A participatory arts and theatre project inviting people to write a letter to their past, present or future self. It received funding from Cultural Spring, Arts Council England, UTT and Sunday for Sammy to work in 10 areas of low arts engagement across Sunderland and South Shields. The resulting theatre show toured to venues and community spaces nationally in 2017, alongside a programme of engagement activities.
2016 – Leverhulme Trust Writer in Residence at Beamish Museum
Working within the community engagement team using drama and writing to engage members of the public and collecting stories surrounding the 1950s. Projects included; Blogging throughout my residency; generating my own creative responses to the Museum's collections and working with community groups to collect and create stories that accurately represent the experience of the 1950s in the North East.
Skills
Scriptwriting
Arts Fundraising
Creative Producer
Fiction
Project Management
Theatre