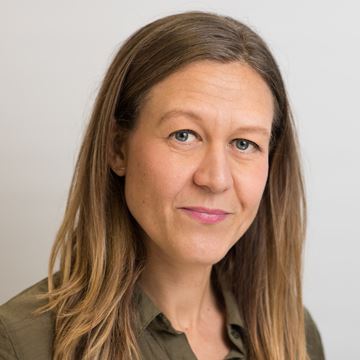 Amy Hailwood
Theatre Director and Applied Theatre Facilitator
Location:

Manchester

Career stage:

Experienced

Freelancer:

Available Soon
I am an emerging director and Applied Theatre facilitator, based in Manchester. My practice is directing contemporary theatre for positive social change. I pursue this both as a freelance director and as Artistic Director of Ordinary Glory www.ordinaryglory.co.uk.
My interest is in the redemptive power of authentic, live performance to empower audiences to act for change in the real world, whether at the personal or community level. My taste is for theatre that fully integrates text, movement, music/sound and rich visual imagery with a sense of continuous flow. The Encounter by Complicité (2016) is an inspiring example of this approach. The stories I most value are those which exist at the intersection of powerful, global, cultural and political forces and the everyday life of the ordinary person. To date I have worked mostly with New Writing and greatly enjoy this area but would not discount working with the classics in the future.
Before moving into theatre in 2011, I had a successful, ten-year career in the charity sector including work in community radio, charity communications and marketing, mediation, peace education and campaigns. I also love travel and have lived and worked in India, Australia, the Caribbean, Africa and the Middle-East.
Work History
Participation Practitioner - Octagon Theatre Bolton
Theatre Director / Assistant Director - Varied productions including for Royal Exchange Theatre, Bush Theatre, Octagon Theatre Bolton and others
Applied Theatre Facilitator - Freelance
Marketing and Development Officer (part-time) - Cornerstone Arts Centre
Communications Specialist in the Peace and Conflict sector - various roles at: Fellowship of Reconciliation, Camden Mediation Services, Relate, Media for Development, Open Air Radio - please see LinkedIn for full details of this career period.
Education
Theatre Directing / Writing / Producing - A wide ranging variety of CPD workshops and Masterclasses covering a range of skills in directing, writing and producing theatre. - Various including The Royal Exchange Theatre Manchester, HOME Mcr, The Lowry Salford, Independent Theatre Council, The Young Vic, Collective Encounters, Cardboard Citizens, Mountview and The Arvon Foundation
Theatre Directing - Apprenticeship - Point Zero Physical Theatre
Acting - Individual Development Programme - Core Theatre Lab, Oxford
Acting and Theatre Skills - Introductory Level Training - Core Theatre Lab, Oxford
Caribbean Literature and Creole Poetics - MA - Goldsmiths College
African Studies and Study of Religions - BA Hons - School of Oriental and African Studies (SOAS)
Skills
Business planning/strategy
Facilitation
Marketing
Marketing Strategy
Applied Theatre
Arts Fundraising
Audience Development
Boldness
Budgets
Building trust
Campaigns
Communications
Conflict transformation
Cross cultural communication
Devising
Directing
Experimental attitude
Forum Theatre
Inspiring confidence
Intuition
Mediation
People skills
Physical Theatre
Pitching/presenting and proposal writing
Producing
Project Management
Public Speaking
Sense of fun
Time Management
Venue Management
Voice
Volunteer management
Writing