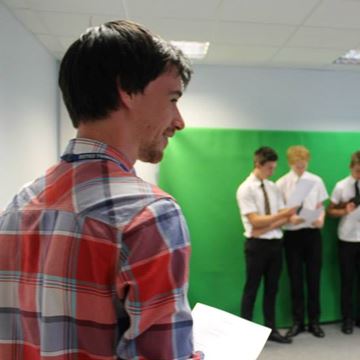 Jonathan Roberts
Education & Training Facilitator
Location:

Cornwall

Career stage:

Experienced
I currently work in an educational capacity for a local radio station in Cornwall. I work with students, community groups and businesses implementing digital media skills.
My past job was as a Course Manager/lecturer of Media Production for 16+ in Cornwall which i did for 8 years.
I'm massively interested in film production and animation and take part in projecs whenever there's time. In previous years i've worked as a media technician which included theatre lighting and soundtrack production, as well as editing. This was followed up by being a technician for a specialist music college, installing and maintaining audio equipment and overseeing live gigs. This then led me to teaching film making, editing, stop-motion, film studies, motion graphics and more.
When I have any free time, it is generally spent watching films, drawing, playing music and drinking tea!
Work History
Education and Training Facilitator - Pirate FM
Contributing Writer - So The Theory Goes
Course manager/Lecturer - The Cornwall College Group
Media Technician - Helston School and Community College
Education
Teacher Training - PGCE - The Cornwall College Group
Media Production (Hons) - Bachelor of Arts (BA) - University of Glamorgan
A Levels - Qualification type unknown - Cornwall College
Field of study unknown - Qualification type unknown - Pool School and Community College
Skills
Editing
Management and leadership
Networking
Organisational skills
Pitching/presenting and proposal writing
Project management
Specific hardware/equipment skills
Specific software skills